By Thomas Hauser
The New York State Athletic Commission has become known for erratic officiating. And it's getting worse. That was painfully evident at fight cards contested at boxing's showcase arena - Madison Square Garden - on June 1 and June 8.
In recent months, there have been egregious lapses in refereeing in New York. On these two nights, the judging was more problematic. The NYSAC could have pulled three knowledgeable fans out of the crowd on June 1, put them in judges' seats, and improved on the scoring in Katie Taylor vs. Delfine Persoon, Josh Kelly vs. Ray Robinson, and Anthony Joshua vs. Andy Ruiz. But these scorecards bore the imprint of Solomon when compared with the card turned in by Alan Rubenstein on June 8 while scoring Charles Conwell vs. Courtney Pennington.
Conwell clearly dominated the first half of the fight. Judge Ken Ezzo scored the first six rounds in his favor while judge Mark Consentino gave him six of the first seven. Rubenstein inexplicably scored the first four rounds for Pennington.
Multiple sources say that Rubenstein's scorecard was so off the mark that, after the fourth stanza, a deputy commissioner was dispatched to ask him if he'd confused which fighter was which. That's hard to confuse, since the cards filled out by judges after each round clearly designate a "red" and "blue" corner. Rubenstein denied that he had confused the fighters.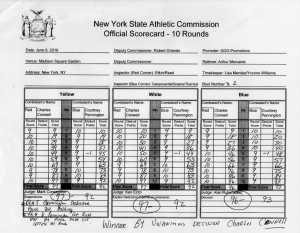 But wait! There's more. Pennington rallied in the second half of the fight, winning three and two of the last four rounds on Ezzo's and Consentino's respective scorecards. But after being questioned about his scoring, Rubenstein scored all six of the final rounds in favor of Conwell.
In the end, the verdict was just. Ezzo and Consentino scored the fight 97-92 for Conwell. And Rubenstein's scorecard read 96-93 in Conwell's favor. But that doesn't negate the fact that Rubenstein's round-by-round scorecard ran counter to reality.
Asked for comment on Rubenstein's scorecard, Lee Park (a spokesperson for the Department of State which oversees the NYSAC) responded, "We have no comment."
There are some good referees and judges in New York. And over the years, Rubenstein has turned in some credible scorecards. But the NYSAC today is sadly lacking in standards and accountability.
This is not the way to run a state athletic commission.
* * *
On March 21 of this year, I posted an article in which I noted that the New York State Athletic Commission was systematically violating the New York State minimum wage law by underpaying commission inspectors and then filing false paperwork to cover up the offense [
https://www.ringtv.com/557118-behind...n-part-three/]
. One day later, NYSAC personnel were advised by executive director Kim Sumbler that the per diem pay for inspectors would be doubled from $100 to $200 for each boxing and MMA event and the per diem pay for deputy commissioners would be increased from $200 to $300 for each boxing and MMA event.
But there's a problem. The inspectors and deputy commissioners aren't being paid in a timely manner. Instead, the NYSAC is continuing its practice of forcing them to wait as much as four months before being paid for working a fight. That's a hardship for some NYSAC personnel who struggle to make ends meet.
Kim Sumbler and other high-ranking NYSAC officials are paid on a regular basis. No one suggests that they wait four months for their paychecks. Shouldn't deputy commissioners and inspectors be given the same courtesy?
Thomas Hauser's email address is thomashauserwriter@gmail.com. His most recent book –
Protect Yourself at All Times
– was published by the University of Arkansas Press. In 2004, the Boxing Writers Association of America honored Hauser with the Nat Fleischer Award for career excellence in boxing journalism.