By Jeffrey Freeman
An Italian joint is changing hands in the City of Champions, but this ain't just any old restaurant, it's the venerable George's Cafe at 228 Belmont Street. At this famous Massachusetts eatery, established in 1937 by patriarch George Tartaglia, there are several decades worth of boxing history riveted to the walls in the form of photos, press clippings, and other signed memorabilia devoted to champions Rocky Marciano and Marvelous Marvin Hagler.
Each get their own shrine at George's.
According to the
Brockton Enterprise
which reported the 2.4 million dollar transaction on Monday January 7th, George's will still be called George's and will still serve the same classic menu items including veal parmigiana and pan style pizza. The seasoned waitstaff and kitchen employees will be retained, and most importantly to some people, the boxing stuff is staying put.
"They're keeping all the photographs," says 83-year-old Charlie Tartaglia of new group owner Hamilton Rodrigues' nostalgic desire to buy more than just a hole in the wall for hungry people to eat. "They want it authentic. They want it Brockton," Tartaglia told his hometown newspaper.
"But there is one thing I'm keeping," Tartaglia told me. It's a piece of authentic hand drawn boxing art, penned and signed by the greatest. "Muhammad Ali sat down with me in a booth," he recalled. "And on a paper placemat he drew a boxing ring with two stick figures inside. He named them Ali and Frazier. He said, 'I love Frazier, we made a lot of money together.'"
Why is Tartaglia selling his family owned and operated business? Having lost two of his children in the late 2000s and with his own health now failing, he knows the restaurant business is incredibly hard work. He's not sure any of his eight grandchildren are up to the task of taking over.
Located exactly one mile from a massive twenty-two foot tall statue of Marciano on the grounds of nearby Brockton High School, George's is a classy portal to the city's rich boxing history. How would I describe it to somebody who's never been there? Ever gone to Jimmy's Corner in Times Square? It's similar but much bigger with better food. It's a lot like Graziano's in Canastota, New York if the International Boxing Hall of Fame were situated in Brockton, Mass.
When they're not serving Basilio sausage sandwiches to uninitiated locals, Graziano's exists to honor the memory of Canastota's two homegrown world champions Billy Backus and Carmen Basilio. The biggest difference between the two boxing themed restaurants is that Graziano's has the IBHOF's annual Induction Weekend festivities to help keep the business afloat.
There hasn't been a world champion or even a very good contender from Brockton in a long time. It's all about the Rocky statue now. It's becoming quite a tourist attraction. A beautiful brick wall was recently constructed at its base, surrounding Marciano in a squared circle of red rocks that now includes a section commissioned in remembrance of Allie Colombo, Rocky's trainer.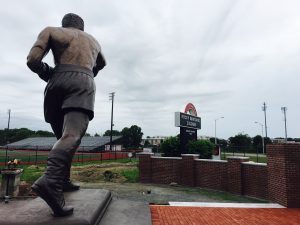 If you came to Brockton when 'The Rock' was unveiled in 2012 on the 60th anniversary of his 13th-round KO of Jersey Joe Walcott to win the title in Philadelphia, George's was the go-to hot spot for those celebrating the life and times of boxing's only undefeated heavyweight champion.
There was a fiesta in the boxing community that September 23rd with George's walls of fame serving as inner sanctum. If you wanted to see a tipsy Larry Holmes singing his heart out into a silver spoon in praise of the 49-0 Marciano, George's dimly lit dining room was the place to be.
I know because I was there. Holmes, a formerly fierce critic of Marciano's accomplishments, acted as goodwill ambassador for boxing, earning respect and forgiveness from Brocktonians for his below the belt comments about Rocky.
As Holmes sipped red wine and dined on authentic Italian fare, all that hate melted away like so much pork fat. George's is where Holmes made amends to the people he'd hurt with his words. All those memories are memorialized on the walls and in the stories told at the two bars.
Marciano, reigning heavyweight champion, was a regular customer during his time in Brockton though I know for a fact that he never had to pay for a meal. Rocky and his trainers used to analyze all his fights in the dining room over dinner: spaghetti and meatballs with orange soda.
When former heavyweight king Muhammad Ali came to the City of Champions in 1995, he famously visited George's twice; dining with local politicians and meeting with eager fight fans hungry for his valuable autograph. Ali's pilgrimage to the birthplace of the real Rocky remains one of the greatest events in Brockton sports history and a highlight of George's VIP guest list.
Put it on your bucket list.
Nothing less than boxing royalty has passed through George's doors and into their old world. You'll love it. Newly elected boxing Hall of Famer Tony "Nardo" DeMarco, Vinny Pazienza, and Irish Micky Ward are just a few fighters from New England who've crossed the threshold.
One of the most interesting items on display inside is a boxing license application for Sugar Ray Robinson. It's dated March 5, 1955. It's signed by Robinson and features a note typed up by the Boston doctor who examined him with three images taken from Sugar Ray's electrocardiogram.
Talk about the heart and soul of boxing.
Other notable guests at George's include Willie Pep, Paul Pender, Kenny Norton, Riddick Bowe, James Toney, Emanuel Steward, Lou Duva, Don King, Teddy Atlas, Vito Antuofermo, Leon Spinks, and the late WBC President José Sulaimán who the Tartaglias credit for Rocky's statue.
Without the WBC's generous funding, there is no statue. "I've got a pizza named after José on the menu, double cheese and ham. He's one of the nicest gentlemen I ever met," says Tartaglia.
If Brockton ever gets around to erecting a tribute statue for its all-time great middleweight champion Marvin Hagler, rest assured the Marvelous One will make the long trip home from Italy where he'll find George's Cafe waiting for him—a time machine to his championship past.
Will that day ever come to pass?
The city doesn't seem interested in paying for it and the WBC hasn't offered to fund it. If Hagler wants a statue of his own, it sounds like he should consider paying for it himself. That's what Tartaglia did when he recently put up a bronze plaque in honor of Hagler at Brockton's Massasoit Community College. "Nobody ever did nothing for Marvin," Charlie reminds me.
In a rapidly changing world where what's old and white isn't necessarily what's loved anymore, George's will remain an oasis of greatness devoted to the good old days of Brockton, Rocky and Marvin; the good old days of a proud city many no longer recognize. New owner Hamilton Rodrigues plans to modernize the establishment—but he promises not to change a thing.
"I'm not rocking the boat."
I'll raise a glass to that. Salud!
Boxing writer Jeffrey Freeman grew up in the City of Champions, Brockton, Massachusetts from 1973 to 1987, during the marvelous career of Marvin Hagler. He then lived in Lowell, Mass during the best years of Irish Micky Ward's illustrious career. A new member of the Boxing Writers Association of America, Freeman covers boxing for The Sweet Science in New England.
Check out more boxing news on video at
The Boxing Channel