By Ted Sares
Gervonta "Tank" Davis -- out of Baltimore -- is a fan-friendly, undefeated (21-0, 20 KOs), two-time super featherweight champion. An all-action fighter, he brings the heat whenever and wherever he fights, operating like a mini-Tyson.
Shakur "Fearless" Stevenson—out of Virginia by way of Newark, NJ—won a Silver Medal at the 2016 Summer Olympics and is also undefeated as a pro (11-0, 6 KOs). In a moment of "unbridled" modesty, Floyd Mayweather Jr. called him "the next Mayweather."
Davis (pictured) and Stevenson used to be good friends but apparently no more. The two have been feuding on twitter.
Shakur, a featherweight, has now called out Tank, saying he wants him at 130—and with his win against Christopher Diaz on the Crawford-Khan undercard, the call-out quickly becomes more meaningful and likely will reignite their twitter war.
What's not quite clear is whether such a fight would be held in the ring or out in the street because of the many, many things they have in common, one, allegedly, is engaging in nasty street fights.
A recent and widely viewed video appears to show Stevenson, accompanied by fellow boxer David Grayton, in the middle of a parking garage brawl in Miami Beach in an incident that occurred nearly a year ago. Stevenson was in Miami Beach to celebrate his 21st birthday. It was not so much a brawl as it was a beatdown by the two boxers including a vicious kick at the end on a downed victim who already had received several flush shots to the face. A woman with the victim was also assaulted, suffering cuts and bruises. Afterwards, the two grabbed each other's hands in a somewhat bizarre scene and fled to their hotel where they were arrested.
The video was first posted by slaterscoops.com which revealed that Stevenson and Crayton were arrested on July 1 and charged with misdemeanor battery. By the time the video came to light, the matter had quietly been resolved. Stevenson's promoter Bob Arum seemed to have been involved in the resolution.
Here is what Arum said according to an article by Niall Doran in
Boxing News:
"We knew the facts and we knew that he was in a place that he shouldn't have been at. We had a long talk with him and luckily the people around him, his grandfather who raised him, coach Kay (Koroma) who has a big influence on him and Andre Ward and James Prince who are his managers, took him aside and talked to him. It will never happen again I assure you. He is a great, great kid and he understands what his responsibilities are. He's not a wild kid and he's going to be fine. I'm very comfortable with how he's being raised."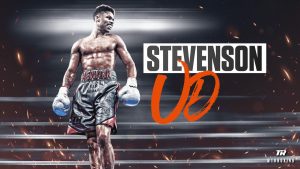 Let's hope Arum is correct.
Gervonta Davis
On August 1, 2017, an arrest warrant was issued for Gervonta Davis for an alleged assault. The charge was later reduced from first-degree aggravated assault to misdemeanor second-degree assault.
At the court, Anthony Wheeler, a long-time friend of Gervonta, complained that he was diagnosed with a concussion after Davis punched him on the side of the head with a 'gloved fist.' Wheeler subsequently dropped the charges. The
Baltimore Sun
reported that Tank and Wheeler both shook hands, embraced, and walked out of the courtroom together. All's Well That Ends Well.
But there's more.
According to TMZ, Davis was arrested in Washington, DC, in the early morning of Sept. 14, 2018, and charged with disorderly conduct after a dispute over a $10,000 bar bill. And then on February 17 of this year, according to TMZ and other sources, Davis was involved in an incident that began inside an upscale shopping mall in Virginia.
As things heated up, Tank and the other man took it to the streets and engaged in a fistfight with closed-fist punches being landed around the upper body. As people tried to break it up, both men fled but the police arrived and arrested them for disorderly conduct. They were booked and processed at a nearby station. Ten days after the incident, a warrant was issued for Davis's arrest.
Leonard Ellerbe of Mayweather Promotions, which promotes Davis, told ESPN "We'll let the judicial system play out….Obviously, this is just an allegation…Again, it just seems odd to me that a black man, allegedly, pushes or shoves -- and I'm just reading what the TMZ article says -- a police officer and he doesn't get arrested on the spot, then a couple of weeks later, then they issue an arrest warrant based on their internal investigation. That just seems a little odd to me."
The police reportedly made numerous attempts to contact Davis by telephone to serve the warrant but received no response.
Tank recently tweeted "Lies lies lies" (9:16 AM - 5 Mar 2019).
The case is still ongoing. Gervonta could well be exonerated and hopefully he will be, but these incidents, whether expunged, dismissed or dropped, are not good for boxing. The recent birth of a daughter seems to have grounded Tank and his recent tweet to wit: LOVE IS LOVE is not the tweet of someone who is in the wrong lane.
Let's wrap this up with a quote from Showtime Sports president Stephen Espinoza: "I think the sky is the limit for Gervonta Davis…You put those two elements together — the likability and charisma outside the ring and the entertainment value inside the ring — and he has the potential, if he stays on this track, to be one of the biggest names in the sport."
Ted Sares is a lifetime member of Ring 10, and a member of Ring 4 and its Boxing Hall of Fame. He also is an Auxiliary Member of the Boxing Writers Association of America (BWAA). He is an active power lifter and Strongman competitor in the Grand Master class and is competing in 2019.
Check out more boxing news on video at
The Boxing Channel