By Arne K. Lang
"To fight in Las Vegas was amazing," said John Ryder after his third round knockout of Bilal Akkawy on Saturday. It would have been more amazing if more folks were on hand to see it.
Perhaps it's an indicator of upward mobility, but Mexican fight fans are behaving more and more like the fat cats that formerly turned out in droves for big Vegas fights, by which we mean that they are now arriving fashionably late. Canelo vs. Jacobs was a sellout, attracting an announced crowd of 20,203, but the arena looked to be 90 percent empty when the bell sounded for the Ryder vs. Akkawy squabble.
Ryder was originally scheduled to appear in the co-feature against Canadian knockout artist David Lemieux. When Lemieux had to pull out with a hand injury, Ryder was pushed down the totem pole. His bout with Akkawy was knocked all the way down to third-from-the bottom of an eight-fight card in which the opener went off shortly after 3:00 pm local time. At that hour, there were more folks milling outside the arena than had ventured inside.
In terms of exposure, the event's promoter, Golden Boy, did John Ryder no favors. But it worked out okay. Ryder (pictured on the right) delivered a career-best performance.
Bilal Akkawy, although undefeated (20-0-1), was something of a mystery. From Sydney, Australia, he had limited U.S. exposure, having appeared only twice stateside in bouts slated for eight rounds. But he was Canelo Alvarez's chief sparring partner, which in theory was highly beneficial, and he came highly touted from no less an authority than Hall of Fame trainer Johnny Lewis, the grand old man of Australian boxing, who dubbed him the hardest puncher, pound for pound, in Australia today.
Akkawy never got a chance to display his power. Ryder, nicknamed the Gorilla, beat him to the punch. In the third round, in a bout that started very slowly, Ryder, a southpaw, floored the Aussie with a splendid right hook and then pummeled him against the ropes when he arose on unsteady legs, forcing the referee to waive it off.
The next fight for Ryder, a Londoner, is expected to come against countryman Callum Smith who meets the ubiquitous TBA (purportedly Hassan N'Dam N'Jikam) on June 1 on the Joshua-Ruiz card at Madison Square Garden. The undefeated Smith holds a version of the WBA super middleweight title. At the moment, the other parcel belongs to Canelo who also owns two title belts in the division below it.
John Ryder vs. Callum Smith would be a big fight in England, but if we had a say we would prefer to see Ryder fight a healthy David Lemieux before taking on the title-holder. And although Lemieux would undoubtedly be favored, we wouldn't bet against Ryder, 30, who appears to be in peak form. Since losing a controversial split decision to Liverpool's Rocky Fielding in Liverpool, Ryder has won four straight inside the distance against opponents who were collectively 89-2-1 going in.
Vergil
The other smashing performance on Saturday's show was turned in by 21-year-old Vergil Ortiz Jr. who knocked out former world title challenger Mauricio Herrera.
This bout was set up for Ortiz to win. At age 38, Herrera was shopworn. However, he hadn't previously been stopped and here he was not only just stopped, but stopped in a brutal fashion.
Knocked down in the waning seconds of the second round, Herrera had a dazed look about him when the bell sounded for round three and Ortiz wasted no time applying the finisher. A right cross did the damage and Herrera was out cold before he was grazed by a left hook as he crumpled. The official time was 0:29 of round three. Ortiz, now 13-0, has never gone the distance, winning all of his fights by knockout.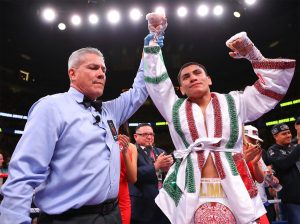 Ortiz, who started boxing as an amateur at the age of eight, is from Grand Prairie, Texas, a suburb of Dallas, but has been training in California under Robert Garcia since turning pro under the Golden Boy banner. His performance came as no big surprise to TSS West Coast Bureau Chief David Avila who made this observation last December: "If (Ortiz) touches someone it seems to send 10,000 volts through their body. Their eyes roll and their muscles become paralyzed."
You can call Virgil Ortiz Jr. the West Coast version of Teofimo Lopez, also 21 years old, albeit it's an imperfect analogy as Teofimo fights one weight class down.
For Herrera, Ortiz came in at a career high 147 pounds. Standing 5'10", he has the frame to grow into a junior middleweight, if not a full-fledged middleweight someday down the road, but he has indicated that he will be dropping back to 140.
There's a delicious fight in the 140-pound weight class coming up later this month between Josh Taylor and Ivan Baranchyk, both undefeated, and an even more delicious match if the Scotsman wins, as expected, boosting Taylor into a showdown with Regis Prograis. Throw Ortiz's name in the mix and the division takes on an even brighter tint.
Odds and Ends
Gennady Golovkin, who was ringside on Saturday, described the Canelo-Jacobs fight as "a little boring," likening it to a sparring match. That echoed my sentiments as I watched the fight from my perch in the auxiliary press section.
The first round was a "feeling-out" round but then Jacobs, who let Canelo dictate the pace, took it to the extreme. Looking at my notes, I also labeled rounds two and three "feeling-out" rounds.
The first boos, I noted, were heard in round five. The crowd came alive in round eight, but the booing returned intermittently, reaching a crescendo in round 11. All the while, however, it struck me that Canelo was fighting a smart fight. Yes, he could have made it fan friendlier as the jabs that Jacobs landed had little sting to them, but his first priority was winning and early into the fight he could sense that he was building a comfortable lead.
The unsatisfying-ness may redound well to us fans going forward. By all accounts, the leading contenders for Canelo's next go are WBO middleweight title-holder Demetrius Andrade (assuming he gets past Majiec Sulecki on June 29) or Triple-G. Of the two, a fight with Andrade – whose last four fights have gone the full 12 rounds – has the greater probability of mirroring the Canelo-Jacobs clinker.
For fear of alienating the fans, Golden Boy may let Canelo-GGG III go forward sooner rather than later. Hooray for that.
Photo credit: Tom Hogan / Hogan Photos / Golden Boy
Check out more boxing news on video at
The Boxing Channel