By Kelsey McCarson
Lou Savarese could hardly contain himself.
There he was, just four years after his last professional boxing match, a Bronx-born, boxing behemoth bursting into the room to tell his family about finally getting a speaking part as an actor on HBO's hit TV series "The Sopranos".
"Ma! Ma! I got a speaking part!" Savarese roared.
"That's great," muttered Ma as she went on with her business and his brother strolled by just in time to add a joke.
"Yeah, but are there going to be subtitles?"
Thus cued the laugh track for this scene, one that seems straight out of a Savarese family inspired sitcom. There was love. There were laughs. There were fights. They all had accents.
All these years later, the 53-year-old ex-boxer credits his success, both inside the ring and out, largely due to his family of origin.
"I was so lucky," said Savarese. "Boxing is a very unstable sport, so it was good to have that kind of stability when I went home. They would keep me humble."
Savarese's humble attitude helped him parlay his excellent boxing career, one that stretched 18 years and included bouts against heavyweight greats Mike Tyson, George Foreman and Evander Holyfield, into becoming one of Houston's most successful and popular local boxing figures.
Local in the sense that Savarese has become synonymous with the phrase "Houston's heavyweight champion" as he is so often labeled by local newspaper and magazine writers tasked with covering his various business exploits. This has happened repeatedly over the years despite Savarese not actually being from Houston (he's from White Plains, New York) and never technically becoming the heavyweight champion of the world unless one counts the fringe title he won when he knocked out Buster Douglas in the opening round.
Still, Savarese did fight a who's who of heavyweight greats, and his performances in at least some of the fights lend themselves to the idea that Savarese-the-almost-champ might have become a legitimate heavyweight titleholder in just about any other era had he gotten the chance.
Savarese was a heavyweight contender during one of the division's best eras. Typically, the 1990s, led by Evander Holyfield, Lennox Lewis, Mike Tyson and Riddick Bowe, are considered by historians to be deeper and better than most other eras except for probably the 1970s when Muhammad Ali, Joe Frazier and a young George Foreman plied their trades.
Savarese, who considers himself a boxing historian, said there was no doubt in his mind which of the two eras was best.
"I think the 1970s was definitely the best because even the [secondary level] heavyweights back then were really good," said Savarese. "You had guys like George Chuvalo, Oscar Bonavena and Bob Foster around. There were so many great guys back then."
Still, Savarese, the historian, knew the era he fought in was also considered elite.
"Our era--we had some really good guys in it, too."
It was interesting to get the boxer's input on all the great heavyweights Savarese faced during his career, especially when it came to the question about which one he thought was the best overall.
"Believe it or not, probably Riddick Bowe," said Savarese. "I fought him in the amateurs. He should have been the greatest heavyweight ever. He was amazing. He had everything. He had such heavy hands. He could punch. He could fight inside. He could fight outside. Not many guys could do all that. In the history of big guys, he was probably the best inside fighter. He had the whole package. He should have been the greatest fighter ever."
Savarese said he admired Holyfield greatly, the first undisputed cruiserweight champion who went on to do the same at heavyweight.
"Holyfield, to me, was the guy who did the most with his ability," said Savarese. "He just had so much heart. I probably hit him harder than I ever hit anybody and he didn't go down. And he came back and knocked me down. That kinda sucked. He was just too strong and had a lot of heart."
And while Tyson scored a first-round knockout over Savarese during their encounter in 2000, Savarese admitted after some prodding that he didn't really agree with the quick stoppage.
"I didn't get it. I mean everything happens for a reason and hindsight is 20/20. I had been hurt way worse than that. I had been down and come back before. Lance Whitaker hit me with like 18 unanswered punches and I came back to win that fight."
Admittedly, having never seen the fight before I was to meet Savarese later that day, I was also surprised to see it had been halted so quickly. Boxing is a funny sport. What appears a blowout loss on BoxRec can sometimes look so different when you actually watch the action.
"I would have liked to keep fighting," said Savarese. "I think the referee kind of got overwhelmed because Tyson clipped him. In our corner, we thought they had stopped the fight because of that. We thought they had disqualified him. We had no idea they were stopping the fight. I got up pretty quickly. He's a great finisher, though, so who knows? Maybe he would have stopped me, but I would have liked the chance to keep going."
Savarese really does seem like a champion in the truest sense of the word. In fact, Savarese is exactly the person people probably picture in their heads when they imagine meeting a heavyweight boxing champion. He's humble. He's honest. He's kind. He's 6-foot-5 and looks like he can punch a hole through a brick wall.
He's basically Rocky Balboa.
Besides, Savarese boxed well enough against Foreman in 1997 to have one of the judges total a scorecard in his favor in the split-decision loss. That fight was for Foreman's lineal heavyweight championship, the same title Foreman had won three fights prior by knocking out Michael Moorer in the tenth round.
Had things gone just a little differently for Savarese that night, perhaps he would have had his hand raised as the heavyweight champion of the world.
"It was a close fight," said Savarese. "I mean, I might be biased because it's me."
But perhaps most impressively of all, Savarese is genuine in the way that only ex-boxers seem to pull off with any sort of regularity. It's a funny thing that boxing, a sport deemed crude and crass by some, can at the same time produce such delightful human beings.
All things considered, Savarese enjoyed a tremendous career. Since the very first day he started boxing, Savarese has known what he wanted to do with his life. More importantly, he made the decision to go out and do it.
"I love it," said Savarese. "I always wondered why I liked it so much, and it sounds crazy, but it's just the simplicity of it. I love training. Even when I lost, I could always just come back and train harder."
That, of course, technically ended when Savarese retired following his 2007 unanimous decision loss to Holyfield. But Savarese's shirts still hang off of him like he just finished doing a thousand pushups, and he's still heavily involved in the sport in multiple ways.
Savarese is the most successful local boxing promoter of the last decade and part owner of both the Main Street Boxing & Muay Thai gym in downtown Houston as well as a new gym, Savarese Fight Fit West U, on Bellaire Blvd.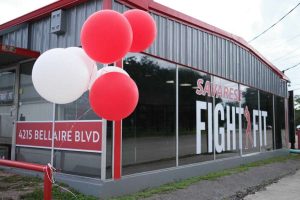 While boxing fans know Main Street as one of Houston's oldest and most successful local fight gyms, Savarese's new endeavor, which opened about eight months ago, caters to a different sort of crowd.
Here people from all walks of life, including oil and gas executives, attorneys, rabbis and even moms in yoga pants, take a giant leap into the world of boxing together, and for many of them, it's their very first exposure to the sport. Where some of these kinds of people do exist in more traditional gyms like Main Street, Savarese Fight Fit West U practically screams for them to come and check things out.
It's posh, clean and branded to sell to a certain kind of crowd.
Even the heavy bags are upgraded from traditional fare. Equipped with electronic sensors that measure how many times someone hits the bag and with what force, it's the kind of gym just about any person could walk into and want to try things out.
"Everyone gets really competitive about it. It also helps with accountability. Because sometimes when people train, they get to talking to each other and lose track of what they're doing."
That Savarese would be part of such a successful looking new venture shouldn't really be all that surprising. After all, beyond Savarese's ring exploits and even after his various stints on TV and in movies, he just seems to be a special person who knows this life is for him and so goes about doing his best to live it.
Savarese is the person maybe every professional fighter should someday grow up to be. While his brother might have been mostly wrong about people needing subtitles to understand him when he speaks, there remains something homey and comfortable about Savarese that invites people to be warm-hearted and jovial toward him. Perhaps that alone is what has brought Savarese such good fortune, or maybe, like he said, it really can be traced back his family.
"I just enjoy life and try to do my own thing," said Savarese. "I've been really lucky."
Check out more boxing news on video at
The Boxing Channel