By Arne K. Lang
The world heavyweight title fight between Anthony Joshua and Andy Ruiz was a big fight that became even bigger after the fact by virtue of producing a shocking upset. It was a spectacle that will be hashed over by pundits for generations to come. And like all fights that are instantly seared in one's memory, it obscured all that came before it, dimming the highlights of a very entertaining undercard.
Callum Smith
If not for Andy Ruiz, many more words would have been showered on Callum Smith these last few days. The youngest of the four fighting Smith brothers, nicknamed Mundo, looked like a world beater while chopping down Hassan N'Dam N'Jikam, a two-time Olympian (2004 and 2016) and former middleweight title-holder.
"This kid is the real deal," a friend in England told me when Callum Smith was just getting started. "He has the tools to become a superstar."
I played devils advocate. "I doubt that," I said, "because I don't think it's in his DNA. His three brothers are world class fighters but I wouldn't call them elite." But on Saturday it appeared that my friend was spot on.
Smith had N'Dam N'Jikam on the deck three times before the referee waved it off in the third round. The knockdowns were no great surprise. In his biggest fights, N'Dam N'Jikam had been on the mat almost as many times as Floyd Patterson in his first match with Ingemar Johansson. But the Cameroon native (37-3 going in) had always finished on his feet.
But what surprised this reporter was that Smith packed so much power into punches that traveled such a short distance. He scored his first two knockdowns with left hooks and the third with an overhand right. These were short, compact punches delivered with tremendous torque.
Callum Smith's triumph elevated his record to 26-0. Only five of his 14 knockout victims have lasted beyond the third round. By winning, he halted his family's U.S. jinx. Callum's brothers – Paul, Stephen, and Liam – were collectively 0-5 in fights on American soil, although admittedly against stiff competition.
With Canelo Alvarez and Gennady Golovkin seemingly poised to leave the middleweight division, the youngest Smith brother stands to rake in a lot of dough in the next few years. I would favor him over Golovkin regardless of whether GGG scores another highlight reel knockout this weekend.
Taylor-Persoon
The fight between Katie Taylor and Delfine Persoon was a barnburner. The action was non-stop from the opening bell and the final round was a doozy. Both left the ring conspicuously bruised and with cuts over both eyes.
As the fight stormed past the midpoint, I started to wonder what the record was for the most punches thrown in a female fight. When the final bell sounded, I wondered if the ladies had broken the record for the most punches thrown in any fight, adjusted for the fact that women fight two-minute rounds.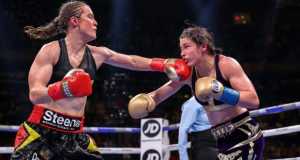 The CompuBox record, I have come to learn, was set just this past November when Jesus Soto Karass and Neeco "Rooster" Macias threw a combined 3,353 punches across 10 rounds, a mind-boggling 111 punches per minute. Taylor and Persoon were credited with throwing "only" 996 punches, an average of 50 per minute. It sure seemed like more than that.
When the smoke cleared, Taylor had kept her undefeated record intact and added another belt to her collection by coming out on the right side of a majority decision. With so many from the U.K. in attendance, it figured that the decision would be popular and while it was greeted with hearty applause, the scattered boos were louder.
Persoon pressed the action and was credited with throwing and landing substantially more punches. If you put any stock in the CompuBox numbers, the lady got a raw deal. For whatever it's worth, this reporter scored it a draw.
Taylor, who now resides in Connecticut, returned to her native Ireland on Wednesday. According to a report in the
Independent
, hundreds were there to greet her when her plane arrived at Dublin Airport and airport security had to hold back her frenzied fans. She hails from the seacoast town of Bray in County Wicklow where the County Council is considering a motion to erect a statue in her honor, a tribute almost always reserved for a dead person.
Josh Kelly
England's Josh Kelly, a 2016 Olympian, took a page out of the Muhammad Ali playbook and paid the price for his foolishness. In round seven of his bout with Ray Robinson, Kelly lay with his back against the ropes and let Robinson flail away. Kelly bobbed his head magnificently and Robinson's punches caught mostly air, but you don't win a round without exhibiting some offense (unless your name is Willie Pep) and giving away the round came back to bite him when the fight was scored a draw, blemishing an otherwise perfect record.
Photo credit: Ed Mulholland
Check out more boxing news on video at
The Boxing Channel