By David A. Avila
To be or not to be - Mexican style, that is the question.
Was it William Shakespeare who said that "tis nobler in the mind to suffer the slings and arrows of outrageous fortune, or to take arms against a sea of troubles, and by opposing, end them?"
That is the conundrum facing two world champions Gennady "GGG" Golovkin and Oscar Valdez, both known for adopting Mexican style fighting and winning world titles under its aggressive unrelenting philosophy. Both fight on Saturday with change in mind.
In New York City, former middleweight world champ Golovkin (38-1-1, 34 KOs) walks into the boxing ring against Steve Rolls (19-0, 10 KOs) at Madison Square Garden on Saturday June 8. DAZN will stream the non-title fight live.
Golovkin, 37, will be fighting under a new trainer and without the umbrella of the Mexican style philosophy. It served him well for nearly 10 years. Can he adopt a new fighting system favored by Johnathan Banks?
Since 2010 the Kazakhstan prizefighter ravaged the middleweight division like a 21
st
century Attila the Hun with his two-fisted, unmerciful style of attack that he made famous by calling it "Mexican style" to the delight of his fans. It also endeared him to the boxing crazed ethnic Mexican fans that quickly began following the Kazakh trained by Abel Sanchez.
But after a draw and a loss that saw Golovkin absorb more punishment than ever against Saul "Canelo" Alvarez, and then recently presented with a new contract by DAZN, whether it was money or a change in fighting philosophy a new trainer was brought in and the old one cast aside.
Fans, many of them Mexican, were left with their mouths wide open.
Golovkin has taken the reactions in stride and now enters the boxing ring with a new boxing philosophy after training more than a month in the mountain area of Big Bear; a mere one block away from his old mentor Sanchez's camp.
"He had big experience with a lot of guys and I like his style," said Golovkin of Banks. "For my next step I don't have a lot of time."
Banks has blended seamlessly with Golovkin.
"I see the hunger. I see the passion," said Banks who trained Golovkin at Shane Mosley's camp in Big Bear. "You see the energy and that's what I like."
And what about the Mexican fans that helped him become a draw?
"I am not changing my style, I am adding to it," said Golovkin regarding his style that appealed to many fans. "I can't desert that audience."
Golovkin will remain in stalking mode.
Valdez
In Reno, Nevada, the WBO featherweight titlist Oscar Valdez (25-0, 20 KOs) defends against Jason Sanchez (14-0, 7 KOs) at the Reno-Sparks Convention Center on Saturday June 8. ESPN will televise and stream the Top Rank card.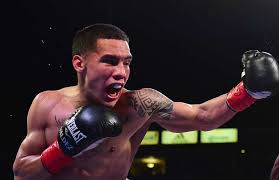 The native Mexican will be fighting for only the second time under his new team headed by trainer Eddy Reynoso who also coaches Saul "Canelo" Alvarez and Ryan "The Flash" Garcia. Though all three are ethnic Mexican fighters, none adopt the "Mexican style" philosophy of pressure fighting and never going backwards. The Reynoso method has always adopted a boxer-puncher philosophy.
Is it working for Valdez whose whole life has been pressure fighting?
After suffering a broken jaw against Scott Quigg who vastly out-weighed him in their non-title fight in March 2018, the fighter from Nogales departed from trainer Manny Robles and signed with Reynoso. Ironically, Robles began working with heavyweight contender Andy Ruiz who is now the talk of the boxing world and the new multi-titlist heavyweight champion of the world.
What irony.
Mexican style worked for the new heavyweight champion Ruiz and had led Valdez to the WBO world title that he still holds, but can he effectively learn the new philosophy espoused by Reynoso.
"We've worked very hard in the gym," said Valdez. "We have to give a good fight for the crowd, for the fans all over the world that are watching. That's what we plan to do, so I'm very excited for this fight, to be honest."
Valdez trained in San Diego in a training camp where few reporters are able to gain access. Before, he trained in Norwalk and was accessible to an army of reporters that could stop by at any time. Is training under a veil of invisibility worth the change of trainers and locale?
As Shakespeare said 400 years ago: "tis nobler in the mind to suffer the slings and arrows of outrageous fortune."
Check out more boxing news on video at
The Boxing Channel