By Arne K. Lang
The capstone of the annual Hall of Fame Weekend at the International Boxing Hall of Fame in Canastota, New York, a four-day event, is the ceremony for the new inductees. Eight new members were formally ushered into the Hall this year and the acceptance speeches of the seven living honorees were captured on YouTube.
Boxers (Modern Era)
James "Buddy" McGirt
Known for his high ring IQ, McGirt won world titles at 140 and 147 pounds and finished his career with a record of 73-6-1 (48 KOs). Five years after his final fight he was named Trainer of the Year by the Boxing Writers Association of America, largely for his work with Arturo Gatti. As a trainer he has been associated with 11 world champions including Gatti, Vernon Forrest, Sergey Kovalev, and Antonio Tarver, the latter of whom was seated on the dais.
McGirt was the main event of sorts as he had the privilege of speaking last. A loud round of applause greeted him as he took the podium.
At times McGirt had difficulty keeping his composure as he was overwhelmed by the moment, especially when he reflected on the influence of his late mother, but of all the inductees he injected the most humor into his acceptance speech. He said that 30 years ago to this very day he had his first date with his wife who was there to share the moment with him. "I went from making out in a parking lot in Seacaucas, New Jersey, to making out at the Boxing Hall of Fame," he quipped. "A woman who stays with a boxer even 30 days deserves a medal," he added.
Donald Curry
The Lone Star Cobra was 34-6 (25 KOs). His heyday was brief but spectacular. "At the pinnacle of his career, Curry was as skilled as any fighter I ever saw in any weight division," said the noted boxing historian Frank Lotierzo.
Reportedly 400-4 as amateur, Curry's signature win was a brutal second round KO of Milton McCrory on June 12, 1985, at Caesars Palace. With that win he became the unified welterweight champion.
"I really don't have words for this, but eventually they will come," Curry reportedly said when informed that he had made the Hall after a lengthy wait. But the words never did come. He spent less than a minute at the podium but did manage to thank his longtime trainer Paul Reyes. His speech was thick.
Julian Jackson
A world title holder at 154 and 160 pounds, The Hawk was one of the hardest punchers of all time. He finished 55-6 with 49 knockouts in a 17-year career that began in 1981. He continues to work in boxing as a trainer and coach in his native Virgin Islands.
Jackson was accompanied to Canastota by many members of his large extended family and by a good-sized delegation of government officials from the U.S. Virgin Islands where he is a national hero.
Jackson compensated for Donald Curry's brevity, as it were, with the longest speech of the afternoon. An ordained minister of an evangelical persuasion, his speech had two parts, the second part a sermon that he had undoubtedly delivered before, an inspirational talk that gave the ceremony the feel of a tent revival meeting. The gist was that a man must be willing to take risks, putting his trust in God for whom all things are possible. Promoter Don King was among those that Jackson thanked.
Boxer (Old-Timer)
Tony DeMarco
Born Leonardo Liotta in Boston's North End, DeMarco (58-12-1, 33 KOs) won the world welterweight title on April 1, 1955, with a 14
th
round stoppage of Johnny Saxton. Before the year was out, he had two toe-to-toe wars with Carmen Basilio sandwiched around a first round stoppage of talented Chico Vejar. His second fight with Basilio was named Fight of the Year by
The Ring
magazine.
DeMarco was introduced by Al Valenti, the grandson of Hall of Fame promoter Anthony "Rip" Valenti. He noted that unlike other Boston sports heroes such as Ted Williams, Bobby Orr, and Larry Bird, DeMarco, the son of Sicilian immigrants, was actually born and raised in Boston which enhanced the affection the locals felt for him. DeMarco, noted Valenti, often walked back and forth to his engagements at Boston Garden where he fought 26 times. He was a true icon in Boston's Italian-American community, said Valenti, who noted that there is a street named for DeMarco and a statue of him in Boston.
DeMarco, who worked as a security guard at the Massachusetts Statehouse after leaving the sport, spoke briefly. Now 87 years old, he seemed to be in very good shape for a man of his vintage. His wife was there and he made certain to have her stand up and take a bow.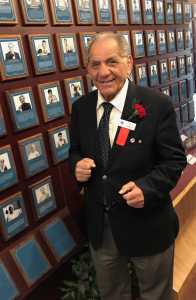 Non-Participants
Guy Jutras
Montreal's Jutras, a who turned 87 (some say 88) in March, is a boxing lifer who has been involved in all facets of boxing including a 31-year career as a ringside judge during which he judged dozens of world championship fights involving many of the brightest stars in the sport.
In a rather curious speech, Jutras noted that there were a lot of unsavory characters in boxing at one time and credited the IBHOF, founded in 1989, for helping clean up the situation. "Some sources recognize that boxing (today) is one of the cleanest sports on earth," said Jutras, a comment that drew a round of applause.
Lee Samuels
Known as one of the good guys in boxing, Samuels joined Top Rank as a publicist in 1983 after his paper, the Philadelphia Bulletin, went belly-up and he is still associated with Bob Arum's organization today.
Samuels reflected that he first became captivated by boxing after listening to Muhammad Ali (then known as Cassius Clay) fight Doug Jones on the radio. He was hired by Arum to assist in promoting a series of ESPN Thursday Night fights. Several years later he spent three months with Marvin Hagler at Hagler's training camp in Palm Springs where Hagler prepared for his date with Sugar Ray Leonard. He then performed the same role for Donald Curry. It pleased Samuels greatly that both Hagler and Curry were on the dais with him.
Samuels thanked all of his Top Rank colleagues, acknowledged his mentor, legendary publicist Irving Rudd, and gave a shout out to MGM Grand publicist Scott Ghertner, a frequent collaborator.
Don Elbaum
One of the last of the Runyonesque characters in boxing, Elbaum, who won't reveal his age, promoted his first fight at age 17 and is as frisky as ever now that he's in his eighties. He is thought to have participated in more than a thousand fights (mostly club fights in Pennsylvania and New Jersey) as a promoter, co-promoter, and/or matchmaker.
Elbaum related that he was first drawn into boxing at age seven when an uncle took him to a show in New Bedford, Massachusetts. Willie Pep was in the main event and he couldn't take his eyes off him. "He made beautiful music," said Elbaum, whose mother was a concert pianist.
In 1963, Elbaum, who grew up in Erie, Pennsylvania, took Erie's Johnny Bizzarro to Manila to fight unified junior lightweight champion Flash Elorde. Bizzarro lost but went the full 15 against a fighter that Elbaum said was better than Manny Pacquiao.
Elbaum noted that he has known Teddy Atlas for 30 years and said "it's a shame and a disgrace and an embarrassment to the fans that Teddy is not back on the air." This drew a hearty round of applause.
Observer
Teddy Atlas
Atlas, who needs no introduction, was recognized as an "observer," a category set aside for "journalists, photographers, artists, and screenwriters." Perhaps equally well known as a trainer, he coached Michael Moorer and Timothy Bradley, among others, to world titles, and currently works with lineal light heavyweight champion Oleksandr Gvozdyk. As a TV commentator he has covered the last five Olympiads. In addition, the Staten Island resident is a noted philanthropist.
The classy Atlas noted that 300 or so volunteers help make Hall of Fame Weekend in Canastota a special occasion and he started by acknowledging their efforts. Many of Atlas's behind-the-scenes TV colleagues made the trek to Canastota to support him and he thanked them.
As would be true of Buddy McGirt, Atlas choked up when he acknowledged his wife and children. His work, he noted, often kept him away at special moments in their lives such as graduations, birthdays, and even one Christmas, and he expressed his gratitude that their bond was never ruptured.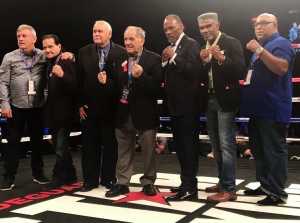 Mario Rivera Martino
Martino died in 2017 at age 93 and was inducted posthumously. A U.S. Army veteran who spent his formative years in New York City, Martino returned to his native Puerto Rico where he lived the last six decades of his life, working as a boxing correspondent and ultimately serving as the President of the Puerto Rico Boxing Commission.
Check out more boxing news on video at
The Boxing Channel