By Matt McGrain
Th
is Saturday night in London's O2 Arena, two heavyweight clashes of no small matter are set to unfold under the Frank Warren Promotions banner. Daniel Dubois, 6'5, 240lbs, aged 21 with an unbeaten record comprised of eleven victories and ten knockouts is set to take on Nathan Gorman, 6'3, 250lbs, aged 22, also unbeaten, 16-0 with eleven knockouts. At stake is the British heavyweight title and much more.
George Orwell once expressed the opinion that journalism is merely printing what someone else does not want printed and everything else is just public relations and it is possible to paraphrase him in relation to boxing: the best fights are the ones that scare promoters. Frank Warren did not want this fight to take place. In fact, he tried to persuade both men, each of whom he represents, to pull out. Neither would. Fight fans are the winners.
Warren has also noted, correctly, that a loss here will cause neither man irreparable damage but for the loser, there is a certain price to pay. A backwards step will be difficult to sell; for the triumphant heavyweight bigger fights loom.
One of which is almost certain to be the winner of Joe Joyce versus Bryant Jennings, the second heavyweight clash from this card. I named Joyce perhaps the most interesting
of all the current heavyweight prospects
earlier this year. The reason: he is a man in a hurry. 6'6" and 255lbs, Joyce has gathered less professional experience than either Gorman or Dubois, but his other vital statistic is the key one: Joyce is 33 years old. This final number gives context to the name of the man in the other corner, former world championship challenger Bryant Jennings.
Jennings, who stands 6'3" and weighs in at 225lbs, is at the other end of his heavyweight adventure having been last legitimately ranked as a contender in early 2016 after his troubling defeat at the hands of Luis Ortiz. His loss to Ortiz (by TKO7) was in and of itself a crossroads fight, Jennings having most recently been defeated by champion Wladimir Klitschko.
[caption id="attachment_58779" align="alignnone" width="300"]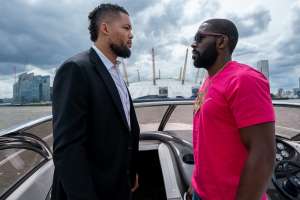 Joyce Jennings face off[/caption]
His 2017 comeback was comprised only of crossroads fights denoting him as something of a gatekeeper, and when he eventually lost one to Oscar Rivas in January of 2019, his status was arguably reduced further, to that of journeyman. Jennings has journeyed to London to face Joyce, an underdog against a fighter with a third of his experience, unproven and flawed but a massive heavyweight with a massive punch. It's an uncomfortable assignment for the 34-year-old Philadelphian, but a victory would re-elevate him.
Playing the long game is hard in the twilight of one's career, but as Tony Thompson found out, it can be a profitable one.
And Jennings, for all that he is an underdog, is a very, very live one. The American always struck me as a cerebral fighter. He's had to be, given the fact that he took up the sport late and jammed a lot into a relatively short run to the title. Criticized for standing in front of Wladimir, he stayed slippery, threw plenty of power punches and even managed to occasionally engage in the pocket where the champion held remorselessly – held so often that he was docked a point.
So while the champion was the clear winner Jennings discomforted the bigger, heavier puncher enough that he made errors in strategy and technique, despite the fact that in addition to the described physical advantages he was also the more seasoned fighter.
Joyce has those same physical advantages but he is far and away the less experienced. If Jennings is capable of confounding (but not beating) a competitor like Wladimir, what, then, of a pup like Joyce?
The big Englishman, to be fair to him, has been moving in circles that make Jennings only a minor step up. He most recently blasted out two familiar names to heavyweight fight fans, brutalizing Deontay Wilder victim Bermane Stiverne in six rounds this February and savaging the enormous Alexander Ustinov in three rounds this May. He has been moved along and, on paper, Jennings is not out of keeping with the class of fighter he has been mixing with.
On paper.
In reality, Stiverne was pitifully out of shape at over 270lbs, and Ustinov's best, too, was far behind him. More than that though, each man had a problem in common: they are slow of hand and foot.
Joyce, too, has problems in this department. He appears, at times, to be punching in treacle and in these two most recent matches, the speed of thought and exchange seemed at times almost comical. Make no mistake about Joyce: he is a born puncher. In this more than any other division, that is boon. He is also capable of work and he has good accuracy.
Size; workrate; targeting. Give this combination to any trainer of note and he will bring you a heavyweight prospect. But that dearth of speed is a problem and it may be one Jennings can take advantage of.
When a new man meets a former world-title challenger, the only question, in the end, is what does the veteran have left? Jennings was badly beaten by another coming man this January in the shape of Oscar Rivas. Rivas hurt and dropped Jennings in the twelfth and then finished him on his feet via bombardment, but take note: had Jennings won the twelfth instead of being stopped he would have escaped with a draw. That would have had ramifications. Oscar Rivas probably wouldn't have landed his money fight with Dillian Whyte later this month and Jennings might have found himself in a role other than that of opponent.
These are fine margins and alarm bells are ringing for me. When slow meets skilled the outcome can be definitive in favor of the slicker man. In the end though, I think the most likely outcome is a re-run of the Rivas fight. Jennings will not be a pushover. He will win rounds and make things difficult for Joyce – but Jennings has been hit and hard by Wladimir, Ortiz and Rivas, all punchers and in the case of the first two certainly slower of hand than he. Joyce to stop Jennings in a close fight is the sensible pick.
Frank Warren's wishes to the contrary, this may land Joyce in the ring with the winner of Dubois and Gorman. This fight, if anything, is even more fascinating than the first.
Dubois is devastating in his silence. Reluctant to speak, smiling, quiet, he has let everyone from Frank Bruno to Frank Warren do his talking for him in a series of interviews for which he has barely been present. The needle that exists between he and Gorman, supposedly dating back to a brief stint as roommates during their amateur days and in some tasty sparing sessions since, probably makes him uncomfortable.
Gorman, who is related to Tyson Fury, is far more comfortable in executing his media duties. He is also overweight at 250lbs and cuts a far less impressive figure than his muscular opponent, something we saw recently in the shape of Anthony Joshua-Andy Ruiz; but the comparisons between the two contests don't end there.
Like Ruiz, Gorman has a reach far shorter than his taller opponent and like Ruiz his reputation going in is that of a lesser puncher. Bringing pressure against a longer opponent who can punch is one of boxing's toughest assignments because the toll is set. Moving a fighter out of position by swarming him is natural when you have the longer jab but when you have the shorter one, you buy your range with pain and points. Gorman is going to get hit.
But once more Britain has produced an Adonis who has yet to answer questions about his gas tank. Think Frank Bruno or Joshua and think Dubois, perhaps. In his last contest Dubois was drawn into a thrilling shoot-out with a wild Ghanaian by the name of Richard Lartey. Dubois, unimpressed, was ultra-aggressive from the off, swinging two-handed but from the very beginning he had the appearance of a fighter that was uptight, blowing hard through his cheeks while throwing an odd mixture of stiff and limber bombs. Capable of speed on some punches, others appeared to be from the Joyce play book in that they sought to travel the furthest possible distance at no great speed. It made him vulnerable to counters.
Dubois took instruction well and shortened up his punches as he went, webbing his tiring opponent in an ever-decreasing circle, but he also showed a certain raggedness in his own work apparently born of fatigue. This may be an over-analysis; Dubois after all expected an easy knockout and after some fireworks, he got it, and with some rather pretty punches, too. But he also hinted at a blueprint for his own destruction: could Dubois perhaps be countered and outlasted? And if so, is Gorman the man to do it?
The bookies favour Dubois but there is a gathering sense on social media that Gorman can out-fight him. I think it boils down to a matter of technique and punch resistance which is saying nothing, really, as almost every boxing match does to one degree or another. But if Gorman has the technique to buy real estate without absorbing too much punishment, I think he will win the exchanges that result. This is the very key to this style clash revealed by Andy Ruiz: throw with the puncher and back yourself to land first. Gorman can beat Dubois to the punch often enough to amass enough points to take a hard-won decision. Doing it will be a matter of overcoming both a style and size advantage though, and that is a tall order that requires the right strategy and definitive technical advantages.
The balance here tips back towards Dubois because like his taller opponent, Gorman is unproven. The small matters that determine fights, that determine whole careers, will decide where the argument resides.
Either way, two fringe contenders are sure to emerge from Saturday night's fights. This is the prediction that matters, and it is a sure one.
Check out more boxing news on video at
The Boxing Channel