David Avila, the West Coast Bureau Chief for this web site, and Ted Sares, a regular contributor, will be honored at upcoming events for their contributions to the sport of boxing. Avila will be inducted into the International Women's Boxing Hall of Fame in the non-boxer category at the organization's sixth Induction Ceremony/Dinner on Aug. 30 at the Hilton Doubletree San Francisco Airport Hotel in Brisbane, CA. Sares will receive the inaugural Harold Lederman Award at the 9
th
annual Ring 10 Fundraiser and Awards Banquet at Marina Del Rey in Throggs Neck, NY, on Sunday, Sept. 29.
Avila
Although he never fought professionally, David Avila (pictured without his trademark Panama hat) has boxing in his blood. His great grandfather on his mother's side was Battling Ortega who fought seven world title-holders (and likely a few more in undocumented fights) during the years straddling World War I. David's father boxed as a pro and had several fights at LA's fabled Olympic Auditorium. Moreover, there is branch of his family tree wherein lies the late, great bantamweight champion Manuel Ortiz, a member of the International Boxing Hall of Fame.
Avila graduated in 1978 from UCLA with a degree in history. He was headed toward a career in education when he was bitten by the journalism bug. He first covered boxing for a small weekly in San Diego. There followed stints at the LA Times and Riverside Press-Enterprise. In 1995 he co-founded Uppercut magazine, a periodical that is still in existence. Several other web sites carried his byline before he joined The Sweet Science in 2005.
Avila recalls that he first became intrigued with women's boxing in May of 1999 when he attended a show staged in a tent on the grounds of the Pechanga Indian Casino in the town of Temecula. A 20-year-old light flyweight named Wendy Rodriguez made her pro debut on the undercard.
Avila was impressed with her level of skill. He has been a staunch supporter of women's boxing ever since. In 2016, his role at TSS was expanded when he was named the editor of a new TSS sister site called
The Prizefighters
, a web site devoted to women's boxing. (Wendy Rodriguez, who went on to win a world title, is joining Avila in the IWBHF class of 2019; how fitting!).
When it comes to the SoCal prizefighting culture, no boxing writer is more attuned to it than David Avila. Whereas many established boxing writers only turn up for the big fights, David, who resides in Riverside, attends all the little shows, sometimes driving several hours each way, and prowls the gyms for stories when he isn't at ringside working on a deadline. He estimates that he has been inside nearly 200 boxing gyms, most of which have come and gone. That might be a record worthy of entry in the Guinness book.
Sares
A Chicago native who now resides in the White Mountain area of Northern New Hampshire, Ted Sares has followed boxing with a passion for more than 60 years. At age 82, he still competes in powerlifting and strongman competitions and has won multiple national titles.
Sares, who traveled the world during his days as a labor relations specialist for a Fortune 500 company, contributed to several other boxing web sites and magazines before joining the TSS family of writers. A prolific writer, he has self-published two boxing books under the iUniverse imprimatur and authored a True Crime book, "Shattered," a compendium of essays released through a traditional publisher.
Sares is a member of Ring 4, the New England branch of the Veteran Boxers Association, which honored him with the Humanitarian of the Year Award in 2012. The various Veteran Boxers Associations -- the very first was organized in Philadelphia in 1935 – were established for the purpose of supporting former boxers that had fallen on hard times. Ring 10, of which Sares is a lifetime member, reportedly devotes every penny it receives to this purpose. Former professional boxer and NYSAC inspector Matt Farrago (pictured with Ted) founded the 503(c) charity in 2011 and remains the driving force.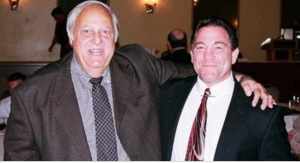 The award that Sares will receive honors the memory of his friend Harold Lederman who died on May 11 of this year at age 79 after a long battle with cancer. Lederman judged more than 1000 fights before joining the HBO Boxing team in 1986. Known for his passionate love of boxing and his cheery personality, Lederman was eulogized as the greatest global ambassador for boxing that the sport has ever known.
For more information about the International Women's Boxing Hall of Fame and Ring 10 fundraisers, please go to their respective web sites:
Iwbhf.com
Ring10.org
Check out more boxing news on video at
The Boxing Channel