By Arne K. Lang
When Bones Adams retired from boxing, he was still in his mid-twenties. The kid from Henderson, Kentucky, now lived in Henderson, Nevada, a suburb of Las Vegas, and before leaving the sport he had made enough money to go on a home-buying spree.
Real estate in the form of rental homes was a sound investment, or so everyone told him. But that was before the Great Recession, a scourge that clobbered real estate speculators and new homeowners, hitting Las Vegas especially hard.
"Suddenly," says Bones, looking back, "a house next door to one of my mine, a house that looked a lot like mine," was on the market for half the price that I paid for mine. I didn't have the equity to ride out the storm."
One of Bones' best friends worked as a limousine driver for Charles Horky. The friend suggested that Bones join the team. Horky, a big fight fan, hired him in a flash.
Horky was an American success story. Starting with one limousine, he built a mini-empire. His fleet serviced the MGM Grand properties, of which there were eight on the Las Vegas Strip. Many of his regular clients were celebrities.
A town like Las Vegas attracts a lot of predators. Charles Horky fit right in. The FBI would allege that he didn't merely turn a blind eye when his drivers supplied hookers and drugs – cocaine, meth, Ecstasy – to his customers, but that he encouraged it and demanded a cut of the action. Then there was the little matter of unauthorized charges on credit cards, a common scam in Vegas, particularly in "gentleman's" clubs. "What happens in Las Vegas, stays in Las Vegas," goes the slogan, and what often stays is a lot more money than a visitor remembers spending.
On Dec. 13, 2012, the FBI arrested Charles Horky and eight of his employees or associates, including four limousine drivers, on racketeering charges. Clarence "Bones" Adams, identified in the papers as one of the limousine drivers, was caught up in the sting.
"I did some stuff I shouldn't have," Bones acknowledged when this reporter broached the subject. But he says he wasn't a limousine driver except on his first day of work because Horky thought he was more valuable out in the field working as a starter, a person that works with the concierge at a hotel. (In Las Vegas, a taxi driver is prohibited from carrying more than five passengers. For larger parties, it's often cheaper to hire a limo than taking multiple cabs.)
At his initial hearing, Bones pleaded not guilty. The attorney he hired, confident that he would receive only a slap on the wrist, got him to change his plea. Indeed, probation was what the prosecutors recommended. But the judge thought otherwise and Bones would serve six months at the federal correctional institution in Taft, California.
- - -
When we caught up with Bones Adams last week, he had just returned from shepherding his three youngest children to school (Bones has a daughter, Alexa, from a previous marriage). It entailed three stops – a high school, a middle school, and an elementary school. The school buses don't service his neighborhood, an upper-middle-class neighborhood in the southwest part of Las Vegas.
The home that Adams shares with Millette, his wife of 14 years, and their children has a very deep back yard. Situated at the end of the long driveway is a 3,200-square foot building that houses a two-car garage and the boxing gym. The previous owner was a custom glass maker. This was his workshop.
Bones Adams doesn't speak well of his former manager Cameron Dunkin, but Bones concedes that Dunkin did him a big favor when he sold his contract to James Prince. The change-over was made shortly after Bones' first match with Paulie Ayala.
Prince, the Houston-based rap music mogul, was previously involved in the careers of Floyd Mayweather Jr, with whom he had a big falling out, and Andre Ward, among others. Today he is connected to a stable of boxers in Las Vegas who compete under the Prince Ranch insignia, the most notable of whom is former U.S. Olympian Michael Hunter who meets undefeated Sergey Kuzmin at Madison Square Garden on Sept. 13 in a match that will leave the winner well-positioned for a shot at a world heavyweight title. Undefeated super bantamweight Raeese Aleem (pictured with Bones) is one of several rising contenders.
The gym that sits in Bones' backyard was designed for Prince Ranch fighters but isn't exclusively for them. "Basically," says Bones, "whenever there is a really big fight in town, one of the fighters comes here." Amir Khan used the gym to put the final touches on his preparation for Canelo Alvarez. Daniel Jacobs did likewise. More recently, Manny Pacquiao and his trainer Freddie Roach were here during the final days preceding PacMan's fight with Keith Thurman. Tucked away in a quiet residential neighborhood, the gym offers a marquee fighter a level of privacy he is unlikely to find elsewhere.
[caption id="attachment_59639" align="alignnone" width="300"]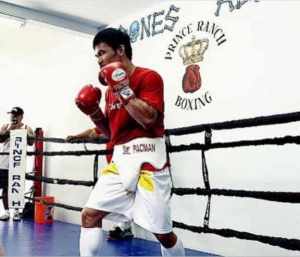 pac[/caption]
When Khan was here in May of 2016, Bones Adams wasn't yet immersed in the daily routine of a trainer. It would be more accurate to say that he was the facility's caretaker. But he and Khan forged a relationship and when Khan was in the market for a new trainer – having left Virgil Hunter, who trained him for his bout with Terence Crawford -- he thought of his new buddy back in Las Vegas.
Amir Khan is no longer an "A side" fighter in the United States. Canelo Alvarez starched him with one punch and he was flayed on social media for his weak showing against Crawford. But Khan, an Olympic silver medalist for England at age 17, remains one of the most well-known sporting personalities in the U.K. His supposedly tempestuous relationship with his attractive American-born wife has been a steady source of fodder for the tabloids.
Bones spent two-and-a-half weeks with Khan in Khan's hometown of Bolton and another two-and-a-half weeks in Jeddah, Saudi Arabia, where Khan finished his training for his fight with Billy Dib, a late sub for India's Neeraj Gorat who had to pull out after being injured in a car crash. The fight was hyped as a landmark event that would pave the way to a succession of bigger fights in Saudi Arabia.
The Arab nation has been in the news lately and we asked Bones for a few tips on the unlikely chance that we would ever go there. "I was told that I shouldn't strike up a conversation with a woman I didn't know, but what I found was that things had loosened up," he said. "However, 'no touching' is still the rule (a no-no that covers everything from a handshake to a hug). The people over there were very warm. We were treated very well."
Late in his boxing career, Bones' hairline began to recede. The recession has now completed its journey, perhaps with a little assistance from a barber, and Bones is fashionably bald. But he looks younger than his age; the muscles in his arms are taut, fittingly so for a man who preaches that a boxing-themed workout is the best workout of all for a man that wants to stay physically fit.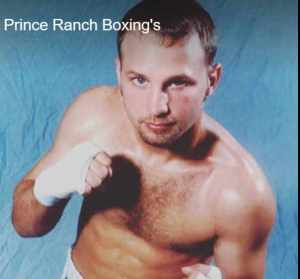 When Bones looks back on his boxing career, he thinks about what might have been if those that had influence over his career had done a better job of looking out for his interests and if the deck hadn't been rigged against him in several of his most important fights. But the bitterness has long since dissipated, usurped by an understanding that there were times when his life could have spiraled completely out of control and an appreciation for those that reeled him back in. Foremost is his wife Millette, whose name Bones spells out to make certain the reporter gets it right.
It's been a bumpy ride for Clarence "Bones" Adams, but he is now in a good place. Back in the day, the WBA stripped him of his title for no good reason other than they could, but looking back Bones can see that owning all the title belts in the world wouldn't have amounted to a hill of beans if he hadn't met Millette who has stood by his side through thick and thin.
Check out more boxing news on video at
The Boxing Channel