By David A. Avila
INDIO, Calif.-After years of honing and crafting their combat skills several undefeated prizefighters met in the desert and a pair emerged victorious – one by knockout and the other by decision on Thursday night.
Puerto Rican super lightweight prospect Luis Feliciano (13-0, 8 KOs) walked into the Fantasy Springs Casino arena to boos and hisses from the crowd, but departed the winner of the NABF super lightweight title by unanimous decision over Mexican challenger Genaro Gamez (9-1,6 KOs).
It wasn't an easy task for Feliciano (in the black trunks) who was the naturally bigger and taller fighter. Gamez began his pro career as a super featherweight but could not make lighter weight divisions and found himself as a super lightweight.
Just using the eye test, a person could see Gamez was physically a smaller fighter. But when it comes to weight there are no true height sizes. And once the punches flowed the action was torrid.
Feliciano trains in South El Monte, Calif. with boxing wizard Ben Lira, and he learned his craft well. From the opening bell he zipped body shots underneath Gamez's guard repeatedly. The San Diego fighter never allowed Feliciano to enjoy too much success and often retaliated every big hit with one or two of his own.
After several overhand rights and uppercut body shots by Feliciano, one connected solidly in the torso of Gamez who buckled severely but did not go down. Feliciano noticed immediately and increased the attack. It was the crucial moment of the fight.
For three ensuing rounds Feliciano controlled the fight. It looked like the Puerto Rican fighter might dominate and win easily, but in the fifth round, Gamez took a stand and reminded everyone just why he was undefeated. The San Diego fighter opened up with three-punch combinations and shots to the head and to the body. The momentum shifted to Gamez.
Perhaps Feliciano was told by his corner to stop going backwards. In round six Feliciano slipped into his most offensive mode and unfurled three-punch combinations with a steely look on his face that seemed to say whatever happens, happens, I'm not going backwards.
For the remainder of the fight Feliciano was steadfast in his attacks and refused to yield despite the many attempts by Gamez to regain control.
After 10 rounds all three judges scored in favor of Feliciano 99-91 and 98-92 twice and the Puerto Rican became the NABF titlist.
"That was a very tough fight. He came to fight," said Feliciano. Conditioning was the difference. I was the stronger fighter in the end and no disrespect to Gamez, he was very good."
Cobbs Wins NABF Title
Blair Cobbs (12-0-1, 8 KOs) traded knockdowns with Steve Villalobos (11-1-1, 9 KOs) then slipped into overdrive to knock out the local Indio fighter with a blinding combination in the ninth round of their NABF junior welterweight title fight.
It was slow going at first as Cobbs boxed and moved laterally from side to side and was racking up most of the rounds until Villalobos caught him with a combination and floored the Philadelphia-born speedster in the sixth round.
Cobbs got up and both fired rapid combinations with a right hook stopping Villalobos assault. But it was the best round for the local fighter whose crowd of fans roared loudly sensing a stoppage.
"I got nailed," said Cobbs. "But when I landed that right I could sense his energy go down."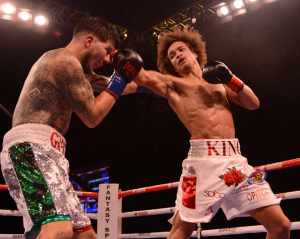 Cobbs returned to his box and move strategy that had worked effectively for five rounds. Then, with 30 seconds remaining in the seventh round, Cobbs unfurled a sizzling combination that took the steam out of Villalobos.
In the eighth round Cobbs stopped moving rapidly and was instead looking for openings and unloaded three successive straight left - right hook combinations. All connected and Villalobos looked for a solution to stop the Philadelphia fighter's momentum. None could be found.
Cobbs increased his attack and connected with a three-punch combination and a follow up right hook that floored Villalobos. The Mexican fighter got up and Cobbs returned with a right uppercut and left cross combination that sent Villalobos violently down near the ropes. Referee Eddie Hernandez didn't bother to count and wisely stopped the fight at 1:20 of round nine for a Cobbs knockout win. He also retains the NABF junior title in the welterweight division.
"I tried to place my shots and once I found it, boom. game over," said Cobbs. "Villalobos came and brought his A game and I respect him. I wish nothing but the best for him."
Other Bouts
A super welterweight battle between undefeated Richard Acevedo (5-0-1, 5 KOs) and Connecticut's Jose Rivera (8-4-1, 5 KOs) ended in a split draw after six back and forth rounds. Acevedo started quickly against the southpaw but Rivera could not miss with the right hook and rallied back into the fight. No knockdowns were scored but each had their moments in the six-round fight. Scores were 59-55 Acevedo, 59-55 Rivera, and 57-57 for the draw. Rivera looked much better than his record indicated.
Mexico's Raul Curiel (7-0, 5 KOs) upper-cutted his way to victory over Florida's Alphonso Black (8-7-1, 4 KOs) by knockout in the sixth and final round. Though Black was never knocked down Curiel was unloading six-punch combinations with impunity. Referee Eddie Hernandez stopped the super welterweight fight at 51 seconds of the sixth round.
"I felt good today, very strong," said Curiel. "My opponent was honestly strong. He had a heavy hand."
Curiel is trained by Freddie Roach and has shown obvious improvement in his combination punching and timing. Black showed a sturdy chin but was absorbing multiple combinations. In the fifth round Curiel connected with four consecutive left hooks to the body and head. The fighter from Tamaulipas is managed by
Frank Espinoza
.
"It was my first fight at 154, but I knew how to handle his punches," Curiel said.
Nicholas Sullivan out of Norfolk, Virginia won his pro debut in a tug of war type of fight with Mexico's Jose Palacios (1-4) by unanimous decision after four rounds in a lightweight match. Sullivan cruised through the first round with his speed, but subsequently Palacios began timing the attacks and the fight got closer each round. Both fighters connected but Sullivan was more accurate and won on all three cards 39-37 and 40-36 twice.
Photo credit: Al Applerose
Check out more boxing news on video at
The Boxing Channel