By Ted Sares
Guillermo "El Jefe" Jones began his pro career in 1993 fighting as a welterweight and achieved a long winning streak highlighted by an inordinate number of stoppages. He then challenged for a world title as a junior middleweight in 1998 coming up short twice against Laurent Boudouani (draw and SD). The lanky Panamanian -- he stands 6'4" --then moved up four weight classes to cruiserweight, bypassing middleweight on the way up, and fought to a controversial draw with WBO cruiserweight champion Johnny Nelson in 2002. Most ringside observers thought El Jefe (translation: The Boss) had won.
Jones took 14 months off after his fight with Nelson. He subsequently took off all of 2006, but in 2008 his promoter Don King got him a shot at the WBA cruiserweight title held by Germany's Firat Arslan. Fighting in Hamburg, Germany, Jones savagely lifted Arslan's WBA belt, stopping him in the 10
th
round.
After taking two years off (as was his wont), Jones defended the title twice, beating up Valery Brudov and Michael Marrone using his signature uppercuts and long rights to batter them into submission. He was inactive for 18 months after destroying Marrone, during which he was stripped of his title. Then, on May 17, 2013, he stepped into the ring with Denis Lebedev, his successor as WBA champion, in Moscow, Russia.
The two cruiserweights waged war in a memorable fight left the Russian's face looking like a frightening Halloween mask.
The Lebedev War
Lebedev was ahead on all three scorecards -- 96-94 (twice) and 97-93 -- after 10 rounds, but by then he had started to punch himself out. He also suffered several grotesque facial lacerations—some early--that finally resulted in a major upset stoppage in the 11th round and a five-day stay in a hospital.
[caption id="attachment_59835" align="alignnone" width="300"]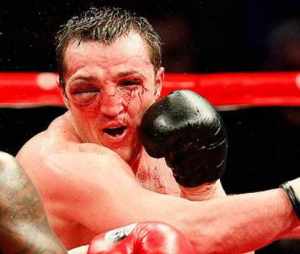 The Panamanian, cagey and clever, was impervious and immovable. Using a tool box composed of an iron chin, long power jabs, lead rights, straight long rights, continual and jarring uppercuts, and savvy counters, he just kept coming and coming and coming. Given his height, heft, and stutter-step movement, he presented a scary and stalking monster—even scarier than the Russian.
Scott Christ described it in BLH thusly: "Though (Lebedev's) performance was very admirable and he delivered a ton of strong shots that Jones, 41, simply walked through somehow, there's just no question that referee Stanley Christodoulou allowed this fight to go on far too long, as did Lebedev's corner, as did the commission, though it was hard to tell if there even was a doctor for this fight. Lebedev took sustained punishment, round after round, to an eye that was busted open pretty heavily in the first round of the fight. It became brutal after a while to watch the pummeling of the injury continue on, ceaselessly.
"For Jones, it's obviously a very big win, one of the best of his career. It would be great if we could expect to see him fight again later this year, or even early next year, but there's no counting on that.
He's notoriously lazy about his schedule
(italics mine) and Don King is the perfect promoter to give you all the rope you want on that front."
The manner in which Jones pummeled the champion raised eyebrows of suspicion. Many observers, especially Panamanians, hoped that Jones would test clean for this fight, but such would not be the case. Both his "A" and "B" urine samples tested positive for the banned diuretic Furosemide. The result of the fight was changed to "no-contest" and the WBA ordered a rematch.
Furosemide
Furosemide is used for losing weight and masking other banned drugs. But this drug does not necessarily make a fighter stronger and/or enhance his performance. If anything, it can cause cramping, muscle weakness, electrolyte depletion, fatigue, and dehydration suggesting that El Jefe used it -- perhaps desperately-- to make weight after being out of the ring for 18 months. Considering these side effects, the fact that he performed the way he did against the likes of Denis Lebedev is beyond incredible.
Leading into the highly anticipated rematch in Moscow there was bad blood between them. Jones, a showman of sorts, called it "Facial Surgery II." He added, "Everyone who was there saw what I did to him. I'll repeat this execution in four days so don't miss it." Lebedev was relatively stoic but primed for revenge. However, just hours before the fight, it came out that Jones had again tested positive for a banned substance, the same substance that he came up dirty on for the first fight, and the rematch was called off as a result.
This chronically inactive cruiserweight, now 47 years old, went on to fight at heavyweight, winning three straight before going inactive in 2017. In his last bout, he won the vacant WBA Fedalatin Heavyweight Title with an 11-round (yes, "11") split decision over Ecuador's Ytalo Perea, bringing his record to 41-3-2.
Jones' accomplishments in the ring have been noteworthy. He hasn't lost since 2005 when
Steve Cunningham
narrowly defeated him via another controversial and split decision. Only one of his three losses has been decisive and he avenged that in short order. But it's the unusual and unorthodox circumstances under which his accomplishments came that have made them compelling.
During his long layoffs, Guillermo likely spent little time in the gym, though he does now, working as a sparring partner for fighters like Sergey Kovalev. One can only speculate as to what kind of boxer he would have been had he trained properly and fought more frequently--but wait--maybe that was the answer, to wit: maintain a career with an extremely low frequency of fights and keep your body preserved by staying out of the gym.
Jones may never fight again, but if he does against a fair to middling opponent, don't even think about betting against him. As a fighter ages, conditioning normally becomes a pre-requisite….unless your name is Guillermo "El Jefe" Jones, for "El Jefe" is one unconventional dude.
Ted Sares is a lifetime member of Ring 10, a member of Ring 8, and a member of Ring 4 and its Boxing Hall of Fame. He also is an Auxiliary Member of the Boxing Writers Association of America (BWAA). He is an active power lifter and Strongman competitor in the Master Class.
Check out more boxing news on video at
The Boxing Channel