By Arne K. Lang
When signing an autograph for a fan, Claressa Shields appends her signature with the initials GWOAT (Greatest Woman of All Time). Last night (Wednesday, Oct. 16), she acquired another trophy for her mantle when she was named Sportswoman of the Year for Individual Sports by the Women's Sports Foundation at the organization's annual banquet at the Cipriani-Wall Street Restaurant in New York. The foundation was founded in 1974 by tennis legend Billie Jean King "to advance the lives of women and girls through sports and physical activity."
Shields, a two-time Olympic gold medalist, currently 9-0 as a pro, finished first in a field of 10 finalists. She previously won this award in 2016. Since the award was bifurcated with individual sports separated from team sports, only Shields and speed skater Bonnie Blair have won this award twice. Blair took down the honors in 1994 and 1995.
The news came one day after law enforcement authorities in Shields' hometown of Flint, Michigan, confirmed that Shields brother Artis Mack was in custody for the assault of James Ali Bashir (aka Bashir Ali).
Seven days ago, things were going swimmingly for Claressa Shields. At the press conference in Flint for her forthcoming bout with Croatia's Ivana Habazin, SHOWTIME executive Gordon Hall presented Shields with a $10,000 check for her charity which benefits underprivileged youth in the Flint area. Mark Taffet, Shields' manager, announced that 300 Flint-area youth representing such organizations as the Boys and Girls Club would be Claressa's guests at the fight. Dr. Karen Weaver, the mayor of Flint, thanked the fighter for "the love and support that she has shown for her hometown." (Earlier this year, Mayor Weaver, a clinical psychologist, declared April 27 to be Claressa Shields Day in Flint and presented the boxer with the symbolic key to the city.)
What a wonderful preamble to what was packaged as a landmark night in the city of Flint. Shields would be making her first appearance as a pro in the city where she was born and raised. The fight would air as the main event on SHOWTIME which had pumped up interest in the fight at no small expense by showcasing Shields in a three-part digital series called "The Rise." With a win over Habazin, who held the WBO 154-pound belt, Shields would become the
fastest fighter in history
– male or female – to win world titles in three weight divisions.
Then the stuff hit the fan.
At the weigh-in the day following the press conference, Ivana Habazin's trainer, the aforementioned James Ali Bashir, got into a tense verbal confrontation with Shields' sister during which he punctuated his back talk with incendiary words related to her mannish appearance. (Claressa's sister is a member of the LBGTQ community.)
Somewhat later but before the scales were readied, Bashir was punched in the back of the head. The punch landed with such force that Bashir, whose age is variously listed as 68 and 71, fell face first to the concrete floor where he lay unconscious, bleeding from the mouth. Habazin rushed to him sobbing and stayed with him as he was transported to the hospital.
Bashir underwent some sort of facial reconstructive surgery, was released from the hospital, and then had to return to the hospital when he was diagnosed with a brain bleed. He is out of the hospital now and believed to be back in his native New Jersey.
As we know, the Shields-Habazin fight was cancelled although the show went on as scheduled with the co-feature bumped up into the main event.
Shields was devastated. The show, which was intended to uplift her beleaguered community, had the opposite effect, heaping more sludge on a city with an image problem. "Claressa and her team are classless," Habazin wrote on her social media page. "We don't feel safe here (in Flint)."
In an interview shortly after the incident with a local TV station, Shields said that the assailant, to her knowledge, was not a member of her camp. That depends, one might say, on how one defines "camp."
The identity of the miscreant was first revealed by Ryan O'Hara, a young boxing writer from Arizona. In a story that appeared on Oct. 9, O'Hara, who did his homework, told his readers that Artis Mack, Claressa's 28-year-old brother, had been in and out of prison since 2009 and was on parole for assault and felony weapons violations.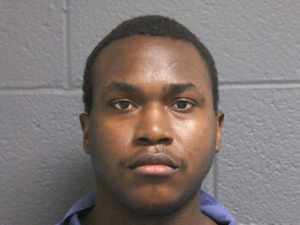 Claressa referenced her brother back in August when she said that one of the reasons she was happy about having her next fight in Flint was because it meant that Artis (pictured) would finally get to see her in the ring. As a parolee, he wasn't allowed to leave the state.
News about Artis Mack's arrest included the information that he was apprehended on the day of the weigh-in. As he ran from the building, he was followed by an off-duty officer who caught up with him in a nearby neighborhood and arrested him. Why the authorities waited 12 days to name the culprit remains a mystery.
The charge against Mack is "assault with intent to do great bodily harm less than murder." If found guilty, he faces up to 10 years in prison.
As for Claressa Shields, she purportedly lost a $350,000 payday when the fight was cancelled. Her newest award from the Women's Sports Foundation will presumably assuage a bit of the hurt.
Check out more boxing news on video at
The Boxing Channel