By Phil Woolever
In a wide range of degrees and intensity, Johnny Tapia and Edwin Valero were two of boxing's wildest characters. Each former champion died far younger than his exceptional athletic condition suggests he might have, and again in varying degrees, both were the primary cause of their respective demise.
In sensationalized tragedies, neither high profile exit sang of any candle in the wind type scenario. It was more like the drifting smoke of firecrackers after the caca hit the fateful fan.
Tapia was discovered dead, in his New Mexico home at age 45, by his devoted wife in 2012. Valero, age 28, was found dead in a Venezuelan jail cell, after confessing to killing his own devoted wife, in 2010. There was a lot of astounding mileage on both tattooed corpses.
With publication of "Beserk" by Don Stradley and "The Ghost of Johnny Tapia" by Paul Zanon (with Teresa Tapia), Hamilcar Publications has resurrected each of these intriguing, entertaining and ultimately very sad personalities in the initial offerings of the new Noir/True Crime series.
Each book has its strengths. Since neither pretends to present a comprehensive biography of either the man or his fully examined ring resume, the thin volumes are just fine as sufficiently detailed profiles, with a decent selection of supporting black and white photographs. In true noir style, "Berserk" includes a pair of shots from the Valero crime scene.
Zanon's summation of Tapia features insights by the most highly qualified person to reflect on "Mi Vida Loca" besides Johnny himself, his former wife and manager, Teresa Tapia. While her closeness to the subject matter raises possible questions regarding true objectivity, her perspective offers rare insights. Her prelude describing the first 24 hours of their marriage could make a full Netflix series.
Stradley's book on Valero includes more documented research from more neutral authoritative sources.
Stradley demonstrates an engaging sense of irony, and touches of gallows humor with details like "Mosquera was a strong boxer who had won twenty-four of twenty six bouts. He was also Panamanian, and had done most of his fighting in Panama. Valero was going to Mosquera's turf. Then again, a coyote might wander onto your property to eat your dog."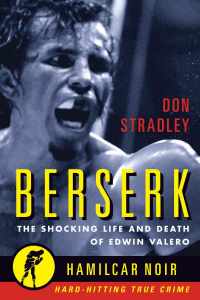 Each volume does a solid job of listing background factors, events and analysis that illustrate the troubled psyches of the subjects' personalities. While neither book claims ultimate authority, readers should get a good sense of what made Tapia and Valero both tick and come unwound.
One final sporting question that might come up is who wins in a hypothetical catch weight bout with both men at their peak, but that's probably as irrelevant as asking which fellow could ingest the most drugs and still fight at a championship level.
Each book is a very quick read, at 57 pages for "The Ghost of Johnny Tapia" and 75 for "Berserk." According to the publisher, the concept for this series is to "blend boxing and true crime, featuring riveting stories captured in high-quality prose, with cover art inspired by classic pulp novels." So far, so good.
As Nigel Collins expertly proved with "Boxing Babylon" in 1990, there is no shortage of sordid figures and their twisted exploits throughout the annals of professional fighting.
While one hopes to read of the many thoroughly honorable boxers and deeds that also exist in the sport's history, there's also no doubt that
Hamilcar
has found a powerful formula that promises to offer plenty of enjoyably easy reading material in upcoming editions.
Check out more boxing news on video at
The Boxing Channel