By Arne K. Lang
The Sweet Science
is proud to announce that BERNARD FERNANDEZ, who for the last few years has written exclusively for this web site, and frequent TSS contributor THOMAS HAUSER have been named to the International Boxing Hall of Fame in the Observers category. The official announcement was made today (Dec. 4) by IBHOF Executive Director Ed Brophy.
Fernandez and Hauser are joined by nine other living inductees plus Frank Erne, active from 1892 to 1908, who joins the Hall in the Old-Timer category, and bare-knuckle battler Paddy Ryan, named in the Pioneer category.
Modern Era boxers Bernard Hopkins, Juan Manuel Marquez, and Shane Mosley are headed to Canastota, each having been named to the Hall in his first year of eligibility. Joining them are Pioneer women's boxer Barbara Buttrick and Modern Era women's boxers Christy Martin and Lucia Rijker. In the Non-Participant category, Lou DiBella, Kathy Duva, and the late Dan Goossen are the newest IBHOF inductees.
The newcomers will be formally enshrined on Sunday, June 14, the highlight of the four-day Hall of Fame Weekend festivities in Canastota, NY.
BERNARD FERNANDEZ
Bernard Fernandez was born in New Orleans in 1947 on a day when the city was being lashed by a powerful hurricane. Perhaps there's a metaphor there, but it eludes us as the Bernard Fernandez we know is a peaceable fellow.
Fernandez first got the idea of pursuing a career in sports journalism when he won a city-wide essay contest for eighth-grade students at Catholic schools. The top prize was one dollar.
At New Orleans De La Salle High School, he worked on the school newspaper and yearbook. In the summer between his junior and senior years of high school, he landed a job as a copy boy in the
Times-Picayune
Sports Department. It was, he says, the best summer job a high school kid could ever have.
It was there at the
Times-Picayune
, which had the widest circulation of the city's two daily papers, that he received his first byline while covering American Legion baseball games. After graduation, he studied journalism at LSU, the state's flagship university in Baton Rouge.
That Fernandez would gravitate toward the boxing beat was perhaps inevitable as his father, also named Bernard, had boxed as an amateur and had six pro fights in San Diego while serving in the Navy, going 4-1-1 under the name Jack Fernandez. An only child, Bernard was particularly close to his father who held the rank of captain when he retired from the New Orleans Police Department.
Fernandez met his future wife, Anne Marie d'Aquin, on a blind date when he was a senior at De La Salle and she a sophomore at a sister school. (De La Salle was an all-boys high school back then; it is now coed.)
The young lady must have made quite an impression. Some guys -- lots of guys -- can't remember the date of their wedding anniversary. Bernard remembers that and also the date when he first met Annie on that blind date: Feb. 12, 1965.
They were married in 1968. Bernard was then early into a six-year hitch with the United States Marine Corps Reserve, assigned to a helicopter unit at the Naval Station in Belle Chasse, Louisiana.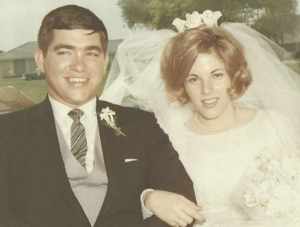 Bernard and Annie, a retired ICU nurse, have four children and six grandchildren. His sons, Randall and Kevin, reside in the greater New Orleans area. Randall is a longtime deputy with the Jefferson Parish Police Department; Kevin is a Crime Scene investigator with the Gretna Police Department. His daughters, Melanie and Amy, reside in the Philadelphia area. Melanie is a tax consultant for an international company; Amy an office manager for a dentist/oral surgeon.
Last year, on the occasion of his 50
th
wedding anniversary, Fernandez wrote
his most poignant column
, a paean to Annie, his soulmate all these many years. Seldom has a blind date between teenagers turned out so well.
At the age of 22, Fernandez got his first full-time newspaper job at the
Courier
in Houma, a community an hour's drive south of New Orleans. Quite unexpectedly, he was made the sports editor. The person that held that position quit right before he arrived.
He subsequently accepted positions at the Miami Herald, Jackson (MS) Daily News, Pittsburgh Post-Gazette, and the Philadelphia Daily News where he spent the last 28 years of his newspaper career. With the Jackson paper, he covered his first live boxing event, the rematch between Muhammad Ali and Leon Spinks at the Louisiana Superdome. This was a big, big event, a front-page news story in many papers, not merely the front page of the sports section. In time, he would cover literally dozens of big fights. He was in the small contingent of U.S. fight writers in Tokyo to see the fight between Mike Tyson and Buster Douglas and had a bird's-eye view of what was arguably the most famous upset in all of sports.
Philadelphia was a great fight town. When Fernandez arrived, the local gyms were bursting with world-class fighters. Moreover, nearby Atlantic City was in its heyday as a boxing Mecca. There were storylines galore for a boxing writer. And when things cooled down, he was assigned other beats. For a time, he covered the local NBA team, the 76ers, and Penn State football.
In 1998, Fernandez won the Nat Fleischer Award for excellence in boxing journalism. Four years later, he was named the President of the organization. He held that post from 2002 to 2005 and again in 2008 and 2009 after being wooed back for an encore.
Founded in 1926, the BWAA was originally called the Boxing Writers Association of Greater New York (there were a heck of a lot more boxing writers back in those days). During Bernard's tenures as President, the BWAA tripled its membership in part by drawing in writers from a wider geographic spectrum.
In 2012, at the annual BWAA banquet, and without his foreknowledge, the organization's annual writing awards were named the "Bernies" in his honor. Three years later, he received the Barney Nagler Award for Long and Meritorious Service to Boxing. Today's news coming out of Canastota is the capstone of a distinguished career ignited by the gift of a dollar from the Catholic Archdiocese of New Orleans.
It's altogether fitting that Bernard Fernandez would be accorded this honor in Canastota, the little town in upstate New York whose name has become synonymous with the history of boxing. Bernard's father's favorite fighter was Carmen Basilio, the former welterweight and middleweight champion who had an incredible run beginning in 1955 when he appeared in
The Ring
magazine's Fight of the Year in five straight years. Bernard Fernandez Sr, who died at age 75 in 1994, passed on his admiration for Basilio to his son.
There might not be an International Boxing Hall of Fame and, if there were, it certainly wouldn't be located here, if not for Carmen Basilio. The IBHOF is a monument to Basilio, the son of an onion farmer who was born and bred right here in Canastota.
Bernard Fernandez has been to Canastota many times, he's even been a presenter, but 2020 will be different and he will likely be overcome with emotion as he remembers those days long ago when he and his dad bonded as they sat watching Carmen Basilio on their little black-and-white TV.
And how appropriate that Fernandez is entering the Hall in the same year as Bernard Hopkins. No boxing writer has covered Hopkins' career as meticulously as Fernandez. He was ringside for the bookends: Hopkins' pro debut in Atlantic City on Oct. 11, 1988, and his farewell fight in Los Angeles thirty years later. And over the years they became good friends, as friendly as a sportswriter can be with an athlete without compromising his objectivity.
Back in 2006, Robert Mladinich wrote a wonderful profile of Bernard Fernandez. That piece concluded with a quote. "I might have five, six, seven years left as a writer," he said. "In this business, one day you have a byline, the next day you don't. Newspaper journalists are like sand castles because they are very impermanent."
Well, he was certainly right about the last part. And that observation smacks of a hint of foreboding because in 2006 it wasn't yet obvious just how deep the digital revolution would scar the traditional print media, an upheaval that would pitch thousands of journalists and other kinds of newspaper workers out of work.
But that bit about having only five, six, or seven years left as a writer, well that completely missed the mark. Bernard Fernandez is still going strong and those of us that enjoy reading well-crafted stories about boxing are the beneficiaries.
Congrats, Bernie.
Editor's Note: A profile of Thomas Hauser will be forthcoming
Check out more boxing news on video at
The Boxing Channel