By Ted Sares
Being a third man in the ring is a difficult and oftentimes thankless job, but like airline pilots and doctors, referees must strive to avoid off days. Too much depends on their being consistently fit and ready and at the top of their game. Nonetheless, they are the object of criticism more often than not.
In this connection, one thing that is becoming pretty obvious points to the same referees being used over and over again from what would appear to be limited and localized pools. This can be both good and bad—good because we are getting skilled and experienced people; bad because new ones are not being groomed. This is especially true in Las Vegas, New York City, and California. Plum assignments go to too few and this has resulted in visible disgruntlement among other referees, particularly on the West Coast.
During the past few years Michael Griffin, an excellent Canadian referee has received many assignments (including world title matches) in the state of New York. In fact, he handled the Joshua-Ruiz fight at Madison Square Garden in June 2019. This raises the question: were there no local referees capable of handling these well-paying jobs?
"It is sad that we have so many state commissions that are the appointees of governors and don't hold the necessary credentials to be put in charge of a very difficult sport to manage"
-- the late Elmo Adolph
As for the caliber of refereeing, the controversies of the past have abated during the last couple of years. 2019 was especially free of poor or obtrusive officiating by third men who insisted on becoming too much a part of the show.
Of course, there's no such thing as a perfect referee. The late and esteemed Elmo Adolph and the beloved Wayne Kelly came pretty close. Ring 10 in New York (which helps boxers in need) now has an annual award named in honor of Wayne. This year's winner was New York's Steve Willis. Experienced and consistent New York area referee Ron Lipton previously won Ring 10's Jose Torres Renaissance Man award.
"Wayne was a take-charge, no-nonsense referee. He let the fighters fight, and he was always in the gym working sparring sessions to stay sharp."-
Randy Gordon, former head of the New York State Athletic Commission.
It is nice and rewarding that I was responsible for the development of many officials along the way and that many refer to me as their mentor. –
Elmo Adolph
In 2011, longtime Italian boxing judge and globetrotting referee Massimo Barrovecchio (pictured) worked the Klitschko-Adamek fight in Poland and did an extraordinary job. For the first time, global fans saw him on TV move about the ring with light-footed grace and remain virtually invisible until he appeared at just the right time to end the beat down the Pole was receiving.
Panama's Hector Afu, who worked the Saul Álvarez vs. Kermit Cintron fight in Mexico, is another who does extremely fine work marked by his "take-charge" propensity. He recently won the "WBC Referee of the Year Award" for the second time, having previously won it ten years ago. He last worked the Usyk-Witherspoon bout in Chicago.
In the big "Clash on the Dunes" in Saudi Arabia on Dec. 7, 2019, fans were treated to another great referee in Puerto Rico's Luis Pabon who refereed the main event between Anthony Joshua and Andy Ruiz. (
The sometimes unfairly criticized Pabon was invisible and was just about perfect in the 2014 fight in Macau between Vasyl Lomachenko and Thai Chonlatarn Piriyapinyo.)
On February 21, 2015, a prime Gennady Golovkin was mauling and mugging former British middleweight champion Martin Murray. Finally, at 2:10 of round 11, Pabon did what Murray's corner should have done when he jumped in and stopped the Brit from taking further punishment. The solid stoppage came after a game Murray caught a GGG crunching right cross to the face and then dangerously dropped his hands. He was done. Murray, like many brave fighters, is one who just won't give up. That's why fighters depend on referees and corners to step in when necessary. Murray's corner failed miserably in this regard. Pabon did not. Boxing needs more referees like Luis Pabon.
]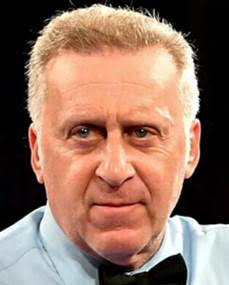 Jack Reiss's decision to let Tyson Fury continue after he seemingly had been knocked cold by Deontay Wilder in 2018 was as good as good can possibly get. Reiss asked Tyson if he was "OK," made him raise his hands and walk towards him, and then let him fight. Fury then came back with a fury, showing that he was more than ready to continue.
The Brooklyn-born Reiss lives and works as a realtor in Oxnard, California, and works almost exclusively in California, but that might be changing due to his growing reputation for being one of the very best referees in the U.S. In fact, he recently worked the "Tank" Davis vs. Yuriorkis Gamboa fight in Atlanta and his stoppage was textbook perfect.
Back to the Dunes
In another fight on the Saudi Arabia card -- actually the one that stole the show -- big Dillian Whyte met an even bigger Mariusz Wach in a grueling 10-round match.
The referee in this one was invisible and, with all due respect to Bo Derek, delivered a "Perfect Ten." His technique and ring demeanor allowed him to control without being obtrusive while concurrently allowing him to make timely calls that protected the safety of the boxers. He was none other than the aforementioned Massimo Barrovecchio displaying his consistently fine work whether it be in Rome, Ukraine, Germany, Moscow, Dubai, the UK, Norway, Denmark, Monaco, Ireland, or even in front of Saudi Princes.
Perhaps referees like Barrovecchio, Pabon and Afu can be part of an international seminar. Maybe a webinar could be held out of New York City for new and/or aspiring amateur referees and Jack Reiss (and possibly Mark Nelson out of Minnesota) could be the two moderators. At any rate, state boxing commissions should consider analyzing their present referee pools to determine what, if anything, could be improved,
Corporations use a "Best in Class" approach. Boxing should do the same.
Ted Sares can be reached at
tedsares@roadrunner.com
Check out more boxing news on video at
The Boxing Channel