By Ted Sares
The Edwin "Dinamita" Valero story has been well told. In fact, books are now being written.
Who can forget the Venezuelan's walk down the aisle, his eyes wide open and focused intently on the ring as he rushed toward it with increasing speed ready to seek and destroy? He was like an apparition—a combustible stick of dynamite ready to explode.
Valero had earned a fearsome reputation as a tremendous puncher with either hand coming into the ring to hunt down whoever was in front of him and take his head off. A ruthless closer once he had his opponent hurt, he would stalk, stun and close as if he were on the Serengeti. His all-out action style, unlimited stamina, incoming pressure, and tenacity punctuated by a scream every time he threw a power punch earned him a reputation as an explosive crowd pleaser. The 5'6" Valero was what charisma was all about. When he came down the aisle, spines tingled. He had an electric-like connection with his fans that only a few fighters -- Gatti, Tszyu, pre-scandal Margarito, Tyson, Canelo, Pacquaio, -- ever achieve.
"He loved being in the ring, that was the difference
" -- Chandler Waller
His last win came in February 2010 over a prime Antonio DeMarco in Mexico. It brought his record to 27-0 -- all knockouts. Previously, in February 2006, Edwin established a world record by winning his first 18 fights by way of stoppage in the first round. This record was later
beaten by one Tyrone Brunson but against inferior opposition.
Regrettably, his success did not translate out of the ring and the rest of that often-told story is a downward spiral of tragedy and suicide, but this is about what happens inside the ring. Suffice it to say, Edwin Valero was a great boxer but he was by nature a violent person and his demons eventually caught up with him.
Emanuel "Vaquero" Navarrete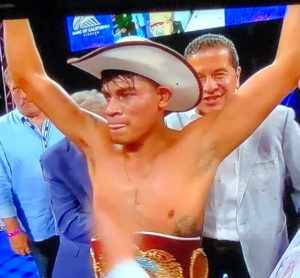 The 5'7" Mexican Emanuel Navarrete (31-1 and a KO percentage of 84.4%)) is more active than any other title-holder or top contender despite the fact that his last six opponents had a combined record of 127-7-1 coming in. And, like Valero, he has a fan-friendly style, stalking, stunning, and closing his opponents with controlled violence. The fact is, Vaquero, is super exciting and doesn't seem to have any noticeable weaknesses. Like Valero, as soon as the bell rings, he goes on a destroy mission walking through his opponent's punches to land his own at an astounding rate.
He is now on a 26-fight winning streak and has defended his WBO World Super Bantam Title five times since winning it on December 8, 2018 in Madison Square Garden against Issac Dogboe (pictured below at the conclusion of their first encounter).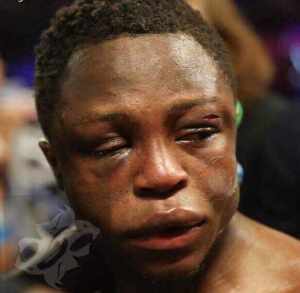 Top Rank's Bob Arum says, "…For a lot of fighters today it's, 'If you don't pay me crazy amounts of money I ain't stepping in the ring.' Navarrete is making good money and he loves to fight."
Against the Filipino Jeo Santisima (19-2) on February 2, 2020 (his sixth bout in 14 months), Navarrete displayed his Valero-like stamina as he stalked and stalked until he broke down and caught his durable opponent and closed on him in the eleventh round. It was like something out of The Discovery Channel.
What Vaquero needs is an uptick in opposition and especially some PR work to enhance his persona. While he has fought at big venues, he has nonetheless been toiling under the radar, his old-school work ethic and ring prowess appreciated by only hardcore fans. But if and when he moves up in weight, that could all change. He just needs that one big win sooner rather than later.
Ted Sares can be reached at
tedsares@roadrunner.com
Check out more boxing news on video at
The Boxing Channel </a