By Arne K. Lang
The Grim Reaper appeared on the boxing scene on the very first day of what would be a grim year, taking the life of former long-reigning cruiserweight champion Carlos "Sugar" DeLeon on Jan. 1. Not a month was spared and in this our annual year-end report, we pay our respects to those that left their mark on this noble but too-often unforgiving sport. The decedents are listed chronologically according to the date of their passing. PART ONE covers January through June.
January
1 – Carlos "Sugar" DeLeon
No one told DeLeon that the cruiserweight class was a mere way station for soon-to-be heavyweights. The Puerto Rico-born cutie appeared in 16 cruiserweight title fights, going 11-4-1. He retired with a 53-8-1 record and kept his hand in the sport as a trainer in his adopted hometown of Buffalo, NY, where he succumbed to a heart attack at age 60.
5 – Dick Turner
A welterweight who took up boxing in the Navy, Turner suffered a detached retina in a bout with Philadelphia intra-city rival Stanley "Kitten" Hayward and never fought again, finishing 19-2-1. He returned to boxing as a trainer when his nephews, the fighting Fletcher brothers, took up the sport. At age 82 in Philadelphia.
12 – Jackie Brown
From Edinburgh Scotland, Brown won the British and then the British Empire flyweight titles in 1962 and fought on the undercard of Muhammad Ali's 1966 fight in London with Brian London. He migrated to Australia in 2009 and was diagnosed with dementia shortly thereafter. At age 84 in Sydney.
18 – Peter Mathebula
Mathebula became South Africa's first black boxing champion when he won a narrow 15-round decision over Tae-Shik Kim at LA's Olympic Auditorium in 1980. He surrendered the belt in his first defense and quit the sport two years later, finishing 36-9. At age 67 after a lengthy illness at a hospital in Gauteng Province, RSA.
30 – Dwight Davison
A lanky middleweight during Detroit's golden era, Davison came oh-so-close to earning a title shot against Marvin Hagler but could never get past the final hurdle. He finished 44-8 (33) in a career that began in 1977. At age 64 in Detroit of unidentified causes.
31 – Johnny Bumphus
A decorated amateur, Bumphus was a member of the 1980 U.S. Olympic team that was marooned by President Jimmy Carter's boycott. He won the WBA 140-pound title in 1984, lost it to Gene Hatcher in his first defense in a massive upset and retired at age 26 with equilibrium issues, leaving the sport with a 29-2 record. At age 59 of heart disease in his hometown of Tacoma, Washington, where he battled a cocaine addiction.
February
7 – Bill Miley
An inveterate compiler of boxing records, amateur and pro, Miley turned his hobby into an avocation, cranking out an annual record book and the monthly newsletter "Midwest Boxing News." A U.S. postal carrier by day, he also moonlighted as a judge and inspector and dabbled as a matchmaker. At age 85 in Burton, Michigan.
23 – Jimmy Thunder
Born Ti'a James Senio Peau in Samoa and raised in New Zealand, his signature moment came in 1997 when he knocked out Crawford Grimsley in 13 seconds. He defeated former title-holders Tony Tubbs, Trevor Berbick, and Tim Witherspoon and was recognized as the heavyweight champion by two fringe organizations, but left the sport financially destitute. At age 54 in Auckland, NZ, following surgery for a brain tumor.
March
8 – DeAndrey Abron
During his Army days, Abron was a U.S. Olympic Team alternate and a National Golden Gloves champion. As a pro, he won his first 15 fights and lost his last 10. He fought Zsolt Erdel for the WBO world light heavyweight title, losing on points, and was knocked out in the second round by Deontay Wilder. At age 47 from injuries suffered in a car accident in Youngstown, Ohio.
9 – Barney Eastwood
He built his betting shop into the largest bookmaking chain in Northern Ireland before making his mark in the sweet science, earning the title Mr. Boxing in Belfast. A hands-on manager/promoter who was frequently found working as a cornerman, Eastwood guided the careers of five world champions, most notably Barry McGuigan with whom he had a bitter falling-out. At age 88 of natural causes.
17 – Roger Mayweather
The second of three fighting brothers from Grand Rapids, Michigan, and the original Black Mamba, Mayweather was a world title-holder at 130 and 140 pounds and finished 59-13 despite the handicap of a soft beard. Pictured below with his famous nephew, he was already making his mark as a trainer before his prize pupil fell into his lap. They were together for almost all of Floyd Jr's 50 fights. At age 59 in Las Vegas where he was suffering from dementia.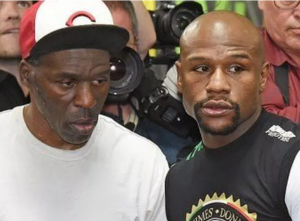 23 – Ron Ross
The Brooklyn native dabbled in boxing as a manager and promoter, but earned his spurs as a writer. His 2003 book, "Bummy Davis vs. Murder Incorporated: The Rise and Fall of an Ill-Fated Prizefighter," earned critical praise and he would subsequently author a biography of Emile Griffith. At age 87 of COVID-19 in Boca, Raton, Florida, where he had retired after selling his Long Island real estate firm.
27 – Nelson Cuevas
Born in Puerto Rico and a longtime resident of the Bronx, Cuevas was a boxing lifer, devoting parts of six decades to the sport as a fighter (6-10-4), cut man, coach, and gym operator. Mentored by Cus D'Amato and renowned cut man Chickie Ferrara, Cuevas worked with such notables as Buddy McGirt, Vinny Pazienza, and a very young Mike Tyson. At age 80 of COVID-19.
29 – Angelo Rottoli
Rottoli was 23-0-2 when he challenged WBC cruiserweight champion Carlos DeLeon in 1987. He lost (TKO by 5) but went on to gather in the European cruiserweight title, finishing 29-3-2 (15). At age 61 in his hometown of Bergamo, Italy, of COVID-19. The pandemic also claimed his mother and brother.
30 – Hedgemon Lewis
A National Golden Gloves champion in two weight classes, Lewis came up short in two cracks at the world welterweight title held by Jose Napoles, but won the New York version of the diadem with a 15-round decision over Billy Backus. Trained as a pro by the legendary Eddie Futch, he sported a 53-7-2 mark when he left the sport to look after his real estate investments. At age 74 in Detroit where he was raised, yet another victim of COVID-19.
April
7 – Leonard "Nipper" Reed
Reed boxed as an amateur and returned to the sport in an administrative capacity, advancing to the post of Chairman of the British Boxing Board of Control and serving as an executive with the WBA and WBC. He made his name, however, as a Scotland Yard gumshoe whose dogged detective work brought the notorious Kray twins to justice. At age 95 of COVID-19 in a London-area hospital where he was being treated for a foot infection.
17 – Eddie Cotton
A pillar of the community in Paterson, New Jersey, where he was the first man of color to be named Chairman of the City Council, Cotton was a big man, carrying about 240 pounds on six-foot-five frame, which was an asset when a good ref was needed to work a fight between big men who were prone to mauling. He was the third man in the ring for more than 30 title fights including the Lewis-Tyson mega-fight of 2002. At age 72 in a Paterson nursing home of COVID-19.
25 – Les Stevens
A heavyweight (a cruiserweight by today's standards), Stevens represented England in the 1970 Commonwealth Games and was 23-5 as a pro. A member of the Traveler community, "Big Les" was no nomad. In retirement he spent 40 years mentoring boys at an amateur boxing club in Berkshire County, near London. At age 69 after a three-week hospital stay.
26 – Stan Ward
Turning pro after graduating from Sacramento State, Ward reached his peak in 1978 when he out-pointed Mike Weaver across 12 rounds in a fight billed for the California Heavyweight Title. He also fought such notables as Greg Page, Gerrie Coetzee, and Ron Lyle to whom he lost a razor-thin decision, finishing 21-7-2. At age 70 of unidentified causes.
May
7 – Jimmy Glenn
Few people in the fight game were as respected as Glenn, a fixture on the New York boxing scene for decades as a trainer, cornerman, and gym operator. Glenn's Times Square dive bar, which he opened in 1971, was a must-stop for many out-of-town writers covering the fights at nearby Madison Square Garden. Pictured below with the late Bert Sugar, Glenn died at age 89 after a month-long battle with COVID-19.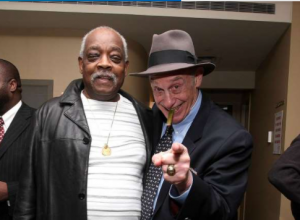 20 – Hector Thompson
Holder of numerous regional belts during an 11-year career that began in 1970, Thompson, an indigenous Australian, had two cracks at a world title, coming up short in Panama City engagements with Roberto Duran and Antonio Cervantes. He finished 73-12-2. At age 70 in Brisbane after a lengthy battle with diabetes.
29 – Curtis Cokes
A 2003 IBHOF inductee, Cokes vitalized boxing in his native Dallas where he had 19 of his first 27 pro fights. He won the vacant WBA welterweight title in 1966 and made five successful defenses before running afoul of all-time great Jose Napoles. He could have pursued a career in Hollywood after earning high marks for his portrayal of a non-boxing character in
the movie "Fat City,"
but opted to remain in Dallas where he became a prominent trainer and gym operator. At age 82 of heart failure.
June
2 – Donald "Biff" Cline
A light heavyweight and Viet Nam veteran, active from 1971 to 1981, Cline finished 16-4-1 with 16 KOs, but never defeated a fighter with a winning record. In 1974, after fighting on national television, he got caught up in a scandal when it was revealed that three of his wins in The Ring Record Book were fictional. At age 72 at a nursing home in Pensacola, Florida, where he was suffering from dementia.
4 – Pete Rademacher
A former college football player, the Grandview, Washington, native represented the U.S. Army at the 1956 Melbourne Olympics, winning a gold medal, and then challenged heavyweight champion Floyd Patterson in his very first pro fight. He was no match for Patterson, who stopped him in the sixth, but stayed in the game through 1962, finishing 14-7-1. At age 91 at a veteran's home in Sandusky, Ohio, where he was suffering from dementia.
9 – Vince Shomo
Raised in Harlem, Shomo won a then-unprecedented four New York City Golden Gloves titles, finished first in his class at the 1959 Pan-American Games, and compiled a 12-10-2 mark as a pro. In retirement he had a career in finance and worked for a time as a boxing official. In East Stroudsburg, PA, at age 79.
14 – William Gildea
The Baltimore native covered many sports during his 50-plus years with the Washington Post, but was partial to boxing. Honored by the BWAA with the Nat Fleischer Award for career excellence in boxing journalism, Gildea authored or co-authored six books, the last of which examined the life of the great lightweight champion Joe Gans. At age 81 from the effects of Parkinson's.
29 – Ernesto Marcel
A borderline Hall of Famer, the Colon, Panama native won the WBA world featherweight title in 1972 and made four successful defenses. He retired as champion after conquering Alexis Arguello (UD 15), leaving the sport with a record of 40-4-2. At age 72 in Panama City where he was suffering from Alzheimer's.
30 – Alfred Kotey
The fifth fighter from Ghana to win a world title, Kotey captured the WBA bantamweight belt in his 19
th
pro fight. His career turned south after two successful defenses and he lost 13 of his last 17 to finish 26-16-1. At age 52 in the Bronx where he was on life support after suffering a stroke.
Check out more boxing news on video at the
Boxing Channel