By Arne K. Lang
The decade of the 1950s has held a particular fascination for boxing historians. This was the decade in which the sport's dominant player was the International Boxing Club, an organization reportedly in the grip of mobsters who dictated who would get to fight who and who sometimes predetermined the outcomes. The baddest of the bad guys, by acclamation, was Frankie Carbo. A New York mobster with a long rap sheet, Carbo (pictured) reputedly ruled the sport with an iron fist.
The seminal book on the IOC and its dirty laundry is Barney Nagler's "James Norris and the Decline of Boxing," published in 1964. Recent books that explore the same turf are Jeffrey Sussman's "Boxing and the Mob: The Notorious History of the Sweet Science" (Rowman & Littlefield) and Kevin Mitchell's "The Mob, The Garden, and the Golden Age of Boxing" (Hamilcar). Both were published in 2019. The Hamilcar book, authored by a veteran British sports journalist, is a revision of the book published in 2010 under a slightly different title.
I recently stumbled upon a book that contradicts the conventional wisdom that the mob had a stranglehold on boxing in the 1950s. "(Frankie) Carbo was no more than a pimple on a gnat's *** when it came to boxing," says the author, the late Truman K. Gibson.
A little background: The International Boxing Club was born from the ashes of Mike Jacobs' empire. Jacobs, who made the bulk of his fortune as a Broadway ticket scalper, was the most powerful promoter during the era of Joe Louis. He suffered a stroke in 1946 and that set the wheels in motion for a takeover by the International Boxing Club. Formed in 1949, the IOC assumed Jacobs' arrangement with Madison Square Garden where the firm was headquartered.
The major stockholders in the IBC were James D. Norris and Arthur Wirtz. Norris, who took on the title of IOC President, was the son of James E. Norris. A fabulously wealthy Canadian-American businessman with interests in grain mills, cattle ranching, shipping, and real estate, the elder Norris would become best known for popularizing the sport of professional hockey. Arthur Wirtz was a business partner of both Norris's, father and son. The Norris-Wirtz combine established a controlling interest in Madison Square Garden and in the largest indoor sports stadiums in Chicago, Detroit, and St. Louis.
It didn't take long for the IBC to arouse the ire of reformers. When hotel executive Robert Christenberry was named chairman of the New York Athletic Commission in September of 1951, his mandate from Governor Thomas E. Dewey was to purge the hoodlum element from boxing. An expose that ran under Christenberry's byline in the May 26, 1952 issue of
Life,
America's top-selling weekly magazine, included mug shots of five alleged mobsters who had their hooks into the upper reaches of the sport. The quintet included Frankie Carbo and Philadelphia numbers baron Frank "Blinky" Palermo, said to be Carbo's chief lieutenant.
Several fearless newspapermen fueled the effort to clean up boxing. Chicago Daily News columnist Jack Mabley was the first to finger Carbo as the "czar" of boxing. Mabley's counterpart in the East was Dan Parker of the New York Daily Mirror.
A year after Christenberry's story appeared, the feds got involved. The IBC was charged with operating a monopoly in violation of the Sherman Antitrust Act. Five years later, after numerous appeals, the charge was upheld and the IBC was dissolved. In the interim and for a time thereafter, it was business as usual.
Flash forward to 1961. Five men are found guilty in a federal court of muscling in on the contract of newly-crowned welterweight champion Don Jordan. The miscreants are Carbo, Palermo, Joe Sica, Louis Dragna, and Truman K. Gibson.
Gibson was something more than an alleged IBC influencer; he was a key component of the organization, there from the very beginning, first as the IBC legal counsel with the title of Executive Secretary and then Executive Vice President when Norris resigned in 1957 following a heart attack. And after the IBC was dissolved, Gibson kept the wheels turning by folding the IBC into a new company, National Boxing Enterprises.
Truman K. Gibson
I knew nothing about Truman Gibson outside the context of boxing until I stumbled upon his memoir. Written in collaboration with Chicago Sun Times columnist Steve Huntley, the book, published by Northwestern University Press, was released in 2005 several months before Gibson died at age 93.
Born in Atlanta, Gibson grew up in an upper-middle-class home in Columbus, Ohio, where his father founded a life insurance company that would merge with two other firms to become one of America's largest black-owned businesses. Gibson was light-skinned and could have easily passed for white, but he stayed true to his heritage – his paternal grandfather was born into slavery – and embraced the role of a so-called "race man," working to uplift his fellow African-Americans until the boxing business took over, consuming most of his waking moments.
[caption id="attachment_66923" align="alignnone" width="300"]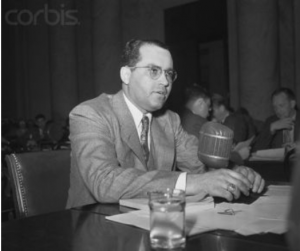 Truman Gibson[/caption]
After earning a law degree from the University of Chicago, Gibson helped organize Chicago's American Negro Exposition of 1940, timed to celebrate the 75
th
anniversary of Emancipation. His work caught the eye of President Franklin D. Roosevelt to whom he became a consultant as a member of Roosevelt's so-called Black Cabinet.
Foremost on Gibson's to-do list was the desegregation of the United States Armed Forces. He had a role in the making of "The Negro Soldier," the great World War II propaganda film directed by the brilliant Frank Capra and continued in his role as an advisor to the man in the oval office when Harry Truman succeeded Roosevelt as Commander-in-Chief. It would be Truman who signed the executive order ending the practice of racial segregation in the military.
Truman Gibson stumbled into boxing. His law firm did some work for rising heavyweight contender Joe Louis. The Brown Bomber was 12 fights into his pro career when Gibson first met him. Later on, Gibson formed a corporation that distributed highlight reels of Joe's two fights with Jersey Joe Walcott.
When Norris and Wirtz formed the International Boxing Club, they thought it important that Joe Louis be involved. It was no coincidence that the IOC was formed on the very day that Louis announced his (short-lived) retirement. The Brown Bomber was named Director of Boxing, a hollow title, and Truman Gibson hopped on board with him.
---
In a previous article, this reporter called
Robert K. DeArment's "Gunfighter in Gotham,"
one of the best books ever written on prizefighting in New York at the turn of the 20
th
Century. This book fell through the cracks – who would have ever suspected that a book about Bat Masterson would be so rich in boxing information? – and Truman Gibson's memoir, titled "Knocking Down Barriers, My Fight for Black America," is likewise a hidden gem.
It's not a book that a boxing history buff would find in the usual places (a librarian would be more likely to shelve it with books on Military History) and, as one can surmise from the title, boxing gets short shrift. But this is a meaty book, 344 pages in hardback, and there's plenty for a boxing historian to dig his teeth into. Whether writing about the genesis of Joe Louis's impossibly convoluted tax problems, or on the uneasy marriage between boxing and television, Gibson has something fresh to say.
There's some juicy stuff in here too. In Gibson's view (a view advanced by others), no man profited more handsomely from Prohibition than Joseph Kennedy, the patriarch of America's most prominent political family. Kennedy's relationship with Samuel Bronfman, the owner of Canadian powerhouse Seagram's, insured that he would be first in line when the good stuff was smuggled in bulk across the lake. Compared with Kennedy, bootleggers of the Al Capone stripe were minnows.
Jim Norris was quite a character. Like his father, Norris was involved in sports. When he wasn't tending to IBC business, he was out golfing or racing his string of thoroughbreds and quarter horses. Norris and Wirtz, according to Gibson, were partners in a lucrative gambling casino in the Bahamas and the hidden owners of America's largest layoff bookmaking operation, the nerve center of which was in a vessel anchored near their Bahamian casino. A big bettor who bet tens of thousands of dollars on sports every day, Norris was his bookmaking firm's best customer.
Jim Norris was a rapscallion who was attracted to the same sort of nocturnal people that fascinated Damon Runyon. Did he occasionally break bread with Frankie Carbo and men of Carbo's ilk? Absolutely. However, it's one thing to say that Norris consorted with such people and quite another to say that he was coerced into doing their bidding. Remember, Norris, born into wealth, had more money than all of them combined.
"The IBC earned millions from fixed fights," writes author Jeffrey Sussman.
If Truman Gibson were alive today, his response would be "bull****".
If we had run fixed fights, Gibson would say, the networks would have kicked us out the door in a heartbeat. As for Frankie Carbo, says Gibson, "he was no more than a messenger boy who operated on the fringes," a man who stuck to boxing like velcro because he was an ugly pimple too stupid to keep a low profile.
The feds disagreed. When Frankie Carbo and his confederates came up for sentencing, Carbo drew the harshest penalty: 25 years in a federal correctional institution. By comparison, Truman Gibson got a slap on the wrist: a five-year suspended sentence and a $10,000 fine. The judge was lenient because Gibson didn't bring mobsters into boxing, but inherited them. They were there before the torch was passed from Mike Jacobs to the IOC.
Gibson had more legal problems when he returned to his law practice in Chicago. According to an article in the Chicago Tribune, he got caught up in a bank fraud and a vacation timeshare swindle and eventually had his law license suspended for two years. These incidents did not find their way into his memoir.
So, who are we to believe, Truman Gibson or the hordes of writers who have described boxing in the 1950s as a cesspool of mob activity?
I will let the readers decide, but as I was reading this book, I was reminded of an old saying, something to the effect that if a man lies down with dogs, he will get fleas. Truman Gibson had a rich life and accomplished many good things, but during his tenure with the International Boxing Club he associated with some very mangy dogs.
Check out more boxing news on video at the
Boxing Channel