By Thomas Hauser
On February 25, 1964, Cassius Marcellus Clay Jr. defeated Charles "Sonny" Liston in Miami Beach over the course of six remarkable rounds to claim the heavyweight championship of the world. Late that night, the new champion found himself in a room at Hampton House (a black hotel in segregated Miami) with Malcolm X, several other followers of Nation of Islam leader Elijah Muhammad, and football great Jim Brown. Soul singer Sam Cooke (a friend of Clay's) had been at the fight, but there's no historical record of his being in the hotel room with the others at that time.
One Night in Miami
is built around imagining what transpired in that room amongst Malcolm X, Cassius Clay, Jim Brown, and Sam Cooke. Directed by Regina King from a screenplay by Kemp Powers, it's available on Amazon Prime.
The film fits into the genre known as historical fiction. Dramatic license was taken. Viewers should understand that, at times, it's allegorical rather than an accurate factual recounting. The larger question is whether the film is impressionistically honest. The answer is "yes."
One Night in Miami
begins with the 1963 fight between Clay and Henry Cooper in London. It then segues to Cooke being treated rudely by an all-white audience at the Copacabana, followed by Jim Brown (the greatest running back in National Football League history) being reminded by a patronizing southern gentleman that he's just a "n-----." Next, we see Malcolm as the Nation of Islam's most charismatic spokesman, after which the scene shifts to Liston-Clay I.
Thirty-four minutes into the film, the drama moves to Hampton House.
Malcolm X, Cassius Clay, Jim Brown, and Sam Cooke were prominent in different ways. Each was young, black, and famous. But Malcolm was a social and religious figure of considerable intellect while the other three were known as entertainers.
The dialogue between the four men is light at first and then turns serious.
Malcolm is played by Kingsley Ben-Adir. On what should have been one of the greatest nights of his life, his world is slipping away. His deadly rupture with Elijah Muhammad is almost complete. Soon, Clay will abandon him. Ben-Adir comes across as a bit weaker and more tentative than one might expect, although Malcolm's intellect is evident in his performance.
It's hard to imagine anyone playing Cassius Clay well except the young Muhammad Ali. But Eli Goree bears a resemblance to Clay and is pretty good in the role.
Jim Brown was an intimidating physical presence. Aldis Hodge lacks this physicality but his performance is solid.
Leslie Odom Jr, who plays Sam Cooke, has star quality. He's the only one of the four major actors who has the charisma and presence of the man he's portraying. But as a result, Cooke has a stronger on-screen persona than Malcolm. That's a problem as tensions between the two men boil over.
Toward the end of the film, Malcolm reveals that he intends to leave the Nation of Islam because of differences with Elijah Muhammad and will found a new organization.
"Who's gonna be in this new organization?" Clay asks.
"I think lots of people will follow me over," Malcolm answers. "Especially if you come with me."
Clay, of course, didn't follow Malcolm. He sided with Elijah Muhammad. One year later, he and Jim Brown were the only participants from the hotel room gathering as portrayed in the film who were still alive. Sam Cooke was shot to death in a California motel on December 11, 1964. On February 21, 1965, Malcolm was assassinated at the Audubon Ballroom in Harlem.
One Night in Miami
cautions us that our icons are flesh and blood human beings with strengths and flaws. In its best moments, the film is a powerful reminder that the issues of self-respect, black empowerment, and racial equality are timeless.
]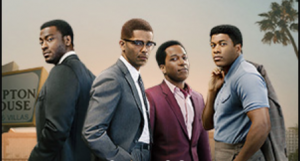 Pictured left to right: Aldis Hodge (Jim Brown), Kingsley Ben-Adir (Malcolm X), Leslie Odom Jr. (Sam Cooke), Eli Goree (Cassius Clay).
Thomas Hauser's email address is thomashauserwriter@gmail.com. His most recent book –
Staredown: Another Year Inside Boxing
– was published by the University of Arkansas Press. In 2004, the Boxing Writers Association of America honored Hauser with the Nat Fleischer Award for career excellence in boxing journalism. In 2019, he was selected for induction into the International Boxing Hall of Fame.
Check out more boxing news on video at the
Boxing Channel