By Arne K. Lang
Although it wasn't a world title fight, the match between Joe Joyce and Daniel Dubois which took place in London on the Saturday after Thanksgiving, attracted a lot of buzz. Only one heavyweight bout in 2020 was more eagerly anticipated, that being the rematch in February between Tyson Fury and Deontay Wilder.
Joyce vs. Dubois was that rare pairing of two undefeated heavyweights who were roughly at the same stage of their career. Dubois was 15-0 (14 KOs) heading in; Joyce was 11-0 (10).
And that brings us to the crossroads fight on Jan. 30 at the LA Shrine Expo between Darmani Rock (17-0, 12 KOs) and Michael Coffie (11-0, 8 KOs). Unlike Joyce vs. Dubois, this is not a well-marinated showdown, but yet there are some parallels, most notably it's a match between unbeaten heavyweights in which the victor will undoubtedly make a big jump in public esteem and the loser, more than likely, will be pushed back into the shadows.
There was a big age gap in the Joyce-Dubois fight. The 35-year-old Joyce was the older man by 12 years. Likewise, Rock vs. Coffie features a young old-timer vs. an opponent who is merely young.
Michael Coffie, 34, came to boxing late after serving eight years in the Marine Corps. He entered the New York City Golden Gloves tournament on a whim and with virtually no formal training and yet he succeeded in reaching the finals.
When Coffie (pictured) turned pro, his manager was none other than Randy Gordon, the former chairman of the New York State Athletic Commission who has kept his hand in boxing as a journalist and radio personality, co-hosting a boxing-themed talk show on Sirius FM with Gerry Cooney. Gordon knows more than a little about heavyweights, having been involved with Bonecrusher Smith who was briefly (very briefly) the WBA world heavyweight champion.
"(Bonecrusher) was not anywhere near the fighter that Mike is," Gordon told Hall of Fame boxing writer Bernard Fernandez on the occasion of Coffie's pro debut in Bethlehem, Pennsylvania. On that night, Coffie needed only 61 seconds to dismiss his opponent, ending the contest with a short right hand. The sacrificial lamb, wrote Fernandez,
"went down like an anvil dropped in the ocean."
In his most recent fight, on Nov. 7, Coffie was matched against Minnesota veteran Joey Abell, a noted spoiler. Abell would have been a good measuring rod for assessing Coffie's progress, but unfortunately the bout was over almost before it started. Early in the second round, Abell suffered a biceps injury while throwing a punch and couldn't continue.
The "A" side in this fight, however, isn't Coffie but the other guy. Darmani Rock, 24, had an outstanding amateur career, winning several important tournaments including the 2014 Youth World Championships in Sofia, Bulgaria. Rock was upset in the finals of the 2016 Olympic Trials and then turned pro, signing with Roc Nation, the deep pockets sports management company founded by Jay-Z.
]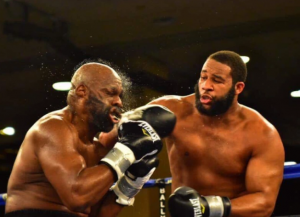 Darmani Rock on the right
Questions have been raised, however, about Rock's dedication. He weighed 278 pounds in his last fight, 30 pounds more than in his pro debut. (Coffie's fighting weight also hovers around 270 and he is the same approximate height – both are listed at 6'5" -- but Coffie has always been big.) Moreover, Rock has been inactive for 15 months and may have trouble shaking off the rust.
Darmani Rock hails from Philadelphia; Michael Coffie from Brooklyn, more fodder for the tub-thumpers. Philadelphia was the stomping grounds of Smokin' Joe Frazier. The City of Brotherly Love has arguably produced more good prizefighters per capita than any city in the country. Brooklyn spawned Mike Tyson, Riddick Bowe, and Shannon Briggs, all of whom bubbled out of gritty Brownsville which also happens to be the neighborhood where Michael Coffie spent much of his youth until he was spirited away to a less threatening environment by foster parents.
I don't want to get carried away with the Joyce-Dubois analogy. Joe Joyce had a stronger amateur pedigree than Darmani Rock. Daniel Dubois had a spectacular run leading up to his match with Joyce including a one-sided triumph over well-regarded Nathan Gorman. Moreover, neither Joyce nor Dubois had ever fought an opponent with a losing record. The same can't be said of Coffie and Rock who have built their records on the backs of the usual suspects. Darmani Rock's last two opponents were both 42 years old.
Moreover, Coffie vs. Rock isn't the main attraction on the PBC card. Top billing goes to Caleb Plant's 168-pound title defense against Caleb Truax.
As we recall, the Joyce-Dubois fight produced a major upset. Dubois was understood to be faster on his feet and more heavy-handed – considered more likely to turn the tide with a single punch – but youth was not served on that night at the historic Church House in Westminster. Joyce methodically peppered Dubois with his jab which caused a big lump to develop over Dubois's left eye. The eye eventually shut completely and the fight ended in the 10
th
round with Dubois taking a knee and allowing himself to be counted out. Joyce's victory elevated him to #2 in the WBO rankings, a notch below Oleksandr Usyk who is potentially his next opponent.
One doesn't know what will transpire when Coffie fights Rock, but as Michael Buffer would say, "someone's 'O' will have to go." Fights of this nature are inherently intriguing and that goes double when the combatants are heavyweights.
Check out more boxing news on video at the
Boxing Channel