By Jeffrey Freeman
It might be hard to believe in this brave new world of fan-less live sports, but the trading card market is red-hot again. New retail card products sell out fast and increase in value even faster in the collector aftermarket. Mike Trout's 2011 rookie cards have experienced meteoric growth while a mint condition 1952 Topps Mickey Mantle recently sold for more than five million dollars.
New baseball and basketball cards drive a speculative, volatile market. Valuable Juan Soto, Ronald Acuna and Fernando Tatis Jr. cards motivate collectors, breakers and investors. Zion Williamson rookie cards are a global phenomenon. Derek Jeter rookie cards are spiking. So too are rookie cards of Wayne Gretzky and Michael Jordan. Tom Brady is the greatest quarterback in NFL history and his short printed rookie cards (issued in 2000) reflect this in their high prices.
But what about boxing cards? While not nearly as popular or well distributed as other sports cards, boxing cards do exist. Let's take a look at ten of boxing's top stars and explore their rookie cards. We'll identify the card in question and investigate its value and its availability.
Floyd Mayweather Jr
.: Who better to start with than the undefeated money man of boxing? For collectors looking to add Mayweather's valuable rookie card to their collection, look no further than his 1997 Brown's Boxing card (#51) featuring a young Floyd, a flag, and the Brown's corner stool logo. While not rare by contemporary standards, graded mint examples of the card can be found offered on Ebay with outrageous "buy it now" prices. In reality, the card can be purchased for less than a grand at major memorabilia shows or at the IBHOF's annual boxing card show.
Manny Pacquiao
: Unlike Mayweather, whose rookie card was released a year after he made his professional debut, Manny Pacquiao had to wait a few years before his rookie card came out inserted in a Japanese magazine with three other boxing cards. The 1999 Japan World Boxing card (#143) features a young Pacquiao in a boxing stance with "MP" on his trunks. The words "Manny Pacquiao" and "flyweight" are presented in English while the rest of the card is in Japanese. Condition sensitive because the card had to be hand cut from the others, it's harder to find than the Mayweather rookie card and you can expect to pay nearly twice as much.
Anthony Joshua
: The unified, two-time world heavyweight champion made his professional debut in 2013, a year after winning a gold medal at the 2012 Olympics in London. The Italian card manufacturer Panini issued a special boxed set that year called Adrenalyn XL London Olympics. The 350-card set was the official set of the 2012 games. Card #96 features a smiling AJ wearing an Olympic style jacket. Expect to pay a couple hundred for a clean mint copy.
Mike Tyson
: Retired from active competition since 2005, Iron Mike boxed to a friendly draw with Roy Jones Jr. last year in boxing's biggest PPV event of 2020. In 1986, Panini issued Tyson's rookie card in their multi-sport Panini Supersport set. The card (#153) is actually a sticker and it was only distributed in Europe. It shows Tyson being interviewed. Ungraded, you will pay at least a hundred bucks for it while graded mint copies can sell for close to a thousand dollars.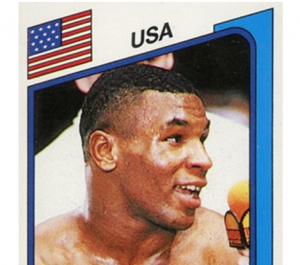 Tyson Fury
: The reigning WBC heavyweight champion debuted back in 2008. The wait for his rookie card took more than a decade. In 2020, Topps produced the first known trading card of Fury in their Topps NOW line commemorating sporting events in real time. After Fury defeated Deontay Wilder in February of 2020, a card was created by Topps depicting Fury, arms raised with his newly won green belt upon his shoulder. It reads: "Gypsy King Takes The Crown" and lists the date of the fight, 22/02/20. There were only 628 copies of the card made by Topps, making it somewhat of a bargain with current asking prices usually less than a hundred dollars.
Canelo Alvarez
: Boxing's best fighter began his career in 2005. Like Fury, it would take a while for a rookie card of Alvarez to be issued. In 2014, the California based Upper Deck created two Alvarez cards in two different sets, Upper Deck 25th Anniversary and Upper Deck Goodwin Champions. The Anniversary card (#61) is reminiscent of UD's famous Ken Griffey Jr. rookie card while the decorative Goodwin Champions card (#13) depicts Alvarez at a weigh-in. Both cards are readily available and neither should set a collector back more than $50 for either card.
Gennady Golovkin
: Ten years after his debut in 2006, the former unified middleweight champion saw his rookie card issued by Topps in their 2016 Allen & Ginter release. The popular hybrid set features mostly baseball players but also stars from other sports who don't necessarily have any other mainstream cards to collect. Golovkin's card (#161) is classy in its design and can be found, like the Alvarez cards, for less than fifty dollars in mint condition.
Errol Spence Jr
.: One of the hottest young world champions boxing, Spence made his debut in 2012. Six years later in 2018, Leaf Trading Cards produced Spence's rookie card and distributed it at the National Sports Collectors Convention in Cleveland. The truth is, the attractively designed card is by no means rare or hard to find. Don't pay more than five dollars for one.
Roy Jones Jr
.: Released just two years after his pro debut in 1989, RJ's 1991 Kayo card was the first of many cards issued during his Hall of Fame career. Unfortunately, due to massive overproduction, Roy's rookie card (#116) is effectively worthless and will likely continue to be for some time. Well known to most boxing fans, the Kayo card set was appealing but very plentiful. More valuable and more collectible are the 1993 and 1994 Brown's Boxing cards of Jones.
Naoya Inoue
: The Japanese bantamweight "Monster" debuted professionally in 2012. Two years later, his rookie card was issued in the 2014 Japanese BBM The Champ II set. Dan Rafael recently Tweeted about adding a copy to his impressive collection. Borderless and very attractive, the card (#31) features Inoue posing wearing boxing gloves—and with a WBC title belt on his waist. There is a current listing on Ebay for the card with the seller asking $125 for it.
You might be wondering about stars like Terence Crawford, Teofimo Lopez, and Gervonta "Tank" Davis. What are their rookie cards? Are they worth anything? Sorry to say but they don't have rookie cards. Not yet anyhow. What they do have are unauthorized, custom made cards. These are often advertised as "rookie cards" but they are really just worthless novelty items. Buyers should beware of such cards and also of counterfeit versions of legitimate cards.
In conclusion, we might not all be able to afford a Mickey Mantle rookie card but any one of us can swing a Micky Ward rookie card. They were issued in 2010, the same year
Ward's biopic "The Fighter"
was released in theaters. Sport King's Ringside Boxing Round One set featured a trifecta of affordable Ward rookie cards; any one of which can be had for just a few bucks each.
Just don't let your Mom throw them away!
***
Boxing Writer Jeffrey Freeman grew up in the City of Champions, Brockton, Massachusetts from 1973 to 1987, during the Marvelous career of Marvin Hagler. JFree then lived in Lowell, Mass during the best years of Irish Micky Ward's illustrious career. A new member of the Boxing Writers Association of America and a Bernie Award Winner in the Category of Feature Under 1500 Words, Freeman covers boxing for The Sweet Science in New England.
Check out more boxing news on video at the
Boxing Channel