By Randy Cook
BY SPECIAL CORRESPONDENT RANDY COOK -- I never floated like a butterfly or stung like a bee, but I do have one thing in common with The Greatest. We both made Cherry Hill in New Jersey our home. Cherry Hill is a leafy suburb of Philadelphia where residents can escape hectic city life but remain within commuting distance of Philly and New York. Not much happens in Cherry Hill, but the time that Ali lived there left an indelible impression.
Ali was lured to the area by Major Coxson - "The Gangster", as Ali referred to him. Coxson was a board member of a community group known as the Black Coalition- a civic partnership between Philadelphia's white business community and black leadership set up to reduce violence in the city by reducing poverty. The two met when Ali was banned from boxing and was paid to deliver a speech to the group. They hit it off and soon Ali was a frequent visitor to Coxson's home where he was duly impressed by the trappings of Coxson's success.
Coxson lived in a huge house in Cherry Hill's most exclusive neighborhood and owned a fleet of luxury vehicles including a Rolls Royce, Lincoln and Jaguar. Shortly after Ali's boxing license was reinstated, he used part of his purse from the first Frazier fight to purchase a 6600-square-foot home from Coxson. Coxson then moved a few doors away, and the two neighbors became friends.
To say Coxson was an anomaly in 1970 Cherry Hill is an understatement. His flamboyant lifestyle stuck out like a sore thumb in an otherwise bucolic setting. It would be much like The Wire's Avon Barksdale living in a community of pediatricians, though his attachment to Ali gave him credibility. Coxson was even able to parlay his Ali connection into a mayoral candidacy despite having been criminally convicted for fraud and his known drug running and mafia connections,
In 1970 Coxson announced his candidacy for Mayor of Camden, New Jersey which is a short ride but a world apart from Cherry Hill. Camden was known for corrupt politics and was often referred to as the Murder Capital of the World. Ali attended some of Coxson's campaign events and was an ardent supporter. In fact, after Ali beat
Jerry Quarry
in Las Vegas, he grabbed the microphone from the ring announcer and proceeded to dedicate the victory to "Major Coxson, the next mayor of Camden, NJ." The fight and Ali's comments (shortly after the 31-minute mark) can be viewed here
https://www.youtube.com/watch?v=tNI9KQuJxqw
. Ali also introduced Coxson as his unpaid advisor before his fight with Ken Norton and mentioned Coxson when he appeared on the Tonight Show with Johnny Carson.
When questioned by a reporter about his criminal record, Coxson maintained that "Most politicians end up in jail, I just have a head start." Coxson also boasted that Ali would "add punch" to his campaign.
Unfortunately for Coxson, his mayoral campaign brought unwanted scrutiny. Though he was living the high life, no one could figure out exactly what Coxson did to support his lavish lifestyle. That drew the attention of the IRS which froze most of Coxson's assets and sold off his car collection as a result of unpaid taxes. During that time, Coxson purchased a tandem bicycle and could be seen dressed in a suit and bowtie getting pedaled around town by his chauffeur. Ultimately, Ali donated a Silver Rolls Royce to Coxson who then retired the bike.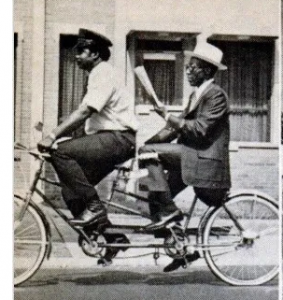 It all came crashing down for Coxson on the night of June 8, 1973 - a night that lives in Cherry Hill infamy. On that night, Coxson, his girlfriend, Lois Lusby and her three children - Lita 17, Toro 14 and Lex 13 - were enjoying a quiet evening at Coxson's Cherry Hill residence. A Cadillac pulled up in front of the home and four men entered. They and Coxson appeared to be having a friendly conversation until it suddenly turned violent. The four men drew guns and bound Coxson, his girlfriend and the children's hands and feet with neckties. They then shot Coxson, his girlfriend and two of the children in the back of the head. Thirteen-year-old Lex escaped by crashing through a sliding glass door and, with hands and feet bound, hopped to a neighbor's house where he used his head to bang on the door and gain entry. The neighbors then alerted police.
Police arrived to find Coxson dead and draped over his waterbed. Lusby and her children were rushed to the hospital. Lusby survived, but her daughter, Lita, did not. Toro survived, but was blinded in one eye. Police initially suspected that it was a robbery gone bad as Coxson was rumored to keep large amounts of cash in the house. Further investigation proved otherwise.
According to Dr. Sean Patrick Griffin, a former Philadelphia police officer and author of several books on the Black Mafia, a major source of Coxson's wealth was tied to his role as a broker connecting the Italian and Black Mafias. He helped broker drug deals between the factions and also helped the Black Mafia launder money through dummy corporations, much of which made its way to a mosque run by Ali's spiritual mentor, Elijah Muhammad.
Griffin's research also revealed that a missing shipment of heroin led to Coxson's demise. As the story is told, about a million dollars worth of the drug was stolen as it was being transported from the Italian to the Black Mafia. The Italian Mafia offered a $300,000 reward for the return of the drug as well as the identity of the thieves.
Coxson took the Mafia up on their offer and solicited the help of some of his Black Mafia cohorts. Coxson agreed that he would keep $100,000 of the reward and turn the other $200,000 over to his so-called subcontractors. For reasons unknown, rather than locate the shipment and the thieves, Coxson's henchman murdered them. As a result, the drugs were never recovered. This put Coxson in an untenable position whereby the Italian Mafia refused to pay, yet Coxson's hired hitmen still expected payment. Allegedly they ran out of patience.
Two suspects, Sam Christian (a founding member of the Black Mafia) and Ronald Harvey were identified as suspects by police. Harvey gained notoriety when he was found guilty of slaughtering seven people in Washington DC, a crime that included the drowning of four infants. All were members of a Sunni Muslim group that considered Elijah Muhammad and his followers in the Nation of Islam to be false prophets and accused them of harming Islam. The Hanafi murders, as they were known, occurred at a home donated by NBA star Kareem Abdul-Jabbar. Harvey died in prison in 1977 while still serving his sentence for the Hanafi and Coxson murders. Christian was later convicted of shooting a New York Police Officer in the arm while robbing a Harlem record store. After being paroled for that crime in 1988, he lived a quiet life until his death in 2016. Charges against him for the Coxson murders were dropped as witnesses either could not or would not identify him.
In the aftermath of the murders, both Toro and Lex were put into a witness protection program as they recognized at least two of their attackers. In an article that appeared in the June 13, 1973, edition of the Philadelphia Inquirer, staff writer Rod Nordland reported that a few weeks prior to Coxson's death a drug supplier notified one of his dealers to collect any money due from Coxson as he had been marked for death. That same source told the paper that there was a contract out on Ali's life. The source claimed he was coming forward to save Ali from Coxson's fate. That same month, Ali abandoned the Cherry Hill home and moved back to Chicago.
Ali's former home in Cherry Hill is now used as an Airbnb and often rented by those who want to party where Ali once lived. According to a September 6, 2019, article in the Philadelphia Inquirer, the home which is nestled among multimillion dollar dwellings, rents for nearly $2000 per night, but draws ire from the neighbors because of the raucous parties it attracts. Police have been called to the location almost 100 times to address complaints. I guess it's fair to say that, even posthumously, Muhammad Ali is still the most exciting thing to happen in Cherry Hill, NJ.
Check out more boxing news on video at the
Boxing Channel