By Thomas Hauser
Ramsey Clark, who championed human rights throughout his life and served as Attorney General of the United States during the last 26 months of Lyndon Johnson's administration died on April 9 at age 93. In one of history's ironies, Clark (probably the most liberal attorney general in the history of the United States) was responsible for approving the 1967 criminal prosecution of Muhammad Ali for refusing induction into the United States Army.
Clark was born in Dallas in 1927. He served in the Marines during World War II, was an undergraduate at the University of Texas, and earned his law degree at the University of Chicago. As Attorney General, he filed lawsuits to combat discrimination in employment and housing and in support of school desegregation and voting rights. After leaving office, he moved considerably further to the left, making some former allies uncomfortable. In 2008, the United Nations General Assembly honored him with its Prize in the Field of Human Rights, an award given out at five-year intervals. Previous recipients included Eleanor Roosevelt, Martin Luther King Jr, and Nelson Mandela.
"A right is not what someone gives you," Clark once said. "It's what no one can take from you."
I met Clark in 1989 when I interviewed him while researching
Muhammad Ali: His Life and Times
. Several years later, I interviewed him again when Frank Macchiarola and I co-authored a book entitled
Confronting America's Moral Crisis
.
Speaking of Ali and Vietnam, Clark told me, "I opposed the war in Vietnam as early as I became aware of it which was sometime in the mid-1960s. I can remember the Gulf of Tonkin Resolution and thinking that Wayne Morse and Earnest Gruening [the two senators who voted against the resolution] were heroes. And I remember William Fulbright's limited opposition to the war and thinking it was good but not enough. Then, in September 1966, I was named acting attorney general and the appointment became final in February 1967."
"I can't say that I had a studied judgment on whether or not the war was legal," Clark continued. "But I had grave doubts about it. If we're going to be a constitutional government, before we get a half million men in a foreign country shooting and killing, we ought to know whether it's constitutional and permissible to do it. Maybe as attorney general, I should have been out there saying, 'This war is against the law.' But I didn't, and part of the reason was I had come into the government in 1961 in the midst of the civil rights struggle. By 1967, it might have looked like things were going well, but the truth is we were very badly embattled. There was quite a bit of conflict between those who wanted to keep expanding in the area of civil rights and those who did not, and we were barely able to hold on. Also, I was opposing the death penalty. We had stopped federal executions in 1963, and 1968 would be the first year in the history of the United States that we didn't have a single execution despite the fact that that was the year Martin Luther King and Bob Kennedy were assassinated. Those struggles were very real and very important to me. There were a lot of people who wanted me to abandon them by resigning over the war in Vietnam, which was clearly the overriding moral issue in our society at the time. But in terms of all the things I believed in and all the causes in which I was involved, that would have let a lot of people down."
Regarding Ali, Clark recalled, "Muhammad's conflict with the draft board was a great concern of mine, although I'd have to say, not as great as the concern I had for the poor young black kids from the ghettos or the rural poor from the South who never had a chance to question whether or not to go to Vietnam and who got brutalized and killed. My own personal view was that a person should have a right to conscientious objector status without professing a specific religious faith, and that one should be able to base it upon what you might call philosophical rather than religious grounds. But that of course was not the law then, nor is it now. I don't recall and doubt very much that I discussed the case with President Johnson. I had a strict policy not to discuss criminal cases with the president. I felt it would have been dangerous in appearance and potentially dangerous in fact to insert politics into a criminal matter, and the White House is a political office. Obviously, Muhammad's indictment involved some hard choices. But the good thing about it was, there was power on both sides to shape and test the issues. I wasn't particularly happy about it, but life is full of turbulence and conflict, and I never try to avoid either. In fact, I guess I seek them out because that's where the chance to make a difference is."
[caption id="attachment_68157" align="alignnone" width="300"]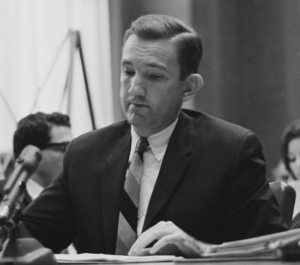 Ramsey Clark[/caption]
On June 20, 1967, Ali was convicted of unlawfully refusing induction into the United States Armed Forces. Four years later - on June 28, 1971 - the United States
Supreme Court unanimously overturned his conviction
.
"The government didn't need Ali to fight the war," Clark said afterward. "But they would have loved to put him in the service, get his picture in there, maybe give him a couple of stripes on his sleeve and take him all over the world. Think of the power that would have had in Africa, Asia, and South America. Here's this proud American serviceman, fighting symbolically for his country. They would have loved to do that."
Thereafter, Clark and Ali worked together on several projects. On one occasion, Ramsey and his wife joined Muhammad and Lonnie Ali as guests for dinner in my home. The mutual admiration between the two men was obvious.
"To me, Muhammad Ali is a totally spiritual person," Clark said later. "It doesn't have to do with the Christian faith in which he was raised, and it doesn't have to do with the Islamic faith to which he converted. It has to do with his love for life, his faith in the human spirit, and his belief in the equality of all people. I see Ali as a human being whose sense of purpose in life is to help others. He must lay awake at night, wondering what he can do to help people, because wherever people are in need, his priorities are there. He sees children who are right next to him, but children who are starving in Africa and threatened by bombing in Iraq are also within the scope of his imagination. He wants to help everyone and he travels at great personal burden and financial expense to be wherever he's needed. I say, God bless him. He makes an enormous difference."
And there were other thoughts that Clark shared with me over time:
* "I don't like boxing. I oppose boxing because I think it's violent and damaging to the young men who participate in it. It symbolizes our glorification of violence and the rule of violence over compassion and the rule of law. I also don't believe in fame. I think fame, like power, is a profound misunderstanding and distortion of what is good and desirable. One of the most damaging beliefs people have is that only those who are famous or hold power can change things or make a difference. True social change has to come from the people. Each of us has to want to be involved and has to believe that we as individuals can make a difference and that our ability to make a difference doesn't depend upon our being elected to the House of Representatives or being the preacher of the biggest church in town or president of a corporation or heavyweight champion of the world. Those roles tend to be selfish and self-fulfilling and debilitating in terms of the pureness of one's commitment. You make so many compromises in pursuing those careers that it's an illusion to think that's how you make the changes you care about, if you care about justice and social change."
* "Muhammad Ali made an enormous difference. There was a quality of pure goodwill about him. There always has been, and I believe, always will be. Here was a young black man from American poverty. He could very easily have been embittered, hateful, racist. But through all his trials and tribulations, he never manifested any of those qualities. And when he spoke, he said loving things. In his mind, wishes came true, and that's the way a good portion of his life has been. He meant different things to different strata of American society. But to the poor, he meant you can do what you will; anything is possible."
* "Muhammad Ali gave people hope. He inspired and continues to inspire millions of people. And to everyone, he meant that you can be gentle and strong, that there's not a contradiction there; because for all his obvious physical strength, he always evoked gentleness and love. With Muhammad Ali, you saw grace; you saw joy. He meant charity in the truest sense of the word. He made people proud to be who they were."
* "It's not an anomaly; it shows the way we are, really, that he came to the opportunity to do all that he did through fighting. But he's always had a vision that goes beyond the violence of boxing. His character causes him to want to help others. And character is destiny. That's the character we need. He hasn't been able to accomplish all that he wanted. Much of what he set out to do never materialized. But he's a person of unique good will and good works. He touched so many lives and brought out the better angels in millions of people."
* "You know, the joy of life is that you have to persevere and do what you can to make this a better world. We're going to have a billion more people on earth before the end of this century. The great majority of them will have dark skin and live in terrible poverty. Hundreds of millions of them will have shortened lives and suffer from hunger, malnutrition, ignorance, and disease. But if the rest of us can come through in the manner of Muhammad Ali, we can solve the problems that lie ahead. The most important thing he communicates is his love and desire to do good. That was what he taught us all. And if you can really communicate that, that there are people who love; well, then maybe you'll change the world."
And there was a final grace note.
"I see him from time to time," Clark said of Ali. "And the last time I saw him, I told him - and I meant it - I said to him, 'You'll always be my champion.'"
Thomas Hauser's email address is thomashauserwriter@gmail.com. His most recent book –
Staredown: Another Year Inside Boxing
– was published by the University of Arkansas Press. In 2004, the Boxing Writers Association of America honored Hauser with the Nat Fleischer Award for career excellence in boxing journalism. In 2019, Hauser was selected for boxing's highest honor - induction into the International Boxing Hall of Fame.
Check out more boxing news on video at the
Boxing Channel