By Ted Sares
The late heavyweight Mitch Rose could not translate his Golden Gloves amateur skills to the pro ranks. He retired with an underwhelming 2-11-1 mark, but he did enough quirky things to put his life story in a book and one of the most memorable parts of it involved his being the first fighter to stop Eric "Butterbean" Esch, the legendary knockout machine who was trumpeted as the King of the Four Rounders. Rose did it on an undercard bout at Madison Square Garden on a show with Oscar De La Hoya and Arturo Gatti in the featured bouts.
"… Rose was a tried and true New Yorker. As loud and funny as he was, he never seemed to take himself too seriously. He had a big heart, a lot of dreams, and an emotional honesty that was extremely refreshing." --
Robert Mladinich, NYFIGHTS
As Bernard Fernandez noted, Eric Esch, aka Butterbean, rebounded nicely. "(He) went on to continue his unlikely advance to stardom of sorts as a bald and blubbery blaster."
Butterbean, who also competed in MMA and in Tough Man competitions, developed a cult following and retired with a boxing record of 77-10-4. But Butterbean's last three losses came between 2009-2013, long after he should have left the boxing scene.
Enter Kenny "The Raven" Craven (here's a recent picture).
]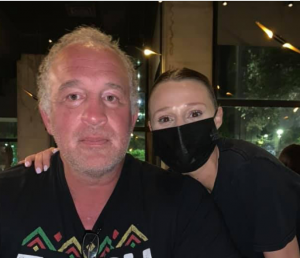 "Wherever you find yourself in time... Please remember to do the right thing."
-- Kenny Craven
A soulful and righteous man who believes in equality and walks the walk, Craven, a Mississippian from tiny Ellisville, is a follower of the teachings of Desmond Tutu. He is pro-people and pro-underdog and will not bypass injustice.
"I wrote a post yesterday on Facebook that expanded my view of the power of the people. All of us know we have this power but we have no idea how to use it. Well, we do know how it is used but we make a conscious decision not to. Why? We the people have supreme authority but we give this gift to just a few people who do not even like us." --
Craven
Kenny Craven finished his pro boxing career with a 28-20 record. He won 23 by knockout BUT all of his 20 losses came by knockout and that made him an exciting fighter, if nothing else. Kenny was a fan favorite on the southern circuit and if his opponent didn't get him, he usually got his opponent and the fans could anticipate with near 100 percent accuracy that someone was getting knocked down.
The other thing about Kenny was that he fought a Who's Who of elite fighters. They included Henry Akinwande (37-1-1 coming in), Michael Nunn (55-4), Vaughn Bean (41-2 and no relation to Butterbean), Attila Levin (27-1), Albert Sosnowski (33-1), Clifford Etienne (28-2-2), Calvin Brock (25-0), Timur Ibragimov (20-0-1), Oliver McCall (46-8), Vassiliy Jirov (36-3-1), and Ezra Sellers (28-7).
In 1999, "The Raven" was stopped by Butterbean (48-1-2) in the second round on the undercard of the
De La Hoya vs Trinidad
fight at the Mandalay Bay Resort and Casino in Las Vegas. It was Alabama vs Mississippi. However, in the first round, Craven displayed the blueprint on how to beat the 'King of Four Rounders" by using a stick and run approach.
In 2005, Kenny lasted until the third round before the Bean (then 71-3-4) overwhelmed him.
But just three months later in Jackson, Mississippi, Kenny finally figured out Esch and utilized the blueprint by jabbing and moving laterally, and won a majority decision over the heavily favored Bean in front of a small but howling and disbelieving crowd. The fact that Tonya Harding was on the undercard added to the circus-like atmosphere.
Then, three months later in Bejing, China, Kenny did it again. Yes, in China!!? This time he had his way with Eric and cruised to an easy win.
In a rare Quadrilogy, Kenny Craven went 2-2 with Eric Esch who never managed to knock Kenny down or even hurt him. No mean feat.
Mitch Rose had his moment. Kenny Craven had two. As Kenny says, "I did the best I could for a guy with three amateur fights and growing up in rural Mississippi. I loved every second, the good and the bad."
Ted Sares can be reached at
tedsares@roadrunner.com
Check out more boxing news on video at the
Boxing Channel