By Arne K. Lang
"Felix has a sparkling personality, a flashy fighting style, and he's good. He's also f-a-s-t." The quote is from Thomas Hauser who wrote those words in June of 2015 after Verdejo improved his record to 18-0 with a near-shutout of fellow unbeaten Ivan Nejara on an HBO card from the Theater at Madison Square Garden.
At this juncture it appeared that Verdejo, a former Olympian, was destined to become the next icon of Puerto Rican fight fans, the heir-apparent to Felix Trinidad and Miguel Cotto.
Today, news stories about Verdejo make no reference to his sparkling personality. It's an attribute inconsistent with the portrait of a monster.
This past Saturday, as hardcore fight fans were glued to the telecast of a show in Manchester, England, it came to light that authorities in San Juan, Puerto Rico, had found the body of a young woman who had been reported missing after failing to turn up at her job at a dog grooming salon on Thursday morning, that the decedent was plainly the victim of foul play, that Verdejo was the primary suspect in her murder, and that he wasn't cooperating with the authorities.
When the corpse of the missing woman was fished from a lagoon, her body was reportedly so mangled that forensic examiners had to consult dental records to confirm that the decedent was indeed Keishla Marlen Rodriguez Ortiz, the 27-year-old woman they were looking for. The boxer and Ms. Rodriguez had reportedly known each other since middle school. According to Rodriguez's family members, she was pregnant with Verdejo's child and the boxer, who was married with a 2-year-old daughter, wasn't happy about it.
]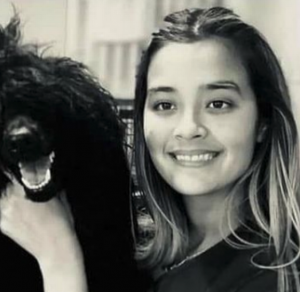 Keishla Rodriguez
With each new detail, the story became more sordid.
It is alleged that the victim was thrown off a bridge after being punched in the face and injected with a syringe filled with an unidentified substance. Verdejo and an accomplice – who hasn't been charged and is identified only as a witness – then tied her hands and feet with wire and weighed the body down with a cinderblock before tossing it into the water. When the body was slow to sink, Verdejo allegedly fired a bullet at it. A shell casing was found on the bridge and the authorities have corroborating evidence from toll booth cameras.
As first reported by veteran boxing writer Jake Donovan, the boxer surrendered to FBI agents yesterday evening (Sunday). He appeared this morning via zoom before federal magistrate Camille Velez Rive who ordered him returned to prison and held without bail.
Many of the headlines in the tabloids say that Verdejo is facing the death penalty. That's technically true. The three crimes for which he has been charged -- carjacking resulting in death, kidnapping resulting in death, and intentionally killing an unborn child – are federal crimes. As a commonwealth of the United States, Puerto Rico is subject to U.S. federal laws. However, Puerto Rico abolished capitol punishment in 1929. The country hasn't executed anyone since 1927 when a man named Pascual Ramos was hanged for killing his boss.
It's doubtful that prosecutors would pursue the death penalty unless the trial were moved to the mainland. However, domestic violence has become a hot-button issue in Puerto Rico and the national mood toward crimes of this nature is trending toward harsher retribution. Yesterday, according to the Daily Mail, hundreds of people, mostly women, including Rodriguez's sister, gathered at the bridge that spans the lagoon to pay their respects and demand justice for the victims of domestic violence.
Felix Verdejo turned pro at age 19 after representing Puerto Rico in the 2012 London Olympics. He rose to #1 in the WBO lightweight rankings after defeating Oliver Flores in February of 2017, but was
demoted for inactivity
. There were extenuating circumstances including fights that fell out and a 6-day stay in a hospital following a motorcycle accident.
He returned to the ring after a 13 ½ month absence and suffered his first pro defeat. An unheralded Mexican, Antonio Lozada, stopped him in the final round, the 10
th
. Verdejo was ahead on two of the scorecards through the nine completed rounds. There were 23 seconds remaining in the contest when the bout was stopped.
Verdejo's most recent fight came in December of last year. He was stopped in the ninth round by Masayoshi Nakatani at the MGM Bubble in Las Vegas, reducing his pro record to 27-2.
Verdejo photo credit: Mikey Williams / Top Rank via Getty Images
Check out more boxing news on video at the
Boxing Channel