By Arne K. Lang
On Sunday, Feb. 26, 1961, Sugar Ray Robinson arrived in Las Vegas for his match six days later with Gene Fullmer at the two-year-old Las Vegas Convention Center. Reporters on hand to greet Robinson at the airport were taken aback by his large entourage. With him were his manager George Gainford, his trainer and his trainer's assistant, his mother, his traveling secretary, his personal physician, his dietician, his bodyguard, his personal barber and a sparring partner – eleven bodies in all including Robinson.
Flash forward 60 years. When WBA/IBF world super lightweight champion Josh Taylor arrived in Las Vegas on April 24, his party also numbered eleven. Arriving with him from Edinburgh were his trainer Ben Davison, his former amateur coach Terry McCormack (pictured on the right) and assorted others including a videoanalyst, a physiotherapist, and several longtime friends and gym mates including undefeated (10-0) European bantamweight title-holder Lee McGregor and sparring partner Chris Kongo.
Once he was settled in, Sugar Ray had less than a full week to finish off his preparation for his title fight with arch-rival Fullmer. By contrast, Josh Taylor and his team arrived in Las Vegas a full month before Taylor was set to square off against WBC/WBO counterpart Jose Ramirez in the biggest fight in Las Vegas since Fury-Wilder II, a lapse of 14 months.
There are other differences between Team Robinson and Team Taylor which touch on the way that boxing has changed from a promotional standpoint. Sugar Ray and his party stayed at the Dunes Casino Resort on the Strip where Robinson picked up some loose change holding afternoon pre-fight workouts in the hotel's showroom at $1 a head. Team Taylor is staying as a group in a large, luxury home in the "burbs" where there are fewer distractions and when he is ready to spar at the Top Rank Gym, "foreigners" are shooed away. Which isn't to say that Josh Taylor isn't friendly. Quite the opposite; the Tartan Tornado has been very approachable and unstinting of his time with the few local reporters that have been hep to his whereabouts.
Taylor hails from Prestonpans, a town eight miles east of Edinburgh, Scotland's second-largest city. His dad works as a landscape gardener and his mother as a receptionist. He has one sibling, a younger sister. This past December he became engaged to hairdresser Danielle Murphy, his longtime girlfriend. They have known each other for 10 years.
On Wikipedia, Prestonpans is portrayed as a small fishing village, but that is highly misleading. For a better reference, think of towns in the American rust belt that have been bruised by the loss of manufacturing jobs. Taylor and his neighbors will tell you that the policies of Margaret Thatcher, British PM from 1979 to 1990, compounded the damage.
At age 17, Taylor, now 30, found his way to McCormack's Lochend Boxing Club in Edinburgh. At this humble gym -- a little shack situated smack against a public housing project -- he honed the skills that made him an elite amateur, a globetrotter who culminated his tenure with a gold medal at the 2014 Commonwealth Games.
Taylor turned pro for Barry McGuigan's Cyclone Promotions. McGuigan entrusts his fighters to his trainer/son Shane McGuigan. The McGuigans already had Carl Frampton in the fold. Under the McGuigans stewardship, Frampton became a champion in two weight classes.
Taylor's fight with Jose Ramirez will be his fourth in the United States. Josh made his pro debut in El Paso and also fought at Barclays Center in Brooklyn and at the MGM Grand in Las Vegas. The common thread in all three fights is Frampton who also appeared on those cards, the last two as the headliner with Leo Santa Cruz in the opposite corner.
As a pro, Taylor is undefeated (17-0, 13 KOs). Ramirez, the pride of Central California's vast San Joaquin Valley, home to more than 4 million people, is also undefeated (26-0, 17 KOs), but the Scotsman is considered to have fought the stronger schedule. Taylor's last five opponents were collectively 110-1 at the time that he fought them with the lone blemish inflicted by Terence Crawford.
Taylor's signature win was his Oct. 26, 2019 conquest of Regis Prograis at London's O2 Arena. Both came in undefeated, both owned a share of the world super lightweight title, and the match had the added allure of being the final round of a World Boxing Super Series tournament with the coveted Muhammad Ali Trophy, an impressive piece of hardware, bestowed on the winner.
The fight was expected to be highly entertaining and it overachieved. The noted historian Matt McGrain called it "the inarguable 14
0lb fight of the decade
." At the end both fighters were marked-up, especially the victorious Taylor who sported a beauty of a shiner over his right eye. "I have never been prouder of an injury," Taylor told this reporter.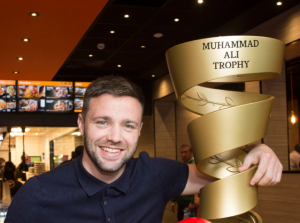 His relationship with the McGuigans unraveled after this fight. Shane McGuigan took it hard. "I've invested four-and-a-half years of my time and energy in someone who just doesn't deserve it," he said. "If you want loyalty in boxing, buy a dog (a saying previously credited to the late British boxing promoter Mickey Duff)."
"Don't buy a dog and then put it in the kennel," replied Taylor, noting that he had been left alone for long periods by Shane McGuigan when training in England and that he wasn't provided a key to the gym when his trainer was out of town.
Veteran British boxing scribe Colin Hart took the McGuigans' side in a story that ran in the
Sun
, faulting Josh for his disloyalty. What Hart failed to note is that in every deal that Taylor has signed, he has insisted that his amateur coach be included. McCormack assisted McGuigan in the corner and continues in that role under Davison, the young trainer who reinvigorated Tyson Fury before their amicable split.
"I have never been so happy as I am now," says Taylor. "I am content and relaxed." And he insists that he harbors no hard feelings toward the McGuigans. "I'm grateful for what they did for me."
This olive branch, of sorts, stands in stark contrast to his pal Carl Frampton whose break from the McGuigans was scarred with unbending acrimony. (Shane McGuigan's latest protégé is Lawrence Okolie who turned in a sensational performance while blasting out Krzyzstof Glowacki to win the WBO world cruiserweight title on March 20. There's no question that Shane is one of the sharpest young trainers in the sport, but if he were a physician, one might say that he needs to work on improving his bedside manner.)
The Taylor-Ramirez fight will be held at the Virgin Hotel (formerly the Hard Rock which was closed for 13 months while the new owners of the property, in their words, "reimagined" it). The winner will be the undisputed 140-pound champion, holding all four meaningful belts. If that be Taylor, who is a small favorite, that would put him on the same pedestal as Ken Buchanan who became a national hero when he won the world lightweight title from Ismael Laguna in 1970, a diadem he lost on a controversial punch to Roberto Duran who refused to give him a rematch.
Now 75 years old and residing in an assisted living facility in Edinburgh, the city of his birth, Buchanan was among the first to predict that Taylor would become a world champion. The two are well-acquainted. Buchanan pops in occasionally at McCormack's gym. He has visited Taylor at his family home where, Josh notes, his mother welcomed him as she would any honored guest, meaning she put on a spot of tea.
Taylor vs Ramirez is a sellout. The bout will be televised free in the United States on ESPN. It's a very compelling attraction.
Check out more boxing news on video at the
Boxing Channel