By Ted Sares
A number of bizarre events unfolded during a boxing show at the Palladium in Worcester, MA, on March 9, 2007. This was foreseeable. The main event was a freak fight that pit Eric "Butterbean" Esch, the "King of the Four Rounders," against Joe Siciliano, a 49-year-old Leominster, MA, narcotics detective. Siciliano, who had a 4-3 record, came in at a grotesque 313 pounds, but "The Bean," then 40 years old and sporting a 76-7 record, weighed a humungous 417. On paper it was a terrible mismatch, and a potentially dangerous mismatch at that.
The corpulent Siciliano (pictured) didn't lack for guts. "The people want to see a fight, and I'm not going in there and dance around and make it boring," he said. "People come to see Butterbean because he loves to brawl. Well, he's going to get one. Whether the fight lasts 30 seconds or four rounds, it's going to be action-packed. You're not going to see any love taps. You're going to see power punches. I'm not going to give up easy. I'm psyching myself up for this."
"This is definitely a big step up for me," said the 49-year-old, "but I feel real good. I'm fresh, and I've been training a lot. I've been given the chance to fight this guy, and I'm feeling very confident."
We're hoping for a four-round decision," added Jimbo Isperduli, Siciliano's trainer/manager and the fight's promoter. Translation: If Joe lasts four rounds, it would be deemed a monster upset.
Earlier in the show, Butterbean's son Brandon Esch (aka Babybean) got poleaxed by Matthew Eckerly. The 266-pound kid remained on the canvas unconscious for several scary minutes. It was Brandon's professional debut and would be his last boxing fight. And the guy who beat him was no world beater. Eckerly was 1-3 coming in and would proceed to lose his next and final seven fights, all by KO.
After watching his son, Butterbean was subdued and likely very anxious.
[]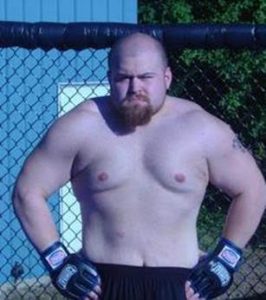 Brandon Esch (Babybean)
The Fight
In the first round, Joe was knocked down and there was a good deal of running, hugging and holding. At one point, Joe spit out his mouthpiece ala Chico Corrales to buy some time and extend the fight. When the round ended, he raised his hands in some sort of celebration. He had done what Peter "Hurricane" McNeely and many others couldn't do; he had survived the first round. Esch had crushed many of his opponents in the first stanza, ending the bout as soon as one of his power shots hit home.
Unfortunately for Joe, he had nothing left to hold off his stalking and grotesque opponent. Round Two was Bean Time and Joe's chances had now become zero to none. The end was in sight. Bean mercifully resorted mostly to body shots so as not to do any needless damage to the terribly mismatched detective. After several knockdowns in which Joe seemed to bounce off the canvas, two towels were thrown in to stop the massacre. But Joe had pocketed $4,000 and gained some serious bragging rights.
Despite Butterbean's cult following, throngs of Siciliano fans booed. Now there's high camp and there's cornball, but this was something else. Siciliano had a huge following in the Leominster-Fitchburg-Gardner area and had personally sold 1,000 tickets for the fight.
Butterbean was winding down his career and this would be his last boxing win. His final record was 77-10-4. Joe finished at 5-4.
As he pursued other viable options, Butterbean's legacy as one of the greatest four-round boxers of all time remained intact.
Ted Sares enjoys researching and writing about boxing. He can be reached at
tedsares@roadrunner.com
Check out more boxing news on video at the
Boxing Channel