By Ted Sares
When excitement is on the discussion table, names like Bob Satterfield, Smokin' Joe, Iron Mike, Ruben Olivares, Danny Lopez, Matthew Saad Muhamed, Fenech, Margarito, Hatton, Gatti, Katsidis, Benn, Letterlough, and Valero immediately come to mind. They went on the stalk the minute the bell sounded for the opening round. Yet, upon closer reflection, other lesser-known men provided equal amounts of excitement and on a regular basis.
John "The Beast" Mugabi (42-7-1 with 39 wins by KO and 6 losses by KO) predicted most of his fights with a simple "I knock him out." He was right most of the time. One of his victims in a crossroads sort of fight in 1985 was another of his ilk in Earl Hargrove (32-6 with 28 wins by KO and 5 losses by KO).
Mugabi knocked him out in the first round.
Jaime Garza went 48-6 knocking out 44 but was stopped 5 times—once in the first round by Juan Meza with a 45-9 mark (37 via KO and 4 KO's by). This shoot-out occurred in Kingston, New York, of all places. It was the co-feature of the Billy Costello vs. Saoul Mamby world title fight in 1984.
Ricardo "Pajarito" Moreno
Depending on how one defines excitement, a list and discussion could go on and on, but whatever the case, one name always stands out and that is chill-or-be-chilled Ricardo "Pajarito" Moreno (60-12-1 with 59 KOs and with eight of his 12 defeats coming by way of stoppage). "Pajarito," or "Little Bird" as he was called, was raised in Zacatecas, Mexico and did his work between 1954 and1967. He carried bricks in both hands and was considered by many to be one of the hardest pound-for-pound boxers in the world. In 2003, he was named to
The Ring
magazine's list of 100 Greatest Punchers.
Now get this: His only win that wasn't by way of knockout was a disqualification victory.
Moreno fought his share of limited opposition but he also notched some solid wins against the likes of Oscar Suarez, the talented but star-crossed Henry "Pappy" Gault (murdered at age 42), Baby Moe Mario and Americo Rivera who had just upset rugged Jose (Toluco) Lopez.
Ricardo earned a title shot against the great Nigerian featherweight champion Hogan (Kid) Bassey when he TKO'd Ike Chestnut, the second ranked featherweight in the world in six rounds. Chestnut had never been stopped and had won all five of his fights in California, most recently a unanimous decision over Jose Luis Cotero in Hollywood just two months prior.
"Little Bird" met Bassey before a roaring crowd of almost 20,000 at Wrigley Field in Los Angeles on April 1, 1958.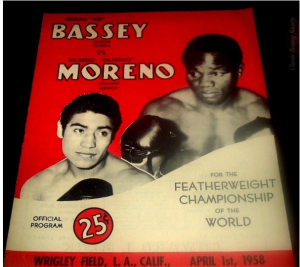 The following appears in the
Classic Boxing Society
:
April 1, 1958- World Featherweight Title - Wrigley Field, LA USA
Hogan "Kid" Bassey (Champion) vs. Ricardo "Pajarito" Moreno (Challenger)
"As soon as the bell rang, a wild brawl ensued, instigated by the Kid's bull rush. Moreno quickly rallied and cut Bassey, but the slick Nigerian who possessed superb foot movement survived and quickly changed tactics fighting more circumspectly. Soon he was controlling matters and began battering Pajarito seemingly at will with long and well-leveraged rights; one potshot after another. Finally, a hard right hand caught the dazed Moreno flush on the chin and that was that. Though Moreno struggled in vain to get up, referee Tommy Hart finished the count with two seconds left in the round but he could have counted to 100. Bassey's first title defense had been a violent one that featured non-stop aggression against a pressing and always dangerous opponent." (Ted Sares)
After losing four of his last five outings, all by stoppage, Moreno retired and was quickly gobbled up by film producers who knew a heartthrob ticket-seller when they saw one. And along with his newly acquired fame, the diminutive "Bird" was not lacking for women or other attendant temptations. Unfortunately, the temptations of Jet Set Mexico were addictive and proved too much for what was essentially a country boy. He was taken in by it all and then began a slow descent to hell.
Moreno died a depressed and broken man at age 71 in Durango. The accounts of his death vary. Some say it occurred at a rehab center. Others say he died homeless while sleeping on a boxing mat in a gym where he was allowed to stay at night. Still another account is that he died of a stroke brought on by alcoholism.
In the end, he was the kind of thrilling, chilling knockout artist that boxing rarely sees. Maybe on a different level, Deontay Wilder can approach this level of excitement, but for now it belongs to "The Little Bird."
Ted Sares can be reached at
tedsares@roadrunner.com
Check out more boxing news on video at the
Boxing Channel