By Arne K. Lang
It appears that Teofimo Lopez's world lightweight title defense against George Kambosos Jr has finally found a home. Pending further developments, the fight will be held at the Hulu Theater at Madison Square Garden on Tuesday, Oct. 5. That's the word from Triller co-founder Ryan Kavanaugh who, needless to say, isn't an unimpeachable source. It was only 10 days ago that Kavanaugh told ESPN that the fight was headed to the Middle East.
As boxing writer Jake Donovan notes, this is the sixth new date. At one point, it looked pretty solid for June 19 but then Lopez tested positive for the coronavirus.
When the fight went to purse bid back in February, Triller bid a staggering $6.018 million which was more than Eddie Hearn's Matchroom organization ($3.506) and Bob Arum's Top Rank ($2,315) combined.
There is no way Triller can recoup that investment in a room as small as the Hulu Theater, not with a fan-friendly $19.99 tab for the pay-per-view ($2.99 for individuals purchasing a yearly subscription). However, by all accounts, Triller's initial foray into the Hulu Theater was a smashing success. Their Aug. 3 show reportedly sold out in 15 minutes and was the highest grossing event in the 53-year history of the venue.
The boxing portion of the show was topped by a heavyweight match between Michael Hunter and Mike Wilson and marked the return of Long Island's Chris Algieri. However, the fights were just teasers for the rap concert that followed it. The rappers, not the boxers, were the draw.
Kavanaugh previously indicated that his next Hulu show would be a two-day extravaganza with the boxing unhitched from the music festival which would run on a Wednesday. Can Lopez vs. Kambosos attract a full house without the embellishment? Perhaps.
The Brooklyn-born Lopez (16-0, 12 KOs) unified the world lightweight title when he
upset Vasiliy Lomachenko
in a Las Vegas "Bubble Fight" in October of last year. Kambosos, an Australian of Greek descent, is undefeated (19-0, 10 KOs) and talks a good game and while he will be a huge underdog, he figures to sell a few tickets.
Manny Pacquiao
Should Manny Pacquiao retire? That was a constant theme in the Pacquiao-Ugas post-mortems.
Had we asked the question, it would have been a rhetorical question. Of course, he should retire. The man is 42 years old and has answered the bell for a whopping 498 rounds.
Yahoo's Kevin Iole said it best: "This is a young person's sport and unlike in golf, where a bad day on the senior tour leads to an unseemly 85, a bad night in boxing leads to a subdural hematoma, detached retina or worse….His trainer, Freddie Roach, is one of about a gazillion examples of what happens when a fighter hangs around too long."
Pacquiao held titles in four decades and was a lineal champion in five weight classes. And beyond what he accomplished in the ring, he always respected his opponent and always respected his sport. He was a man of consummate grace who had a big heart and will be leaving the sport with his dignity intact, noted LA Times sportswriter Dylan Hernandez.
I wouldn't bet that Manny retires and stays retired. History informs us that would be a bad bet. Regardless, it was a privilege to be in the same room with him.
R.I.P. Jarvis Astaire
It irked Jarvis Astaire when the papers identified him as a boxing promoter. Astaire, who died this past Saturday at age 97, had a wide range of business interests and wanted to be recognized as something of an entrepreneurial Renaissance man. But it was boxing that got his name in the papers and boxing became his primary identifying mark.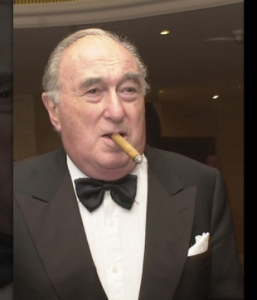 Not all the coverage was positive. In 1956, a fighter he managed, welterweight Peter Waterman, stepped up in class to fight the veteran Kid Gavilan at London's Harringay Arena. At the conclusion of the 10-rounder, the referee awarded the fight to Waterman, a decision that caused such a stink that it sparked a formal investigation.
At the time, Astaire was managing a small stable of fighters. He went to become the most powerful man in British boxing and would be named to the International Boxing Hall of Fame, joining the Hall with the class of 2006.
In 1982, Astaire and his "co-conspirators" -- Harry Levene, Mike Barrett, Mickey Duff, and Terry Lawless – were charged with operating a cartel that froze out would-be competitors and kept purses artificially low. The group had an exclusive arrangement with Sky TV and Astaire was the Deputy Director of Wembley Stadium.
Micky Duff was a manager, matchmaker, and cornerman, Terry Lawless a trainer and boxing gym operator, and Levene and Barrett were well-connected old salts that Astaire leaned on to learn the ropes.
Levene earned his spurs as an assistant to Jack Solomons. From the mid-1930s through the early-1960s, Solomons cast a big shadow as Great Britain's top boxing impresario. He promoted the 1963 match between Muhammad Ali (then known as Cassius Clay) and Henry Cooper, a box office bonanza at Wembley Stadium. The Jarvis Astaire consortium (Levene was the promoter of record) promoted the 1966 rematch at the Arsenal Football Grounds. It symbolized a changing of the guard.
Astaire was the man most responsible for bringing UK boxing into the closed-circuit and pay-per-view age. Although he and his partners were exonerated, the brouhaha led to reforms that opened the door to others, notably Frank Warren.
Duff, Levene, Barrett, and Lawless predeceased Jarvis Astaire. His passing truly marks the end of an era.
Check out more boxing news on video at the
Boxing Channel