BOOK REVIEW by THOMAS HAUSER --
Ike Ibeabuchi (who styled himself as "The President") came from afar. Born in Nigeria, he moved to the United States to pursue a career in professional boxing and compiled a 20-0 (15 KOs) ring record between 1994 and 1999. His two signature victories were a 1997 decision over David Tua in an enthralling non-stop slugfest and a fifth-round demolition of Chris Byrd in 1999. Tua and Byrd were undefeated when Ibeabuchi fought them. He was the best heavyweight to ever come out of Africa. One can only speculate what might have happened had he fought Lennox Lewis, Mike Tyson, and Evander Holyfield.
Luke G. Williams recounts Ibeabuchi's life to date in "President of Pandemonium: The Mad World of Ike Ibeabuchi" (the most recent offering from Hamilcar in its Noir True Crime Library).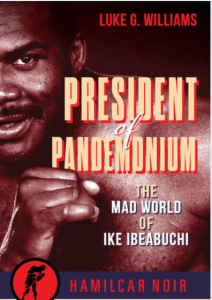 Ibeabuchi had demons. He was mentally ill and violent outside the ring as well as in it.
Eric Bottjer, who served as a matchmaker for Cedric Kushner (Ibeabuchi's promoter) told Williams, "I've been around boxing long enough to realize that it's not a normal profession and a lot of boxers are not normal human beings. But Ike is the only fighter I've ever met who I would say was literally insane. I recall having a conversation with Cedric where I said I thought Ike was a dangerous human being who was capable of killing somebody."
Ron Scott Stevens, who also worked for Kushner, looked back on fight week for Ibeabuchi-Byrd and recalled, "The whole week, I was like, 'Please, let me stay away from this guy!' One day they asked me to bring up some lunch for him. I knocked on the door and couldn't wait to get the hell away. He was intimidating and frightening."
After meeting with Ibeabuchi prior to Ibeabuchi-Byrd, HBO blow-by-blow commentator Jim Lampley told his colleagues, "That man's crazy."
But as Lampley acknowledged to Williams, "Everybody in the sport - whether you're Cedric Kushner, Lou DiBella, or Curtis Cokes [Ibeabuchi's trainer] - has the dream to get hold of somebody who might have some conceivable shot at becoming the heavyweight champion. If you can get that championship, it takes your life to the next level. Ibeabuchi was a dream commodity for everyone involved with him."
Thus, the enablers. But eventually Ibeabuchi's conduct went beyond anything that could be enabled.
On August 26, 1997 (less than three months after beating Tua), Ibeabuchi was arrested and charged with aggravated kidnapping and attempted murder. As recounted by Williams, "Ibeabuchi drove his car straight into a concrete pillar on the embankment of a bridge on Interstate 35. With him in the vehicle was the fifteen-year-old son of his estranged girlfriend. Ibeabuchi emerged miraculously unhurt, but his teenage passenger had a broken pelvis, ankle, and jaw, as well as a diagnosis that he might never walk properly again. The authorities assumed initially that it was an accident. After interviewing the teenage boy involved, however, prosecutors became convinced that Ibeabuchi caused the crash on purpose. The boy alleged that Ibeabuchi had initially told him they were 'going on a journey.' But after leaving Dallas County he decided he no longer wanted to be in the car. When he tried to get out, he said, Ibeabuchi struck him in the face. Ike then continued driving before he smashed the car straight into the concrete pillar."
Eventually, the charges were plea-bargained down. Ibeabuchi pled guilty to false imprisonment and was sentenced to 120 days in jail. "The main issue of the case," district attorney Ken Anderson said, "was whether or not he was trying to injure the young man. Our final conclusion was that he was severely depressed and was trying to commit suicide."
There was more to come. In December 1998, Ibeabuchi was arrested in Las Vegas on a charge of sexual assault involving a prostitute. But the Clark County District Attorney's office felt there was a lack of evidence and chose to not pursue the matter.
That was followed by a more serious incident at The Mirage in Las Vegas in July 1999. Again, Ibeabuchi sought out a prostitute. Then, according to court papers, he "forcibly detained, battered, and digitally penetrated both the ****** and ****" of the victim. When police arrived at his hotel room, Ibeabuchi barricaded himself in the bathroom after which the police shot pepper spray under the door to force him out. Several weeks later, while in custody, he assaulted a corrections officer.
Ibeabuchi was released on $750,000 bail but arrested again - this time in Arizona - after two female escort service workers alleged that he had sexually assaulted them and held them against their will. By the time things were sorted out, he was found mentally competent to stand trial in Nevada and entered into a plea deal that led to a sentence of five-to-thirty years in prison. Ibeabuchi was also convicted of sexual assault and sexual abuse in Arizona. Eventually, he was paroled in Nevada and taken into custody by U.S. Immigration and Customs Enforcement (ICE) because of his status as a Nigerian national. Next, after being released by ICE, he was taken into custody in Arizona for violation of parole. He was released from prison in Arizona on September 23, 2020, but transferred once again to immigration custody. His future status is unclear.
Ibeabuchi is now 48 years old and hasn't boxed professionally for more than twenty-two years. But in today's sordid world, despite his demons, it's possible that he will fight again.
Williams is an accomplished writer. Previously, he authored
Richmond Unchained
- a superb book that recounts the life of Bill Richmond, who rose to prominence, first as a fighter in Georgian England and then as the trainer of
Tom Molineaux
. Given Williams's credentials,
President of Pandemonium
is a bit of a disappointment. It doesn't have the depth or texture of
Richmond Unchained
and reads more like a long magazine article than the type of scholarly work that Williams is capable of researching and writing. That said, it's the most comprehensive look at Ike Ibeabuchi that boxing fans are likely to find.
Thomas Hauser's email address is thomashauserwriter@gmail.com. His next book –
Broken Dreams: Inside Another Year Inside Boxing
– will be published by the University of Arkansas Press this autumn. In 2004, the Boxing Writers Association of America honored Hauser with the Nat Fleischer Award for career excellence in boxing journalism. In 2019, he was selected for boxing's highest honor - induction into the International Boxing Hall of Fame.
Check out more boxing news on video at the
Boxing Channel