By Arne K. Lang
Twenty-five years ago, on the first Saturday of September 1996, Mike Tyson met Bruce Seldon at the MGM Grand Garden in Las Vegas. This was Tyson's fourth post-prison fight following dates with Peter McNeeley, Buster Mathis Jr and Frank Bruno. At stake was Seldon's WBA world heavyweight title.
Bruce Seldon, who carried 229 pounds on his impressively-sculpted frame, had grown up in an Atlantic City ghetto and had served four-and-a-half years in prison on an armed robbery conviction. He didn't seem like someone easily intimidated, but on the ring walk from his dressing room, akin to Bruno in Tyson's previous fight, he bore the look of a man being herded off to the gallows.
The fight lasted only 109 seconds during which Seldon was on the canvas twice from blows that didn't appear to land clean. When the knockdowns were replayed on the video screen, disgruntled fans shouted "Fix! Fix! Fix!."
This was one of Mike Tyson's least memorable fights. It left no indelible images. But the event would leave a big footprint because of what happened after the arena was cleared out.
One of the attendees was Tupac Shakur. Before the clock struck midnight, he would be on his way to the hospital and ultimately the morgue.
At age 25, Tupac ("2PAC") was a giant in the burgeoning genre of Gangsta Rap. He had already released four commercially successful albums and was starting to make his mark as an actor, having won critical acclaim for his performance as a postal clerk in the movie "Poetic Justice."
Gangsta Rap is noted for explicit lyrics that glorify violence and misogyny. Tupac, who had the words "Thug Life" tattooed on his torso, embraced that lifestyle. He had a long rap sheet for battery-related offenses and was free on a $1.4 million bond awaiting sentencing for a sexual assault.
Twenty-two months before the Tyson-Seldon fight, in November of 1994, Tupac survived a shooting at a New York City recording studio by assailants who went there to steal his jewelry. He was living on borrowed time.
Tupac left the Grand Garden Arena in the company of Marion "Suge" Knight, a former UNLV football player who was the chairman of Death Row Records. They left in a black BMW that was part of a 10-car convoy headed to an after-party at a nightclub.
At the intersection of Flamingo Road and Koval Lane, while the BMW was stopped at a red light, a white Cadillac pulled up beside it and a fellow on the passenger side leaned out the window and opened fire with a Glock .40 caliber handgun. Four of the bullets struck Shakur; another grazed Suge Knight. At the hospital, Shakur's condition was listed as critical, but he died there six days later.
As drive-by shootings go, this one was especially brazen. Turn west off Koval on to Flamingo and within a few hundred yards you will be in the center of the Las Vegas Strip at one of the busiest intersections in the world. The drive-by could not have been more brazen if it had happened in Times Square, but yet there were no witnesses willing to come forward and cooperate with the police.
The police, however, had a strong suspect, one Orlando Anderson, a 23-year-old unemployed father of three from Compton, California. Anderson had been involved in an altercation with Tupac and his entourage earlier in the evening, an incident near the entrance to the arena that was captured by MGM Grand security cameras.
Las Vegas detectives interviewed Anderson at length, but he maintained his innocence and was never indicted. Nineteen months later, he too was dead, having been fatally shot during a mid-afternoon gunfight at a car wash near Compton High School.
Before Anderson died, Brooklyn rapper Biggie Smalls, aka Notorious B.I.G., emerged as a suspect. He and Tupac were fast friends turned bitter enemies and their enmity was seen as a reflection of a heated East Coast-West Coast rivalry within the rap/hip hop community. Smalls wasn't in Las Vegas when Tupac was assassinated, but it was alleged that he provided Anderson with the murder weapon.
Five months after the fight, Biggie Smalls was in Los Angeles filming a music video and promoting his upcoming album. At 12:45 am on the morning of March 9, 1987, while heading to a party in the Hollywood Hills, he was gunned down while seated in a vehicle stopped at a red light at the intersection of Wilshire Boulevard and South Fairfax Avenue. He was 24 years old. The alleged hit man, supposedly hired by Suge Knight, died shortly thereafter, shot dead while riding his motorcycle in Compton. (The turf wars by bootleggers in Chicago during Prohibition were tea parties by comparison.)
In death, Tupac Shakur, in common with Elvis and
Malcolm X
, became an even larger celebrity. The first of his albums released posthumously went multi-platinum. The lyrics of some of his songs are now celebrated as urban poetry. His life has been the subject of a number of scholarly papers, and in the boxing world, his name lives on in the form of featherweight champion Shakur Stevenson whose mother named him for the rapper.
By the way, Mike Tyson has said that he feels partly responsible for Tupac's death and it nags him. The two were good friends – Tupac visited Mike in prison – and Tupac likely wouldn't have attended the fight if Tyson hadn't learned that he was in town for a birthday party and reached out to him, encouraging the rapper to come to the show and bring some of his friends along with him.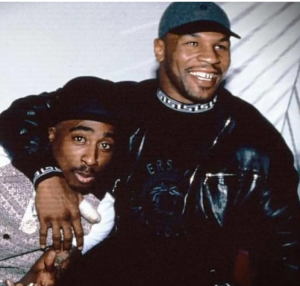 The fight, as it were, was much ado about nothing, but the aftermath would loom large in the annals of true crime and in the annals of American popular culture and it all happened 25 years ago on the first Saturday of September.
Check out more boxing news on video at the
Boxing Channel