By Arne K. Lang
PART TWO OF A TWO-PART STORY -- The year 1988 was a fateful year in the life of Mike Tyson. On Feb. 7, Mike married Robin Givens. On March 23, two days after he knocked out Tony Tubbs in Tokyo, his co-manager Jim Jacobs died. Mike greatly admired Jacobs and the two were very close friends. On June 27, Tyson blew away Michael Spinks in 91 seconds before a star-studded crowd of 21,785 at the Atlantic City Convention Center, aka Boardwalk Hall. The event was a blockbuster, shattering all existing records for fight revenue.
Mike and Robin Givens were a strange match. Mike was a high school dropout who was 11 years old when he was first remanded to a reformatory. Robin, 17 months older than Mike, had attended an exclusive private high school in the 'burbs, graduating at age 15, had majored in drama at Sarah Lawrence College, and was a cast member of "Head of the Class," a TV sitcom set in the classroom of a high school for the academically gifted. When Mike married Robin, he inherited her 44-year-old mother Ruth Roper, a twice-married and twice-divorced businesswoman who made the papers herself in 1988 when she sued the married baseball star David Winfield for giving her an unspecified venereal disease. (The suit was settled out of court.)
The
femme fatale
is a stock character in literature. There's an old saying that an alluring woman (I'm paraphrasing) can sink a battleship. Robin Givens came to be seen as the quintessential
femme fatale
. Iron Mike Tyson was the battleship.
Steve Lott subscribes whole-heartedly to this portrait of Ms. Givens. "She conned Mike into marrying her by saying she was pregnant," says Lott, a remonstration made by many others. As to her insistence that she wasn't a gold-digger, Lott cites the purchase of the Malcolm Forbes estate in New Jersey.
Within days after they were married, Mike flew to Tokyo to promote his fight against Tony Tubbs. "A few days later," says Lott, "he received a phone call from Givens who informed that she had just purchased the Malcolm Forbes mansion in New Jersey for $4.3 million. She never told Mike that she was going to do that. I could see that Mike was very unhappy when he heard the news."
Only hours before Mike Tyson stepped into the ring to fight Michael Spinks, Robin Givens slapped Bill Cayton with a lawsuit seeking to terminate his contract on the grounds of stealing money from Mike's purses and, moreover, make it retroactive so that Cayton couldn't collect his share of the purse for the Tyson-Spinks fight. "Mike had no idea that Robin was doing that," says Lott. "In fact, Mike had actually met with Cayton the day before the fight to ask Bill's advice about starting a new merchandise business with a friend of his."
The lawsuit triggered a Price Waterhouse audit of Cayton's books. The examiners found that Mike had actually been overpaid.
"Robin didn't have the assets to sue Cayton," says Steve Lott. "Donald Trump jumped in to help her. He made his resources available to her, his attorneys and his accountants. Since Robin could not prove that money was missing, Tyson and Cayton renewed the fighter/manager agreement without going to trial. Trump then sent Robin a bill for $3 million."
Cayton was still legally Mike's manager, but he was kicked to the sidelines as others muscled in to exert sway over Tyson's career. Two weeks after the Tyson-Spinks fight, Donald Trump announced that he planned to set up a corporation to manage Mike's affairs and that he was doing it as a friend of the family. The announcement came in the ballroom of a swanky Manhattan hotel at a formal press conference orchestrated by Trump's press agent Howard Rubenstein. Trump had ponied up an $11 million site fee to host the Tyson-Spinks fight (Boardwalk Hall was tethered to Trump's hotel-casino) and it proved to be a smart investment as the casino drop was enormous.
In seeking to woo Tyson away from Bill Cayton, Trump was thought to be in cahoots with Don King who would pick up the cudgel from Robin Givens, suing Bill Cayton for underpaying Mike, an allegation he could not substantiate. It was no coincidence that Givens was seated next to Don King at the fight.
As we all know, Mike Tyson fell into the clutches of Don King. Steve Lott, trainer Kevin Rooney, and cut man Matt Baransky, all of whom had been with Tyson from the very beginning, going back to his amateur days, were kicked to the curb.
The Tyson-Givens marriage was short-lived. She filed for divorce in October of 1988 on grounds of irreconcilable differences and Tyson counter-sued a week later, seeking an annulment. In his suit, Tyson accused Givens of "waging a campaign to publicly humiliate him, strip him of his manhood and his dignity."
The catalyst was the Sept. 30 edition of the popular ABC show "20/20" wherein Givens and Tyson were interviewed by Barbara Walters. On the show, Givens said that although she still loved Michael, their marriage was a "living hell" because Mike was manic-depressive and prone to acts of domestic violence. She said this as Mike was meekly sitting next to her looking as if he taken some Valium.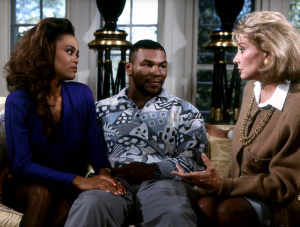 "The charge that Mike was manic-depressive was BS," says Steve Lott. "Bill Cayton hired the top psychiatrist in New York (Abraham Halpern) to examine Mike and he determined that Mike wasn't and had never been manic-depressive."
Six weeks before his appearance on "20/20," Mike cracked a bone in his left hand in a street fight with former opponent Mitch "Blood" Green. The altercation happened at 4:30 am on a Tuesday morning in front of Dapper Dan's, an all-night boutique and after-hours nightclub in Harlem.
In June of the previous year, Mike scuffled with a 20-year-old parking lot attendant after attending a rap concert at the Greek Theater in Los Angeles. The charges of assault and battery were dismissed by a municipal court judge but the parking lot attendant, whose nose and lip were bloodied, purportedly received a $105,000 settlement.
This incident is at odds with the narrative that Tyson didn't become a loose cannon until after what remained of his original team was purged from his life. The feral child that Cus D'Amato and Jim Jacobs had supposedly molded into a solid citizen was still very much a work in progress.
Lott demurs. "When I was with Mike, he never did anything inappropriate," he says. "Don King and his people undid all the great things that Cus did."
Lott notes that before the separation Tyson was raking in big money in commercial endorsements. He had deals with Pepsi and Nintendo and Kodak and was a poster boy for the New York Police Department ("It takes a bigger person than me to be a New York City cop," read the poster which was designed as part of a recruiting campaign). Tyson even did a public service announcement for the FBI encouraging kids to stay off drugs.
All those endorsements dried up in a hurry after Givens, Trump, and King entered his life and there was no going back even before he was convicted of raping an 18-year-old beauty queen in an Indianapolis hotel during the 1991 Miss Black America pageant. The conviction begat a six-year prison sentence that was cut in half for good behavior. He was released on March 23, 1995. Future co-managers, John Horne and Rory Holloway, old friends from his Catskill days who were now in the employ of Don King, were waiting at the gate. Lott believes that King had an inside man at the reformatory hired to keep Tyson in line. He was now a free agent as the legal wrangling between King and Bill Cayton stopped when Tyson was packed off to prison as the antagonists decided that it was better to reach a private settlement than to continue to spend thousands on legal fees when there was a possibility that Tyson might never fight again.
Looking back at his end days as Mike Tyson's co-manager, Lott says, "we didn't realize how vulnerable Mike was."
"Vulnerability" is about as far as Lott will go in touching on the flaws in Tyson's character. "He showed me many kindnesses when we were together. He will always be my friend." And as for writing a memoir, Steve says that won't happen: "A lot of stuff would be personal."
Lott wrote Tyson hundreds of letters when Mike was incarcerated at the Indiana Youth Correctional Center and visited him there three times. "I told Mike, you don't have to go back to Bill Cayton, but please don't sign with Don King." Lott regards King as the greatest con man of all time, an opinion likely shared by Mike Tyson who filed $100 federal lawsuit against King in 1998 to capture money skimmed from him.
Lott hasn't seen Tyson in several years but they were reunited in 2014 when Lott became a consultant to Iron Mike Productions, a boxing promotional firm that was almost as short-lived as Tyson's first marriage, going belly-up when Mike's partner, the money man, ran out of cash.
Mike Tyson, who once seemed destined to die a sordid death at a young age, has reinvented himself and is doing well. All of his misdeeds and tribulations from his fighting days have been swept under the rug and now the erstwhile Baddest Man On The Planet is almost cuddly (if one can get past the marijuana haze). And Steve Lott is also doing well.
Big Fights Inc. owned the rights to more than 17,000 boxing films, including many antiquarian films that were rescued and restored. Cayton sold the library to ESPN for $73 million but with the stipulation that he or his heirs could continue to display the films, but only within the confines of a Boxing Hall of Fame.
Cayton died on Oct. 4, 2003. His son Brian became the beneficiary of Cayton's largess. In 2010, Steve Lott was named the President of the Boxing Hall of Fame Las Vegas and began to concentrate on social media to bring the Hall to the attention of the boxing world.
For a time, the World Boxing Hall of Fame Las Vegas had a brick-and-mortar location inside the Luxor Hotel on the Las Vegas Strip where it was part of an attraction called
Score!,
a multi-sports interactive exhibit with memorabilia associated with legends of various sports provided by various sports' Hall of Fame and by private collectors.
Score!
opened in December of 2012 but its lease wasn't renewed and Lott's "Hall" now exists as a web site on key social media sites such as
Facebook
,
youtube, linkedin, twitter
, and
Instagram
.
Lott says that the Boxing Hall of Fame Las Vegas gets more views on
Facebook
than all the other sports' Hall of Fame combined. So much for the notion that boxing is a dying sport.
Editor's Note:
The Boxing Hall of Fame – Las Vegas is working with a new high-end social media company named Official Boxing Odds that specializes in boxing media and will be integrating the entire Boxing Hall of Fame library of video and photographs in all of their social media platforms
.
Tyson/Lott photo compliments of Steve Lott
To read Part One of this story
CLICK HERE