By Thomas Hauser
PART ONE OF A TWO-PART STORY -- On September 11, Evander Holyfield was knocked out by Vitor Belfort in the first round of a boxing event at the Seminole Hard Rock Hotel and Casino in Hollywood, Florida. There was widespread criticism of the event before it took place and more criticism when it was over. Holyfield is 58 years old and shouldn't be getting punched in the head by men trained in the art of hurting.
Worse, interviews with multiple people involved with the promotion suggest that Holyfield was hustled. That he went into the ring thinking he was about to participate in an exhibition in which neither man would use best efforts to hurt the other only to find himself double-crossed in a scenario akin to an old-time boxing movie.
How did boxing get into this mess? Read on.
In 2015, two musicians in search of an inexpensive way to edit their work launched a video app called Triller that enabled them and other users to avoid the cost of renting studio space. A year later, Triller was transitioning to becoming a social video app but had still not entered the mainstream consciousness. Enter Ryan Kavanaugh.
Kavanaugh is a 46-year-old businessman, a big concept guy who's adept at raising money. Over the years, he has been meshed in a wave of litigation touching upon his professional and personal life.
In 2004, Kavanaugh founded an entertainment company called Relativity Media that purported to use sophisticated algorithms to eliminate the risk from film financing.
Variety
named him "Showman of the Year" and he made his way onto the
Forbes
list of billionaires. Then Relativity Media filed for bankruptcy. Twice. Kavanaugh told the
Wall Street Journal
that he took Relativity into Chapter 11 bankruptcy in 2015 "to fend off vulture investors who were trying to steal the company" and that he wasn't involved in the second bankruptcy. In 2018, as reported by the
Los Angeles Times
, Relativity Media sold substantially all of its remaining assets to a holding company called UltraV.
Meanwhile, in 2017, Kavanaugh founded a company called Proxima Media. In 2019, Proxima Media acquired a majority stake in Triller. Kavanaugh sought to position Triller as an American version of TikTok (the Chinese-owned, social networking service that was under attack by then-president Donald Trump). To date, Triller has fallen far short of TikTok's success.
In describing Triller, a company press release states, "The Triller Network is a consolidation of companies, apps and technologies. Triller Network pairs the culture of music with sports, fashion, entertainment and influencers through a 360-degree tech and content-based vertical."
Triller became a significant player in boxing when it put together a November 28, 2020, exhibition between Mike Tyson and Roy Jones that engendered an estimated 1.6 million pay-per-view buys. DAZN and Matchroom had jumpstarted the move of "trash boxing" into the mainstream of the sport when they partnered to stream Logan Paul vs. KSI on November 9, 2019. Tyson-Jones brought this phenomenon to a new level.
Triller got what it wanted most out of Tyson-Jones - massive publicity and clicks. And the event fit perfectly into what Kavanaugh (pictured below with Oscar De La Hoya) calls Triller Fight Club's "four-quadrant model" consisting of "influencers, legends, music artists, and contemporary fighters."
Then Triller shook up the boxing world. At a February 25, 2021, purse bid, it offered $6,018,000 for rights to the four-belt title-unification bout between Teofimo Lopez and George Kambosos. That was $2.5 million more than the next highest bid (submitted by Matchroom) and $3.7 million more than the number submitted by Top Rank (Lopez's promoter). Lopez-Kambosos is currently scheduled to be contested at Madison Square Garden on October 4. Triller's bid was a statement that - temporarily at least - it's a significant player in legitimate boxing.
More Triller events followed. Most notably, on April 17, 2021, Jake Paul knocked out former MMA fighter Ben Askren in one round. One month later, it was announced that Paul was leaving Triller pursuant to a multi-bout deal with Showtime. The April 17 card also saw a more traditional boxing match between Regis Prograis and Ivan Redkach. The event and others that followed seemed to be mired in red ink. But they were aimed at building Triller's base and were showpieces for potential investors.
Meanwhile, on April 14, 2021, Triller announced that it had acquired FITE - a small but successful technology company that has become a leader in the distribution of pay-per-view combat sports events. After numerous snags in ironing out the contracts, the acquisition was finalized in late-July.
As all of this was unfolding, Triller was looking for its next big legendary fighter. Mike Tyson was unhappy with the money he'd received in the aftermath of his encounter with Roy Jones and, on March 21, had issued a statement that read, "Just to be clear, there is no Tyson with Triller fight. I don't know any Triller executives personally. I don't have a deal with Triller or any head executive representing them for the next event. I will never do another event or any business with Triller, so anyone misrepresenting that they own the rights to my name or my next event isn't true. I am not with or ever will be with Triller's Fight Club."
With Tyson unavailable, Triller turned to Oscar De La Hoya.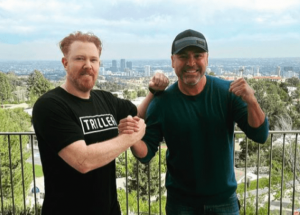 For more than a decade, De La Hoya was one of boxing's brightest stars. But he's now 48 years old and last fought in 2008 when he was brutalized by Manny Pacquiao.
There's kindness in Oscar. But he has been wounded many times, physically and psychologically. The psychological wounds seemed to have caused more suffering than the physical. He has acknowledged having problems with alcohol and cocaine and has been in rehab multiple times. The ravages of his lifestyle and years as a fighter have taken a toll.
Three days before Tyson-Jones, De La Hoya said that he was considering a comeback fight against Gennady Golovkin. "You know how easy GGG would be for me?" Oscar asked rhetorically. "I always took a good shot and I always took apart fighters like him."
Of course, in 2019, Oscar was talking about running for president of the United States.
Appearing at a March 26, 2021, press conference in Las Vegas to promote the Jake Paul vs. Ben Askren Triller card, De La Hoya took the microphone, announced "July 3, I'm making my comeback," dropped the microphone, and walked off the stage.
Paul-Askren, when it came to pass, featured performances by Justin Bieber, The Black Keys, Doja Cat, Saweetie, Diplo, Major Lazer, and what was advertised as "the exclusive world premiere of the hip hop supergroup Mt. Westmore (Snoop Dogg, Ice Cube, Too $hort and E-40)." There were pole dancers with big butts and lots of cleavage. Taylor Hill, Charli D'Amelio, and other social media personalities made appearances.
There was also a lot of weed (much of which was openly smoked on camera) and alcohol. The commentating team of Ray Flores, Mario Lopez, and Al Bernstein was joined from time to time by Snoop Dogg, Pete Davidson, and De La Hoya.
Oscar looked bloated, sounded as though he'd participated liberally in hospitality room offerings, and said that he wanted to fight Mike Tyson. Ray Flores observed on air, "Oscar is definitely high."
One might ask why the people around De La Hoya who care about him allowed that scenario to unfold. Four days later, Oscar appeared on "The DAZN Boxing Show" and was asked about his commentating that night.
"I've been in beast mode for about six weeks," De La Hoya answered. "And I got a little into it; you know. I started having a couple drinks. And then they told me, 'Why don't you go and commentate?' And I was like, 'Oh, man! Okay. Okay.' I got a little over carried away. And I apologize. But it's all good. I'm back in beast mode."
Thereafter, Ryan Kavanaugh told
The Sun
, "It was a fun event. You had two people up on stage smoking joints, so Oscar had a couple of drinks. He wasn't falling over. He wasn't so awful that he did something terrible. People love to talk sh**. I don't think Oscar was that bad. He was just having fun with it. We told him to have fun with it. We said go and enjoy it. Anybody that has enough time to go onto the internet and start commenting negatively in big ways and making a point of it, they obviously have other issues."
Then, on June 17, 2021, it was announced that De La Hoya would box against former MMA fighter Vitor Belfort in a Triller Fight Club pay-per-view event to be held in Las Vegas on September 11. Belfort, age 44, had retired in 2018 after compiling a 26-14 career record and losing four of his last six fights. He'd boxed only once as a pro and that was fifteen years earlier.
"This isn't that WWE theatrics we've been seeing in boxing lately," De La Hoya declared. "This is the real deal, a real fight with real knockouts for a real win. I'm in better shape than I was fifteen years ago. I want to make the biggest comeback in boxing history."
On July 21, Triller announced that De La Hoya vs. Belfort was moving to the Staples Center in Los Angeles. The contract weight was 180 pounds and the bout would be contested over eight two-minute rounds. That brought the California State Athletic Commission into the act.
"We were told that Tyson and Jones would be an exhibition and we regulated it as such," CSAS executive director Andy Foster said. "An exhibition in the State of California is when you don't use your best efforts to win. Here, the fighters want to use their best efforts, so by definition it can't be an exhibition. They want a fight and we'll regulate it as such. They're gonna box and we're gonna score it."
Asked about drug testing, Foster told this writer, "Both fighters will have to pass their medicals. We're still working out the details on drug testing. Most likely, it will be conducted by California, not VADA. I think we'll be focusing on PEDs, not recreational drugs."
As for possible drug use by the TV commentators, Foster pledged, "The commission will control the environment in the technical zone at ringside."
The formal kick-off press conference for De La Hoya vs. Belfort took place on July 27.
"I'm doing it for myself," Oscar told a group of reporters before the formalities began. "I've had a f***ing crazy life, you know. I've had a crazy life. And sorry if I get all emotional and s***. I've done this for thirty-five years. I've always done it for my family and fans all over the world. I've gone into the ring and just let it all out because I love what I do. I love what I represent for people. But I'm finally fighting for myself. I can't f***ing wait. It's going to be hell, but I've been through hell and back. There's nothing that can faze me. There is nothing that can break me down, all the s***, all the bulls***, whatever. I'm strong as a rock. I'm at peace. I finally got here. I'm getting f***ing crazy emotional. It's been a f***ing struggle. People can talk all the s*** they want to but I will never give up. I feel that age is just a number, and I have to literally thank yoga. It's not a f***ing joke. Yoga, like really, literally almost saved my life."
That was followed by pronouncements like, "This is not a game. I said, 'Look, if we're gonna do this, let's do it for real. Let's not do this song and dance. Let's not do these exhibitions, you know, that we're tired of.' This is the real thing. And the fact that we both agree that it's gonna be a real fight, it's gonna be a lot of fun. We're gonna kick the s*** out of each other. That's one thing for sure. Call me crazy, but I'm looking forward to it. It's gonna be a lot of fun."
Asked about the possibility of fighting Canelo Alvarez, De La Hoya responded, "Why not? It's only power. That's all it is. Power, I can withstand. Speed, like Pacquiao, is a whole different story. I have a good chin, you know."
At times, promoting the Belfort fight seemed like a therapy session for Oscar.
"I was raped at thirteen, from a woman, an older woman," he told Dylan Hernandez of the
Los Angeles Times
. "Thirteen, lost my virginity over being, you know, being raped, basically. I was in Hawaii, I think, at some tournament. She was over thirty-five. You suppress everything. You're living this life, the Golden Boy. But, oh s***, wait, that's still there. Like I never, like, thought about it. I never processed it. I never really thought how my feelings are until one day it just comes out and you don't know how to deal with it."
More troubling, perhaps, was the ugly reality that De La Hoya was on track to be hit in the head multiple times by a man who could punch.
Over the years, Oscar traded blows with fighters like Manny Pacquiao, Felix Trinidad, Bernard Hopkins, Shane Mosley, Ike Quartey, Julio Cesar Chavez, Pernell Whitaker, and Floyd Mayweather Jr. Later, he offered a stark assessment of the risks inherent in the trade he'd chosen. "I hate getting hit," De La Hoya said. "Getting hit hurts. It damages you. When a fighter trains his body and mind to fight, there's no room for fear. But I'm realistic enough to understand that there's no way to know what the effect of getting hit will be ten or fifteen years from now."
However, at an August 25, 2021, media workout, Oscar declared, "Call me crazy but I just miss it. I missed getting hit and doing the hitting. I wasn't ready to retire after I lost to Manny Pacquiao. I never felt like I was in wars. In boxing you're just as old as how you feel. I went through hell and back treating my body wrong, but these last six months I feel amazing. I refocused myself and rededicated myself and I'm actually doing this for me. I can't wait. I'm going to give the fans a war. I've been studying
Marvin Hagler versus Thomas Hearns
for a reason. I want a fight, a war. I have a good chin and I can take the punch. My inspiration for this fight is Arturo Gatti. I want one of those types of fights."
No one asked about a September 27, 2010, interview with
Broadcasting & Cable
. In that interview, De La Hoya had acknowledged, "I did have tests done after every single fight. My last fight, they found something that they couldn't really understand in my head. It didn't help me to make my decision to retire, but it was obviously a concern. I had second and third opinions. It was something in my head that they thought could maybe have an effect thirty years down the road, but they just weren't sure. Maybe they were being extra-careful."
Then, on September 3, De La Hoya vs. Belfort ground to a halt. Oscar announced that he had tested positive for COVID and that the fight was off. One day later, 58-year-old Evander Holyfield was substituted as Belfort's opponent.
Thomas Hauser's email address is thomashauserwriter@gmail.com. His next book –
Broken Dreams: Another Year Inside Boxing
– will be published this autumn by the University of Arkansas Press. In 2004, the Boxing Writers Association of America honored Hauser with the Nat Fleischer Award for career excellence in boxing journalism. In 2019, he was selected for boxing's highest honor - induction into the International Boxing Hall of Fame.
Holyfield-Belfort photo credit: Amanda Westcott / Triller Fight Club
Check out more boxing news on video at the
Boxing Channel