By Arne K. Lang
As boxing is a global sport, it should come as no surprise that if a man were to wander into a Las Vegas boxing gym he might find an Englishman there working up a sweat. But on a recent visit to Bones Adams gym, this reporter encountered an unusual specimen of English manhood. Tal Singh is a Sikh which makes him a one-of-a-kind in the British colony of professional boxers.
Singh had only 14 amateur fights, but in 2018, competing at 105 pounds, he became the first member of the Sikh community to win a British national amateur title. Now he aspires to be the first Sikh to win a professional title.
Singh was born and raised in Liverpool. His father is from the Punjab region of India. His mother is English by birth, but her ancestry is also Punjabi.
His dad had a succession of blue-collar jobs as Tal was growing up in the British port city. His mother was a schoolteacher and was his teacher in primary school. That undoubtedly helped him fit in with his classmates. According to a recent census, only 0.1 percent of the population of Liverpool is Sikh. Singh remembers that as a young boy, some thought that he was a girl because of his long hair which a Sikh tucks in a bun and folds under his turban.
Tal Singh was dispatched to Bones Adams' gym by his manager, Amir Khan. Bones and Amir Khan are well-acquainted. Khan put the finishing touches on his May 2016 bout with Canelo Alvarez here and Bones spent five weeks with Khan in England and Saudi Arabia leading into Khan's most recent fight against Billy Dib in Jeddah.
When the pandemic hit, notes Singh, 26, all the public gyms were closed. Singh reached out to Amir Khan about training in Khan's gym in Bolton, a former mill town in Greater Manchester. Khan is a devout Muslim but his ancestral roots are in that portion of Pakistan heavily populated by Sikhs and he is conversant in the Punjabi language.
Khan was amenable to letting Singh use his gym and was so impressed with his potential that he volunteered to manage him. "When that happened, I was over the moon," says Tal.
Amir Khan entered the pro ranks with great fanfare after winning a silver medal at age 17 in the 2004 Athens Olympics and went on to win two pieces of the 140-pound world title. At age 34, his best days are behind him, but he remains a big star in Great Britain. Appearances on multiple reality shows have kept him in the public eye. His supposedly tempestuous relationship with his attractive Brooklyn-born wife Faryal Makhdoom was great fodder for the gossip columnists.
Khan has a full-time publicist and the well-spoken Singh, who appeared on the first season of Khan's newest reality show, "Meet the Khans," has been caught up in some of the hoopla. Several days after his arrival in Las Vegas, a Sky Sports camera crew turned up at
Bones Adams
gym.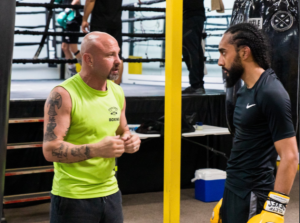 Tal Singh would have attracted news coverage without the Amir Khan connection; sports journalists are drawn to athletes with unusual backgrounds. But it's unlikely that he would have become a newsmaker in advance of his first professional fight.
He gets no favors by virtue of being the protégé of a famous sports personality. In Las Vegas, he leads a spartan life. He lives alone and has no car. He usually arrives at the gym before the official opening hour. It's a lonely existence leavened by the fact that he's met new friends. Super middleweight Shane Mosley Jr and Sean Brewer, a bantamweight from Austin, Texas, are other early birds at the gym, a place where there's camaraderie not unlike one would find in a military unit. Soon he will get to catch up with Malik Scott, one of his best buddies. Singh bonded with Scott during their days at David Haye's gym in London when Scott was brought in to serve as Haye's sparring partner for Haye's rematch with Tony Bellew. Scott now trains Deontay Wilder.
When Singh arrived in Las Vegas in late August, he got a rude welcome from the weatherman. "When I stepped outside the airport," he says, "it was like walking into a furnace. I literally had to go back inside and re-group."
It is cooler now in Las Vegas, and will be cooler still in Colorado Springs where Singh is headed next week for a visit with his manager Amir Khan who just recently turned up there to commence training for a match with countryman Kell Brook. The date and venue are up in the air (likely sometime around Dec. 1).
Khan vs. Brook is something of a poor man's Mayweather-Pacquiao, which is to say that it has marinated too long. But both, and especially Khan, have a high profile in the U.K. and the long-talked-about match is expected to be a British blockbuster. Tal Singh will make his pro debut on the undercard.
After a short stay in Colorado Springs, it's back to Las Vegas for Singh. For how long? "This will be my home base until I fulfill my dream of winning a world title," he says.
There's a saying on Tal's twitter platform that serves as his mantra: "If you want to look good in front of thousands, you have to out work thousands in front of nobody." No one knows how far Tal Singh will go in his adopted sport, but if sacrifice and discipline count for anything, then it wouldn't be smart to bet against him.
Check out more boxing news on video at the
Boxing Channel