Nino Benvenuti and Akron, Ohio, were an awkward fit. Benvenuti was something of a Renaissance man, or at least that is how he was portrayed. He was a connoisseur of fine wines, whereas Akron, which led the world in the production of automobile tires, was a blue-collar city where a fellow with an affinity for fine wines was likely to be put down as a sissy. But Benvenuti was certainly no sissy.
In March of 1968, seven months prior to his appearance in Akron, Benvenuti had recaptured the world middleweight title in his third meeting with Emile Griffith. He was 77-2 as a pro and purportedly 110-1 as an amateur, a career climaxed with a dominant 5-0 run to a gold medal in the 1960 Olympics.
Benvenuti, who reputedly enjoyed visiting art museums and loved the opera, wasn't hurting for money. Back home in Italy, he owned a factory that produced auto parts and a health club. But his career was winding down and the $20,000 he was guaranteed for touching gloves with a local schlub in a non-title fight was too good to pass up.
The presumptive schlub (and he was hardly that) was Doyle Baird.
Born in a little town in the Cumberland Mountains of Tennessee, the son of a Pentecostal preacher, Baird had grown up in Akron. As a pro he was 21-2, a nice record but devoid of a signature win. A close but unanimous decision over Detroit veteran Ted Wright looked good on his ledger in that Wright was a recognizable name, but the former world-ranked Wright was on the skids, having won only one of his previous nine fights.
In common with many preacher's kids, Baird in his younger days was quite the hellraiser. "He spent more time in the back seat of a cop car than a police dog," wrote Akron Beacon Journal sportswriter Tom Melody. He didn't turn pro until age 28, but his style never wavered much from his days as teenage street fighter. He was a brawler, a man willing to take two or three punches to land one of his own, the antithesis of the classy Benvenuti whose style was that of a man who didn't like to get his hair messed up.
Benvenuti vs. Baird was a Don Elbaum production. Back in those days, Elbaum was Mr. Boxing in western Pennsylvania and eastern Ohio. He nourished boxing at its roots, promoting shows in armories, community centers, American Legion halls and high school gymnasiums. On occasion, Elbaum the promoter morphed into Elbaum the boxer, subbing for a no-show. Once he successfully impersonated a doctor when the physician failed to show at a weigh-in. One surmises that he kept a stethoscope in the trunk of his car on the off-chance that it might come in handy someday.
Elbaum went whole-hog for the Benvenuti-Baird fight, parking the Oct. 14, 1968 event at Akron's municipal football stadium, the Rubber Bowl.

To no great surprise, the fight was a messy affair. "For every good punch there was an elbow, for every jab a butt," said Beacon Journal reporter Jack Patterson. At times. Benvenuti resorted to a headlock to get Baird off his chest.
The fight went the full 10 and at the final bell the referee raised Baird's hand. The crowd loved it. The local man had accomplished what only two fighters before him had done. The gifted Korean southpaw Ki Soo Kim won a split decision over Benvenuti in Seoul and Emile Griffith had prevailed in the middle fight of their trilogy. Now Doyle Baird, of all people, had joined that elite group. But hold the phone.
The referee had acted before the scorecards were tallied. One of the judges favored Baird by 96-95, but his colleagues each had it a draw, 96-96 and 97-97.
Akron had its own boxing commission. The head honcho was out of town, vacationing in Florida, and the men that he delegated to supervise the show stood around not knowing what their next move should be.
Lester Bromberg, the fine boxing writer of the New York Post, was there and seized the reins. "Listen up here, boys," he said, or words to that effect. "A man can't be declared the winner if only one judge favored him. It takes at least two. Do the math and you will see that this fight should be ruled a draw."
The Associated Press correspondent didn't wait for the retraction and for many weeks after the fight the story that Baird had won was still circulating. An item about Benvenuti's forthcoming title fight in Italy with Don Fullmer that ran in dozens of U.S. papers included this line: "Benvenuti may have loafed a bit too much in Akron, Ohio, last Oct. 14 when he dropped a 10-round non-title fight to little-known Doyle Baird."
The attendance at the Benvenuti-Baird fight was the highest in Akron boxing history: 3,412. But the number included 395 freebies and was well below what Elbaum needed to break even. In addition to the $20,000, he was on the hook for Benvenuti's expenses which included three round-trip tickets from Italy for the fighter and two of his cohorts.
Doyle Baird, for all of his hard work, earned nothing. He was down for a percentage of the net profits. In fact, Baird actually lost money. He took two weeks off without pay from his job at a foundry to prepare for the fight.
There was a heartwarming postscript. Akron was a strong union town and the notion of a man toiling without compensation struck many as inhumane. It was as if Doyle Baird, one of their own, was being ripped off twice.
A fellow in the nearby town of Barberton who had attended the fight wrote a letter to the sports editor of the Beacon Journal and enclosed a $5 bill with instructions that it be passed along to the fighter. "I'm just a working guy with a wife and four growing children," he wrote. "We need our money like anybody else, but my wife and I both agreed that this was something we wanted to do."
The sports editor published his letter and then more money poured in, just little drips and drabs, but likely enough for Baird to catch up with the bills that went unpaid while he was chasing his dream. The paper reported that he was embarrassed to accept it but his wife had no such qualms.
More money would come Baird's way two years later when he ventured to Bari, Italy, for another non-title fight with Nino Benvenuti who stopped him in the 10
th
round. There was no way that the rematch would transpire in Akron. Before leaving the Ohio city, Benvenuti had bad-mouthed the community with all the English curse words that he knew.
---
Benvenuti's victory over Baird in their second encounter would prove to be the final "W" of Nino's career. He had three more fights, two against
the great Carlos Monzon
who sheared away his title in the 1970 "Fight of the Year" and then defeated him more decisively in their rematch. In retirement he dabbled as a movie actor and set up a charitable trust for his great rival Emile Griffith who had fallen on hard times. Into his eighties he reportedly still attracted a crowd when he walked the streets of Rome.
---
The craggy-faced Don Elbaum, who bears a strong resemblance to the movie actor Harvey Keitel, was undaunted by the financial bath that he took at the Rubber Bowl. Fifty-three years have elapsed since he introduced Nino Benvenuti to Akron and the erstwhile "Boy Promoter" is still with us.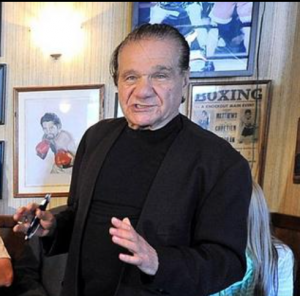 Elbaum would have long runs as the matchmaker at the Tropicana in Atlantic City and at the storied Blue Horizon in Philadelphia, but at heart he was always something of a nomad, the "king of wandering fistic minstrels" in the words of the late Scranton, Pennsylvania, sportswriter Chick Feldman. Elbaum has had his fingers in important fights in important cities around the world but was always most comfortable hustling in the boondocks where a wildcat promoter is less fettered by rules and regulations. And it is here in the boondocks where boxing is often the Theater of the Absurd.
---
Doyle Baird left the sport with a record of 34-7-1. After leaving his job at the foundry he drove a delivery truck for the Beacon Journal. In his spare time, he trained young boxers. "He was a stand-up guy who didn't have an ounce of guile," recollected longtime Top Rank matchmaker Bruce Trampler who was in the audience -- Trampler was then a sophomore in college -- at the Benvenuti-Baird fight.
Doyle Baird passed away earlier this month at age eighty-three. His wife of 51 years preceded him. He was survived by five children, seven grandchildren, and a great grandson. May he rest in peace.
Check out more boxing news on video at the
Boxing Channel