By Arne K. Lang
"I didn't have the skills to be a world champion, but thanks to Eddie I accomplished that dream. There wasn't a trainer in the world that could have taken me as far as Eddie."
The speaker is Wayne McCullough. Eddie is his late trainer, Eddie Futch. With the 20
th
anniversary of Futch's death approaching – Futch passed away at the age of 90 on Oct. 10, 2001 – we reached out to McCullough for some thoughts on his mentor.
Eddie Futch, for the uninitiated, spent 64 years in boxing during which he was involved in the careers of 21 world champions, eight of whom have been inducted into the International Boxing Hall of Fame. The list includes the first two men to defeat Muhammad Ali, Joe Frazier and Ken Norton.
Old-time trainers were both conditioners and strategists, tilting one way or the other. Futch, who was born in the little town of Hillsboro, Mississippi and raised in Detroit, was the pre-eminent strategist. No one was better at dissecting the strengths and weaknesses of an opponent and devising a game plan to exploit whatever flaws were evident to his discerning eye.
Futch was also a great ambassador for boxing. A quiet, self-educated man who never wore his erudition on his sleeve, Futch could recite long passages from Shakespeare. He was particularly fond of a poem by Rudyard Kipling that contained this thought: "If you can meet with triumph and disaster and treat those two imposters just the same…you'll be a man my son!"
Wayne McCullough grew up in Belfast, Northern Ireland, where his hero was Barry McGuigan. He was a 1988 and 1992 Olympian, advancing to the finals of the 1992 Barcelona Olympics in the 119-pound class where he was out-pointed by Cuban star Joel Casamayor. After the Games he was courted by a dozen promoters. An upstart company based in Denver, America Presents, won the competition. Backed by cable TV mogul Bill Daniels, the firm was run by Mat Tinley, Daniels' nephew. After signing McCullough, Tinley persuaded Eddie Futch to take the Irishman under his wing.
Futch was then 81 years old and had no interest in taking on another fighter. He relented after watching tapes of McCullough. As for McCullough, who took the nickname "Pocket Rocket" with him from the amateur ranks, he was very reluctant to leave his family and friends in Belfast, but the chance to be coached by the great Eddie Futch was too good to pass up.
Team Futch, which then included Thell Torrance,
Hedgemon Lewis
, and Freddie Roach, was based in Las Vegas. McCullough moved here with his 19-year-old fiancée, Cheryl Rennie – they have now been married almost 30 years – and this has been their primary residence ever since. Wayne and Cheryl have a daughter, Wynona, a singer who performed on Ireland's version of "America's Got Talent."
In his 17
th
pro fight, McCullough wrested the WBC world bantamweight title from Yasuel Yakushiji in Nagoya, Japan, becoming the first Irishman to win a WBC world title belt and the first Irishman to win a world title in Japan. Yakushiji, who was making his fifth title defense, was heavily favored.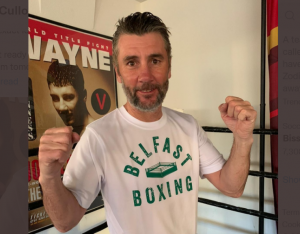 Moving up a weight class, McCullough challenged Daniel Zaragoza for the world super bantamweight title in Boston and came up short, losing a split decision. The disappointment was tempered somewhat when Robert Kraft, the owner of the New England Patriots, came into his dressing room and presented him a Patriots jersey with his name on the back. He still has it.
Subsequent title fights with Naseem Hamed and Erik Morales, both future Hall of Famers like Zaragoza, would also end in defeat. He retired in 2005 after back-to-back losses to WBC 122-pound title-holder Oscar Larios, returned for an ill-advised one-off in the Cayman Islands after a three-year absence and concluded his pro career with a record of 27-7.
Known for his high workrate and his iron chin, McCullough was never knocked out and reportedly never knocked down. Six of his seven losses came after Eddie Futch retired.
How often does Wayne McCullough think of Eddie Futch? "Every day," he says. "I have a picture of Eddie on the wall of my home gym. I also have a letter on the wall written by Eddie saying that he thought I would make a very good trainer. That means a lot to me."
McCullough works as a personal trainer and usually has a pro fighter or two in his flock. The other day he was working with Scott Alexander, a 32-year-old heavyweight from Los Angeles with a 16-4-2 record. In common with the late Eddie Futch, Wayne prioritizes defense. Newcomers to boxing, Futch once noted, want to learn how to punch with more authority, that's the sexy part. Getting them to focus on defense is harder, but it's imperative that they embrace it.
We asked Wayne McCullough what he thought of the incursion of social media "influencers" into boxing. "If someone is going to throw money at somebody, I don't begrudge that somebody for taking it," said McCullough who took up boxing at the age of seven and had more than 300 amateur fights. "But to be a true champion you have to start at the bottom and pay your dues."
If Eddie Futch were still around, we're quite sure he would say "amen to that."
Check out more boxing news on video at the
Boxing Channel