By Arne K. Lang
Former world welterweight champion Tony DeMarco, inducted into the International Boxing Hall of Fame with the class of 2019, passed away late last night at Massachusetts General Hospital in Boston at age 89.
A Boston native, born Leonardo Liotta to immigrants from Sicily -- his father, like the father of Rocky Marciano, was a shoemaker -- DeMarco won the title with a 14
th
-round stoppage of Johnny Saxton at Boston Garden on April 1, 1955. Saxton was making the first defense of the title he won from Kid Gavilan.
DeMarco's title reign lasted only 10 weeks. On June 10, he was stopped in 12 rounds by Carmen Basilio on Basilio's turf in Syracuse, NY. The bout, said a ringside reporter, was taut with excitement from the start with a spectacular 10
th
round.
The rematch, in November of that same year in Boston, lasted two seconds longer and was even more exciting. DeMarco hurt Basilio so badly in the seventh that Basilio's corner, which included cut man Angelo Dundee, shouted for him to take a knee and rest for 8 seconds. Basilio declined and went on to repeat his 12
th
-round stoppage. DeMarco was on his feet when the referee waived the fight off, but seconds later he collapsed to the canvas where he remained for almost two minutes.
DeMarco was ahead on all three scorecards through the completed rounds. The bout was named the Fight of the Year by
The Ring
magazine.
The first DeMarco-Basilio fight was televised on a Friday night on NBC. The rematch was a Wednesday night affair on ABC. With regional TV blackouts in effect, both bouts drew turn-away crowds. In retirement, DeMarco and Basilio, both converted southpaws, became great friends.
Tony DeMarco was 37 fights into his pro career before he was accorded his first 10-round fight. He finished 58-12-1, a record that would have been better if he wasn't a bleeder. Two of his early fights were stopped on cuts and the scar tissue above his left eye was repeatedly ripped open.
Despite his home field advantage, DeMarco was the underdog when he challenged Johnny Saxton. There was "steam" on the defending champion, the odds soaring from "6/5 pick" to 3/1 at post. Saxton was managed by notorious Philadelphia numbers baron Frank "Blinky" Palermo and the radical shift in the odds told the wise boys that DeMarco would go in the tank.
The boys didn't know Tony DeMarco whose integrity was unimpeachable.
Against Saxton, Tony was widely ahead on two of the cards through the 13 completed rounds. The outlier was Tom McNeeley Sr, the grandfather of Hurricane Peter McNeeley. He had Saxton ahead by two points.
Demarco had nearly half of his pro fights at Boston Garden, home of the Celtics, and headlined two shows at iconic Fenway Park. He evolved into a great fan favorite and a bronze statue of him now stands in front of a historic Italian restaurant in Boston's North End near his boyhood home. The statue was unveiled on Oct. 20, 2012 as part of the city's Italian Heritage Month celebrations.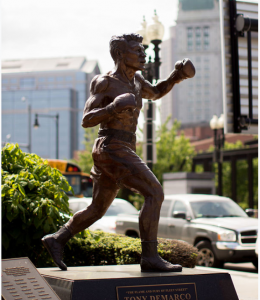 At the unveiling, DeMarco noted that when he started out, he was too poor to afford a robe. His neighbors, he said, "put their 2 cents in, 5 cents in, their change, a quarter, whatever they had. And they bought me my first robe I ever had. Before that I had a towel on my shoulders. That was enough for me."
At the
Hall of Fame induction ceremony in June of 2019
(the last of its kind before the pandemic wrecked the last two), DeMarco was introduced by promoter Al Valenti, the son of the late Hall of Fame promoter Rip Valenti. DeMarco's wife was in the audience and he made certain to have her take a bow. She would have been the first to tell you that Tony DeMarco's fame never went to his head.
May he rest in peace.
Check out more boxing news on video at the
Boxing Channel