By Bernard Fernandez
It may not always be apparent to those with untrained eyes, but there is genuine art in boxing for those who understand the beauty and majesty of a perfectly timed left hook. Just such a masterful moment of the sweet science was authored by Jersey Joe Walcott on July 18, 1951, in the seventh round of his fifth and likely final shot at the heavyweight championship he had been clawing and scratching his way toward since he turned pro at 16 in 1930.
Again a longshot against the great Ezzard Charles, against whom he already was 0-2 in title bouts, a frozen moment in time that fateful night at Pittsburgh's Forbes Field transformed Walcott from a symbol of his sport's relentless but mostly unrewarded grinders to instant-legend status. At 37, he not only had become the oldest man to that point ever to win boxing's most prestigious prize (a distinction he would hold for 43 years, until 45-year-old George Foreman dethroned WBA/IBF champ Michael Moorer on another incredible, bolt-from-the-blue knockout, on Nov. 5, 1994, in Las Vegas), but the patron saint of fighters with iron wills and vision quests they would see through to completion or die trying.
In a story that appeared on this site on July 16, 2018
, I ranked Walcott's blasting of Charles No. 1 on my personal list of all-time one-punch knockouts, which I described thusly:
Entering the seventh round, Walcott led the scoring, in rounds, by 5-1, 4-1-1 and 3-3. Moving forward while rocking side to side, the 9-1 underdog dipped to his left and exploded upward with a thunderous left hook that caught Charles flush on the jaw. The semi-conscious champion pitched forward onto his face.
It is difficult to encapsulate the full scope of such a historically significant and aesthetically flawless a punch into any inanimate object, like a statue, but sculptor Carl LeVotch perhaps came as close as is humanly possible with his eight-foot bronze of Walcott, which was unveiled this past Saturday during a celebratory day of festivities in Camden, N.J., the hometown of the beloved fighter whose real name was Arnold Cream. The unveiling took place along the Camden waterfront, at the Wiggins Park Promenade, following a 3½-mile parade that featured marching bands and other attractions.
For medical reasons I was unable to attend an event I had very much been looking forward to, but the spirit of the occasion – and the 20-year march from concept to completion for those who wanted the Walcott/Cream statue to be more than just another item on someone's wish list – closely mirrored the ring career of an inspirational figure who fueled the imaginations of so many attendees. Chief among those is Vincent Cream, 61, the grandson of Jersey Joe who spearheaded the drawn-out efforts to raise the $185,000 required to fund the project, which is still not entirely paid for.
"It was an overwhelming moment," Vincent Cream told Boxing Writers Association of America president Joseph Santoliquito, who covered the event for another media outlet. "Everyone who never met my grandfather met him today.
"No one ever dies. He's here with us. When I look at his statue, and you see who's gathered here – white, black, old, young, everyone coming together – his timelessness has come. To persevere for 23 years, it represents who my grandfather was as a man and his fortitude as a person. When you have a dream, it's important to set goals between the dream and the achievement. Every time I brought up the idea of a statue, people would tell me, `Good luck with that.' That was 10 years ago. We achieved it, a little at a time – like my grandfather."
LeVotch, with whom I have long been acquainted, has nearly as long a track record in his boxing-related field as did Walcott, who took his ring
nom de guerre
in tribute to Joe "The Barbados Demon" Walcott, a welterweight champion whose career ended in 1911. The original fighting Walcott was a hero to young Arnold Cream's father, Joseph Cream, who came to New Jersey from the British Virgin Islands. I first met LeVotch for a story I did on him that appeared in the
Philadelphia Daily News
editions of July 2, 2003, when he took me through the process of his creation of a 17-inch cold-cast bronze statuette he called
The Spirit of Boxing
, reproductions of which are owned by any number of boxing notables. His goal, he told me, was to create something more meaningful than the statue of the fictional heavyweight champion Rocky Balboa that was used as a movie prop for 1982's
Rocky III.
"It doesn't move me," LeVotch said. "A true piece of art is capable of moving the man on the street. It is an instrument to inspire. It's been that way since antiquity. I have a great affinity for Rodin (that would be Auguste Rodin, the French sculptor, not Rodan, the Japanese movie monster). His
The Thinker
is a sacrament, if you will, of an inner grace.
"I'm one of those guys who believe boxing is a metaphor for life. I also think of it as an art form. Those who do it well are, in their own way, artists."
In addition to his sculpted improvements of several awards the BWAA presents as its annual dinner, LeVotch's other life-sized commemoration of a boxing life, that of former middleweight champion Joey Giardello (real name: Carmine Tilelli), was unveiled on May 21, 2011, in Giardelli's old South Philadelphia neighborhood. Like Walcott, Giardelli – father of four sons, one of whom was born with Down Syndrome – was more than just a fighter, something LeVotch sought to convey through his art.
"I saw Joey not only as a terrific fighter, but as a father who cared deeply for his disabled son," Carl told me a decade ago. "How do you convey all these different sides of a man in coagulated metal? My challenge was to capture the essence of the man as well as a physical likeness."
Brought to tears by LeVotch's artistic interpretation of who her husband was and what he represented in meaningful ways that extended beyond the ring, Rosalie Tilelli said, "I'm overwhelmed. I call Carl LeVotch my Michelangelo."
Jersey Joe Walcott was demonstrably statue-worthy even if he hadn't moved on from boxing to a full and rich later phase of his life in which he served as the first African-American elected sheriff of Camden County, serving from 1971 to '74, and chairman of the New Jersey State Athletic Control Board until 1984. His wife, Riletta Cream, also was committed to public service as a city educator and county freeholder from 1994 to 2011.
But it is Walcott the boxer who set records inside the ropes that almost certainly will never be matched, much less surpassed. Fighting in an era when there was just one heavyweight champion, not a bunch of alphabet title-holders, he fought
eight
times for boxing's grandest prize, going 2-6 with two losses apiece to Joe Louis and Charles before he broke through against Charles with that museum-quality left hook in Pittsburgh. Five of those title bouts, incredibly, were in succession. There are more than a few historians who believe Jersey Joe should have won on points in his first go at Louis, in which he floored the "Brown Bomber" in the first and fourth rounds. No wonder Walcott's most ardent fans, even those in his own family, were hesitant to risk seeing him come up short again when he again squared off against Charles in the home stadium of baseball's Pittsburgh Pirates.
"I was 12 when my dad won the heavyweight title and there he is, so real," Ruth Cream, now 82, told Santoliquito at the unveiling. "I remember that night like it happened clearly. I was the only one downstairs at our house with reporters in our living room watching the fight on TV. Everyone else was upstairs in bed because they didn't want to watch it.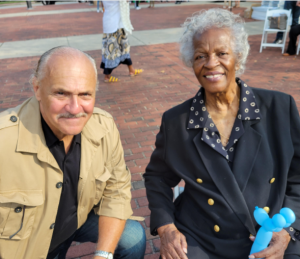 "After my father won, I remember running up the stairs to tell my family, `Daddy won!'"
After a successful defense on points against familiar foe Charles, Walcott, well ahead on points through 12 of the scheduled 15 rounds, was dethroned by Rocky Marciano on a 13
th
-round knockout on Sept. 23, 1952, in Philadelphia. He fought just once more, this time being stopped in one round by Marciano, before hanging up his gloves with a 51-18-2 (32) record. He was part of the 1990 charter class of inductees into the International Boxing Hall of Fame.
Camden officials are hoping their hometown hero's statue becomes something of a tourist attraction, as is the case with the Rocky statue at the base of the steps of the Philadelphia Art Museum and the 12-foot Joe Frazier statue, created by sculptor Stephen Layne and located outside the Xfinity Live! bar/restaurant in the South Philly sports complex. As splendid as it is, the Giardello statue draws fewer eyes given its location in a less-bustling and attraction-loaded neighborhood.
But in a metropolitan area where bronze tributes to sports stars of the four local professional franchises (Eagles, Phillies, 76ers and Flyers) are fairly commonplace, the statues of Frazier, Giardello, Walcott and, yes, Stallone are at least a signal that boxing, for so long Philadelphia's fifth pro sport and a veritable cradle of champions, is recognizing a part of its past that is worthy of being preserved and treasured.
Editor's Note: Bernard Fernandez, named to the International Boxing Hall of Fame in the Observer category with the class of 2020, was the recipient of numerous awards for writing excellence during his 28-year career as a sportswriter for the Philadelphia Daily News. Fernandez's first book, "Championship Rounds," a compendium of previously published material, was released in May of last year. The sequel, "Championship Rounds, Vol. 2," with a foreword by Jim Lampley, arrives this fall. The book can be ordered through Amazon.com, in hard or soft cover, and other book-selling websites and outlets.
Check out more boxing news on video at the
Boxing Channel