By Arne K. Lang
This coming Saturday, Oct. 23, Top Rank will stage an important fight at Atlanta's State Farm Arena, home of the city's NBA franchise. Shakur Stevenson challenges WBO 130-pound world title-holder Jamel Herring in a battle of former Olympians.
Saturday's card will be the eighteenth boxing card in Atlanta this year. At least four more shows will be staged here before the year is out. On the pro boxing front, only Southern California has been busier. There have been more shows in Atlanta than in Las Vegas this year and only 10 shows in all of New York thus far in all of 2021.
True, most of the Atlanta shows have been low-budget affairs; club cards that attracted no mention in the national press. But the city's NFL stadium housed the Jake Paul vs. Ben Askren freak fight in April and Gervonta "Tank" Davis headlined a pay-per-view show at the State Farm Arena against Mario Barrios in June.
It's a fair guess that Atlanta would not have been on Top Rank's radar screen if not for Davis. His fight with Barrios reportedly attracted a paid crowd of 16,570, an uncommonly large turnout by today's standards. Eighteen months earlier, in his first appearance in Atlanta where is a part-time resident, "Tank" drew 14,129 to the State Farm Arena for a far less compelling match with Yuriorkis Gamboa. That bout took place three days after Christmas, historically a dead zone for a boxing promoter.
The Davis-Gamboa fight with a vacant 130-pound belt at stake was Atlanta' first world title fight since the 1998 match between Evander Holyfield and Vaughn Bean, a drought of 21 years.
Holyfield, who grew up in a public housing complex in Atlanta, had two prior title fights in the city where he was raised. In 1991, he defended his heavyweight title here against late sub Bert Cooper. Five years earlier, Evander wrested the WBA junior heavyweight (190 pound) title from Dwight Muhammad Qawi in an Atlanta ring.
The most important fight in Atlanta as measured by international news coverage was the Oct. 26, 1970 match between Muhammad Ali and Jerry Quarry. This was Ali's first fight in 43 months, having lost the prime of his career to a suspension for draft evasion. The crowd of 5,000 at the city's old municipal auditorium included 600 members of the press. (Ali chopped Quarry to pieces in a fight that was stopped after three rounds.)
The spearhead of the promotion was Atlanta attorney Leroy Johnson, the only African-American member of Georgia's State Senate. He and Atlanta's Jewish mayor overcame the opposition of Georgia's segregationist governor Lester Maddox who declared Oct. 26, 1970 a day of mourning. Maddox's arms were tied because Georgia had no state boxing commission beholden to the Governor. Each municipality was free to set its own course.
The 1970 fight, the first of two between Ali and Quarry, came to be seen as a watershed moment in the history of the "New South." Twenty-six years later, Ali returned to Atlanta to light the Olympic cauldron at the opening ceremony of the 1996 Olympic Games, one of the most indelible moments in TV history.
Of all the boxers born and raised in Georgia, none competed before more eyewitnesses than Beau Jack, a two-time world lightweight champion in the 1940s who appeared in a record 21 main events at Madison Square Garden.
Beau Jack had his first two fights in Augusta where he had a shoeshine stand in the clubhouse of the famous golf course, and two of his final three fights there, but fought only once in Atlanta, that coming very late in his career when his pull was diminished. On his road to Gotham's famous sock palace, the Augusta native spent a considerable time living and fighting in Holyoke, Massachusetts, where, unlike Atlanta, there was no opposition to interracial matches.
Beau Jack's lone appearance in Atlanta came on July 17, 1950. His fight with Bobby Timpson, a journeyman from Youngstown Ohio, was one of only two pro boxing events in Atlanta in that calendar year. The sport had been moribund in that city for the better part of the previous three decades.
To find a period when boxing activity in Atlanta was as robust as it has been lately, one has to go back 100 years. In those giddy days in the immediate aftermath of World War I when boxing was bursting out all over, a former streetcar conductor named Walker Miller (everyone called him Walk) turned Atlanta into a boxing hotspot on par with the region's other major cities, Memphis and New Orleans, where the sport at the local level was also flourishing.
W.L. "Young" Stribling, perhaps the greatest regional attraction in boxing history, made his pro debut in 1921 at age 16 on a Miller-promoted show in Atlanta. Walk Miller would eventually become Stribling's co-manager, maneuvering him into matches with several of the era's top heavyweights, but achieved his greatest success with Theodore Flowers who worked as a porter in Miller's gym before becoming the first man of color to win the world middleweight title.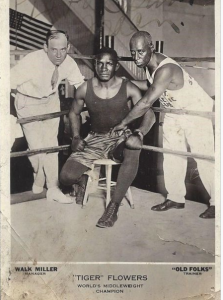 The son of a Georgia sharecropper who was introduced to boxing while working in a Philadelphia shipyard, "Tiger" Flowers, nicknamed the Georgia Deacon, developed a following that crossed racial lines. His two bouts in Madison Square Garden with Harry Greb and his bout in Chicago with Mickey Walker were big money-makers. As he was advancing with Walk Miller at his side, the club scene in Atlanta withered.
Like many boxing promoters, Miller was a jack-of-all-trades. He was a gym operator, a trainer, a manager, a promoter, and a booking agent. The closest thing to him in today's Atlanta is Terri Moss. A former pro boxer, Moss, 55, is the CEO and head trainer of the Buckhead Fight Club which has been keeping the sport alive in the Peach State with a series of low-budget promotions.
Imagine that. Walk Miller's spiritual heir is a woman. Miller and his cronies would have never seen that coming.
---
The bout between the 24-year-old Stevenson (16-0, 8 KOs) and the 35-year-old Herring (23-2, 11 KOs) and a co-feature will air on ESPN and ESPN Deportes starting at 10:30 p.m. EST. The undercard will air on ESPN+.
There are nine fights scheduled on Saturday's Top Rank show including appearances by up-and-comers Evan Holyfield, Evander Holyfield's son, and Nico Ali Walsh, the grandson of Muhammad Ali.
Check out more boxing news on video at the
Boxing Channel