By Matt McGrain
Last year, British boxing was left to sink or swim on its own.
While the British government could not wait to line up lucrative support packages for those sports traditionally beloved by the British upper-classes, including the millionaire's playground that is horse-racing, boxing, traditionally a working-class pursuit, was left to sink or swim.
It swam, then ran a mile for good measure. British boxing has proven that it has the heart to match its lungs and even the doldrums of the COVID-19 pandemic and the disastrous economic damage that accompanied it could not take its measure.
Here, we will review the year in British boxing that was 2021.
British Fighter of the Year: Josh Taylor
Everybody keeps saying you're up against an American with Mexican blood…But he's up against a mad Scotsman. The Romans built a wall to keep us out because we're mental.
What a year it has been for British fighters. The mighty Tyson Fury cemented his place at the top of boxing's tree with a thrilling destruction of Deontay Wilder in their third fight, despite being stricken with COVID-19 and personal disaster; flyweight Sunny Edwards dethroned the iconic South African veteran Moruti Mthalane and then defended against the ranked Jason Mama at year's end; Lawrence Okolie stepped up and thrashed Polish tough Krzysztof Glowacki to establish himself as one of the world's premier cruiserweights.
Still, I did not have to think for long before selecting Josh Taylor as the British fighter of the year.
This is despite the fact that he only stepped out once in 2021 whereas Edwards and Okolie both managed two fights; if ever there was a clear-cut case of quality over quantity, however, this was it.
Jose Carlos Ramirez was the last hold-out in Taylor's 140lb backyard, wielding two of the straps handed out by the various ABCs in exchange for cash. It is a sign of a true champion that he will brook no resistance, and so it was for Taylor, who set out for Las Vegas to make his extant number one status definitive.
Josh Taylor won "the fight boxing had been waiting for" but it wasn't easy. The difference was Taylor's spite, his innate ability to throw his humanity out of the window and enforce his will on his opponent. He did this by dropping Ramirez twice in middle-rounds, once in the sixth and once in the seventh. Here he married class to spite, stepping back for the first knockdown to bring Ramirez onto a hard southpaw left that dropped him and rattled him but from which he almost immediately recovered. It made the brutal left-uppercut that deposited Ramirez to his backside once more in the seventh more impressive. This time Ramirez
was
hurt and given Taylor's finishing credentials, was probably saved by the bell.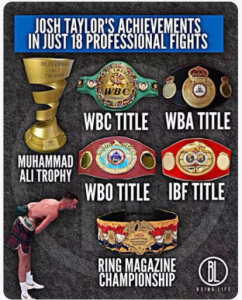 Ramirez fought back hard to make the fight very close, but it was satisfying that these knockdowns were the difference on each of the official scorecards, and to mine, all of which read 114-112 Taylor. The Scotsman now holds victories over both his number one and number two 140lb contenders, his position as the best fighter in this division unassailable.
B
ritish Fight of the Year: Troy Williamson vs Ted Cheeseman
Both fought to extreme levels of exhaustion there. You can only watch in awe and applaud.
– Tony Bellew.
For the second consecutive year, Ted Cheeseman finds himself in the British fight of the year.
Last year
, Cheeseman won a thrill-a-minute decision against Sam Eggington; this year he dropped a violent loss that doubles as the British knockout of the year.
The two men met in October for the 154lb British title, a belt that continues to inspire a cult following among fighters and to generate more than its fair share of supercharged domestic combat as a result. Cheeseman, a Londoner, was in possession of the title and Troy Williamson, out of Darlington, wanted it.
Cheeseman (17-3-1) is the everyman here. He has seen everything the British fight game has to offer, good and bad. He has been robbed, afforded more chances than he might deserve but has generated the fandom that comes of delivering on those chances. He is consistently in good fights and sometimes in great fights and is grateful for the opportunity.
Williamson is not those things. 17-0-1, he believes himself better than British level and openly stated it to be the case. Cheeseman bristled and set out in the first round to dominate, to push "the better man" back with hard punches, determining to overcome his lack of speed with a power-attack to the body. Williamson met him. His corner begged him to "keep it at range" between the first and second round. Williamson tried and the second was quieter but these two had determined to dominate one-another. When Cheeseman rattled Williamson with power-punches at the end of the second, the equal and opposite reaction awaited only the bell to begin the third.
When does such strategy become attrition? Sometimes it happens almost in secret, you glance down at your scorecard, and you glance up and two men are at war. This one arguably didn't catch fire in the same way as Cheeseman-Eggington had the year before, but every minute of every round was closely contested, with clean, hard punches landed in turn-and-turnabout, a pattern that soon became both alarming and inspiring.
Every time Williamson's right-handed shots seemed about to decide matters, Cheeseman would find a risky uppercut or left-hook to the body; either the sixth or seventh could have been the British round of the year. By the tenth, both had been hurt and both were near the bottom of their respective wells.
Cheeseman was absolutely deboned in that fateful tenth, rendered senseless by uppercuts and then a winging left-hook. Williamson delayed his celebration until Cheeseman's disastrously failing nervous system could be brought under control. He was walked from the ring before the winner was announced and would have been passing out of the auditorium as news of Williamson's victory reached his ears. His thoughts in that moment remain private.
"I wasn't backing down from no tear up," were the thoughts of the winner.
Quite.
British Breakthrough Fighter of the Year: Lerrone Richards
The future's bright. I just can't wait.
– Lerrone Richards.
There is very little excitement about Lerrone Richards.
This is odd given that he currently ranks number five to the super-middleweight championship martialled by Canelo Alvarez. Richards had a huge year, and it makes no sense that he continues to fly below so many radars.
]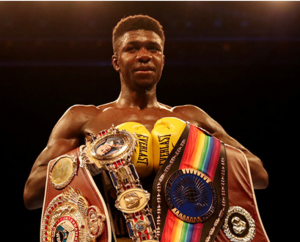 Twenty-nine years old, Richards is out of Surrey, England and is on the short side at 5'11 with a 71" reach. Sporting both a physique and a flattop that recalls the prime of one Chris Eubank Snr., Richards is working on a line in patter to match. Stop-start in the early part of his career, he seemed in danger of stalling, but a chance meeting with trainer Dave Coldwell has led to a hound-like commitment to fighting and seemingly to excel in fighting. Last week, on the undercard of Joseph Parker's second meeting with Dereck Chisora, Richards landed in earnest, defeating number seven 168lb contender Carlos Gongora.
Gongora, who holds a 2020 victory over the much-touted Kazak Ali Akhmedov, was in possession of a strap but Richards, a former British, Commonwealth and European champion seemed in no way intimidated by the occasion. This is the benefit of what is known in Britain as "doing it properly", of fighting an apprenticeship at three defined title levels before stepping up to match a boxer from the top ten. Richards is massive across the back and huge across the shoulders, a man of real strength, but he uses footwork and quick-handed forays to score points. It was Gongora who seemed the more bemused of the two by the midway point, while Richards hoovered up points.
No puncher, Dave Coldwell has promised that the stoppages will come as Richards evolves, but now 16-0 with zero stoppages, that seems unlikely. But he is learning his trade and despite the bizarre split decision the judges found, he dominated Gongora with skill.
At the end of 2020, Richards was boxing an eight-rounder against a fighter called Timo Laine. At the end of 2021, he is one big win away from joining the conversation as to Canelo's next opponent. A breakout year indeed.
I'll sneak him one more gong before we bid him farewell: Lerrone "Sniper the Boss" Richards also has British boxing's best nickname.
British Prospect of the Year: Galal Yafai
Being a world champion, it might financially be better in the long run, but being Olympic champion is something I can live with forever.
– Galal Yafai.
British boxing, then, is healthy, despite the odds and despite the ravages that have afflicted it not. We sport two men in the pound-for-pound top ten and three of the world's four premier heavyweights - most of all though, the sport is festooned with prospects of both genders and in many weight-classes. A short list of honourable mentions would have us here for a while but fortunately there is a standout prospect who will emerge as a professional in the coming year having conquered the world as an amateur in 2021.
Galal Yafai, one of three fighting brothers, will turn professional in early 2022, at either 112 or 115lbs.
His path to an outstanding gold medal in the Tokyo Olympics was not an easy one. Yafai drew Cuban legend Yosbany Veitia, a 190-fight veteran, in his opening match. A victory saw him rewarded with a semi-final against Kazakh nationals finalist (Sweet Scientists will know the true meaning of
that
sentence) Saken Bibossinov. In the final, he dropped Carlo Paalam to his haunches among the ropes in the first round and cantered home to win the gold.
"I'm at the top of the tree now with [my] brothers," he told a British newspaper this year. "I think so, I won't tell them that though!"
In truth, Galal has a long way to go to emulate Khalid, who held a belt and measured one of the best superflies in the world before running into all-time great Roman Gonzalez in 2020.
At the cusp of 2022 with a record of 0-0, anything seems possible.
Check out more boxing news on video at the
Boxing Channel