By Arne K. Lang
Bob Halloran was 87 years old when he passed away on Sunday, Jan. 2, in Rancho Mirage, California. With him, another remnant of the Muhammad Ali era was swept into the dustbin of history.
Halloran, who was born in New Bedford, Massachusetts, attended the University of Miami on a golf scholarship. While there, he interned at WTVJ, channel 4, Miami's CBS affiliate. Upon his graduation, the station hired him as a full-time sportscaster.
During Halloran's early years at the station, who should turn up in Miami but none other than Cassius Clay. The consortium of Louisville businessmen that purchased Clay's contract after he won a gold medal at the 1960 Rome Olympics remanded him to Miami to train under the watchful eye of Angelo Dundee who then hung his hat at the 5
th
Street Gym in Miami Beach which was owned by Angelo's brother Chris Dundee.
Bob Halloran was Howard Cosell before Cosell. He interviewed the brash young boxer on numerous occasions before Cosell became identified with the fighter that took the name Muhammad Ali. Halloran may have been the first white person to know that Clay intended to shed his "slave name." The boxer revealed it to him before he won the world heavyweight title with his shocking upset of Sonny Liston. Halloran, at the boxer's behest, withheld the news until after the fight.
Halloran would recall that Ali had several telephones in the house that he rented in Miami. When Halloran interviewed the boxer there, the first thing he did was to unplug the phones. Everyone wanted a piece of Ali after he took the title from Liston.
After 16 years with WTVJ, Halloran was hired away by the CBS flagship station in New York. After getting fired for "stepping on the wrong toes," he freelanced before accepting the offer to join Caesars Palace in Las Vegas where his title was vice president of sports programming. The honchos at Caesars were impressed with Halloran's organizational skills. In Miami, he had arranged several celebrity golf tournaments that achieved national exposure.
During Halloran's tenure at Caesars, the property, which adopted the motto "Home of Champions," hosted numerous big fights. Halloran was the liaison between Caesars and promoters Bob Arum and Don King.
In those days, Halloran, who always looked younger than his years, bore a striking resemblance to Robert Redford. In fact, Redford's name sometimes appeared on a reporter's list of Hollywood celebrities at a big Caesars fight although Redford was never there.
[caption id="attachment_71508" align="alignnone" width="205"]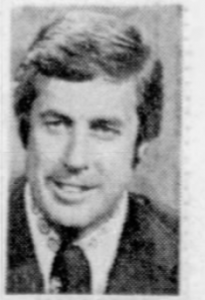 Halloran[/caption]
Steve Wynn poached Halloran from Caesars to serve in the same capacity at the Mirage. The third fight between Sugar Ray Leonard and Roberto Duran, an outdoor event noosed to an extravagant fireworks show, was the centerpiece of the grand opening festivities at the Mirage in December of 1989.
Wynn then aspired to become a major player in the world of boxing. The Mirage stood poised to overtake Caesars (the MGM Grand hadn't yet opened) when Wynn snatched the fight between Buster Douglas and Evander Holyfield away from Atlantic City after a bitter court battle with Don King and his ally Donald Trump. Holyfield vs. Douglas came to fruition at the Mirage on Oct. 25, 1990.
Bob Arum's company, Top Rank, handled the closed-circuit arrangements for Leonard-Duran III. The receipts were strong but Arum felt they would been much stronger if Wynn's people had done a better job of marketing the event. In a conversation with Las Vegas Review-Journal sports columnist John Henderson, Arum, never one to hide his feelings, put the onus on Halloran: "At Caesars he just showed his face. He has no idea how to run a fight."
When Steve Wynn seized the Douglas-Holyfield promotion and left Arum out of the loop, Arum went off on a tirade. He had a handshake deal with Wynn to handle the pay-per-view and the closed-circuit and to arrange the undercard, responsibilities that the casino mogul decided were best handled in-house. "By blowing me off, [Wynn] demonstrated that he is a despicable person," said Arum to Review-Journal
boxing writer Royce Feour
On Aug. 9, 1990, with all systems "go" for Holyfield-Douglas, Arum promoted a card at the Hacienda, a little casino at the south end of The Strip. Looking around, he noticed that Bob Halloran was in attendance and had him evicted. Arum had security guards give Halloran the heave-ho after the boxing commissioners refused to get involved.
In the world of professional boxing, bitter enemies are quick to bury the hatchet when it is pragmatic to do so. Arum and Steve Wynn eventually made up. Wynn's newest properties, the Wynn and adjacent Encore, sponsored the Nov. 5, 2016 card at UNLV's Thomas & Mack Center headlined by Manny Pacquiao's bout with Jessie Vargas. Arum and Wynn had nothing but kind words to say about each other as they shared the dais at the pre-fight press conference. (For Wynn, the allurement wasn't Pacquiao but two-time Olympic gold medalist Zou Shiming who appeared on the undercard. Shiming was seen as a conduit to the lucrative Chinese market.)
Wynn lost his enthusiasm for boxing after the Holyfield-Douglas dud and there wasn't much for Bob Halloran to do. He left Las Vegas quietly and rather than heading back east he settled in the Palm Springs area of California where he could play on some of the best golf courses in the world. It isn't known if Halloran harbored a grudge toward Bob Arum or if he shrugged it off, as have others who were targets of Arum's venom, saying "well, that was just Arum being Arum."
Talk to an old salt who has been part of the Las Vegas boxing scene for decades and he will tell you that the glory days were the days when the biggest fights were held outdoors on the Las Vegas Strip. There was an ambience to those fights, a festiveness, that was lost when the big fights went indoors and the stars in the sky disappeared from the panorama.
Bob Halloran was a big part of that festiveness. May he rest in peace.
Check out more boxing news on video at the
Boxing Channel