By Ted Sares
Anyone who can beat 235-pound Martha Salazar three times is someone who can flat out fight. An ex-basketball player named Vonda Ward defeated her three times (all by decision).
Salazar was an immensely popular and talented female fighter out of San Francisco, CA by way of Jalisco, Mexico. On November 8, 2014, she won the WBC world heavyweight title against Tanzee Daniel by unanimous decision. She lost the title in March 2016 to Alejandra Jimenez in Mexico and retired the following year.
Bottom line: Martha Salazar was a pioneer in legitimizing the heavyweight division in Female Boxing.
"Some girls like to play soccer. Some like to play tennis. Some play volleyball. But we don't play – we box. So, it's a very big difference between other sports knowing that someone else is going to hit you. So we want everybody to feel secure, safe, and know that this is what we do, this is what we are and no one can change us." --
Martha Salazar
Vonda Ward
The 6'6" Ward played basketball at Trinity HS in Garfield Heights, Ohio, and was twice named Ohio's "Ms. Basketball. She made the prestigious Parade All American team twice and was named an All American by USA Today. In 1991, she joined the University of Tennessee basketball team coached by the legendary Pat Summit.
During her four years at UT, Ward started 49 of 125 games, averaging 6.7 points and 5.6 rebounds while blocking 98 shots – still the 10th most by a Tennessee player. During her time there, the Lady Vols put together a 122-11 record and won three Southeastern Conference championships. Ward was a member of the 1995 squad that played in the NCAA championship game, losing to perennial powerhouse Connecticut. Ward then competed with USA Basketball as a member of the 1993 Jones Cup Team that won the Bronze in Taipei.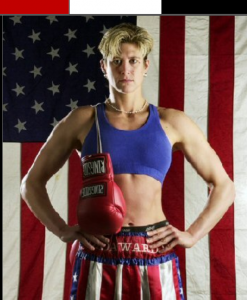 After college, Vonda played for a professional basketball club in Aschaffenburg, Germany and then the ABL's bootstrap Colorado Xplosion. Injuries cut short her pro basketball career, so given her muscularity, size and athleticism, she was attracted to boxing.
In 2000, her first year of competition, Ward, nicknamed the "All American Girl," was 10-0 including eight first-round knockouts. None of her opponents lasted beyond the second round. While her fluidity was not especially smooth, she compensated by leveraging her size and a deceptive mean streak (inside the ring) to beat down her opposition. She simply was physically superior to her competition. She was no female Ivan Drago but her defined-sculpted body made her very intimidating.
Ward was 18-0 when she fought the
ever-dangerous 5'9" Ann Wolfe
on May 8, 2004. In the opening round, Wolf scored the most astounding KO in female boxing history and one of the most spectacular of all time, male or female. Ward had jumped forward into the impact of Ann's overhand punch, and the result left her unresponsive for several minutes. She was then immobilized and stretchered out of the ring.
Most would have retired at this point, but Vonda wasn't "most." Seven months later, she returned to the ring and knocked out Marsha Valley in four rounds in Cleveland.
She went on to win four more bouts, finishing her career with a record of 23-1 with 17 KOs. In her next-to-last fight, in February of 2007, Ward won the inaugural WBC female heavyweight title, defeating Salazar for the third and final time by unanimous decision.
This is the part that is always overlooked. Unfortunately, Vonda's career continues to be defined by her spectacular and scary KO and not her 23-1 record with 17 KO's. It's always about the highlight reel.
Vonda Ward announced her retirement in 2010. She is now a personal trainer working out of King's Gym in Bedford Heights, Ohio. Known for giving back to her community, she often reminisces about the late Pat Summit and what could have been at Tennessee. She was inducted into the Ohio Basketball Hall of Fame in 2012.
For most, Vonda will be remembered for the Wolf knockout. For this writer, however, she will be noted as a rare female athlete who was able to compete at the top level of two different professional sports.
Ted Sares can be reached at
tedsares@roadrunner.com
and welcomes comments and posts
.
Check out more boxing news on video at the
Boxing Channel