By David A. Avila
Watching Alexis Rocha and Blair Cobbs slug it out in Los Angeles last weekend brought back burning memories of similar feuds of the past from the Olympic Auditorium.
Many of the best fights ever seen in Los Angeles took place at the old Olympic Auditorium that opened before the Los Angeles Olympic Games in 1926. Some great battles between Henry Armstrong and Baby Arizmendi, Enrique Bolanos and Art Aragon happened at that grizzled venue.
A documentary called "18
th
and Grand Avenue: The History of the Olympic Auditorium" has just emerged by Steve DeBro that I'm itching to see. I watched a few talk shows on YouTube where various people chat about the documentary that hits on boxing, wrestling, concerts and roller derby.
It's been long overdue.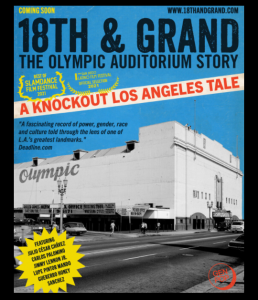 No disrespect to the public that are unaware, but professional boxing or prizefighting has never died out or disappeared. The sport of boxing will always survive and no doubt in my mind is the oldest sport in the history of mankind.
Think about it.
Probably the first bet took place in prehistoric times when one caveman bet another he could whip him. Boxing is a sport that only takes two willing participants and their fists.
What has disappeared has been newspaper or television coverage of boxing. In Southern California, the sport has never disappeared except from black and white ink printed pages of local newspapers. They dropped the ball in favor of sports teams and their hype machines. Much of the blame has to be given to the demise of the Herald-Examiner newspaper in Los Angeles. When that publication ended, boxing took a big hit. The Times never had good coverage of the sport. It was a nod here and there. I should know, I worked with the Times during that period and often had arguments about it with editors. To this very day the Times has a staff room filled with reporters who couldn't tell you where Lincoln Heights or City Terrace is located. Basically, they don't know Los Angeles.
As a former newspaper boxing columnist, who occasionally writes for Southern California newspapers, I've had many discussions with editors or sportswriters who insist boxing is dead and has been for many years.
My reply has always been that Southern California has more than 100 boxing gyms and has become the center of the boxing universe. More boxing shows take place in the state of California than any other state in the country. Fighters come from all over the world to the Southern California region because they know this is the center.
Need more proof of boxing's vitality: in one single fight Saul "Canelo" Alvarez makes on average about $60 million. That's not a misprint. How is this possible if the sport is dead?
Last Saturday, at the Galen Center in downtown Los Angeles, a scheduled main event was canceled when the star Vergil Ortiz Jr. suffered a malady and was forced to pull out for medical reasons.
Did the fight card collapse?
No.
Golden Boy Promotions penciled in a welterweight match between feuding Southern California fighters Alexis Roach and Blair Cobbs and voila! An enticing main event brought more than 5,000 fans to the arena that sits across the street from USC and the crowd atmosphere was "Bobby Axelrod" intense.
Feuds bring excitement and no other sport exploits feuds better than a boxing event.
Watching Rocha and Cobbs reminded me of earlier feuds at the nearby Olympic where
Armando Muniz
and Carlos Palomino fought. Back in the 40s there were two guys who clashed five times: Manuel Ortiz and Carlos Chavez. Ortiz was bantamweight world champion for eight years and 20 defenses. Speaking of Carlos Chavez, he was the king of trilogies and more. Basically, he fought numerous guys three or more times and was a Los Angeles regular.
Can't wait until I see the documentary on the Olympic by Steve DeBro.
Strong women week
An all-female boxing card in Costa Rica can be seen on Friday March 25, at MarvNation Promotions channel on YouTube.com around 6 p.m. PT.
IBF minimumweight titlist Yokasta Valle headlines in a rematch versus Japan's Sana Hazuki in the main event. Also on the card will be American fighters Maricela Cornejo and Adelaida Ruiz in separate bouts. On Saturday morning, March 26, in Leeds, England, a female bantamweight world title fight features Argentina's Mary Roman defending the IBF title against Australia's Ebanie Bridges. The Matchroom Boxing card will be stream on DAZN at 11 a.m. PT.
World title in England
IBF featherweight world titlist Kiko Martinez of Spain makes his first defense against Josh Warrington later on Saturday on that Matchroom card in Leeds streaming on DAZN.
Martinez knocked out UK's Kid Galahad this past November. Warrington was knocked out by Mexico's Mauricio Lara a year ago and in the rematch a clash of heads ended the fight prematurely due to a cut. A technical decision draw was the conclusion after a mere two rounds.
Lara was last seen knocking out Emilio Sanchez in a firefight in San Diego.
Fights to Watch
Fri. MarvNation/YouTube.com 6 p.m. Yokasta Valle (23-2) vs Sana Hazuki (8-5-1); Maricela Cornejo (14-5) vs Simone Aparecida (17-19).
Sat. DAZN 11 a.m. Kiko Martinez (43-10-2) vs Josh Warrington (30-1-1), Mary Roman (16-5-1) vs Ebanie Bridges (7-1).
Sat. Showtime 7 p.m. Tim Tszyu (20-0) vs Terrell Gausha (22-2-1).
Sat. ESPN 7 p.m. Miguel Berchelt (38-2) vs Jeremiah Nakathila (22-2).