By Arne K. Lang
On Tuesday of this week at a press conference in Dublin attended by representatives of multiple government agencies, the United States Treasury sanctioned Daniel Kinahan and several of his associates and put a bounty on their heads. A reward of "up to" $5 million was offered for an arrest and conviction "leading to the financial disruption" of their alleged international crime cartel. The KOCG (the acronym stands for the Kinahan Organized Crime Group) is accused of importing large quantities of cocaine from South America for distribution to countries in Europe, Asia, and the Middle East.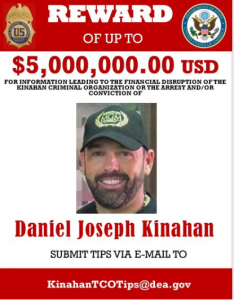 Daniel Kinahan is an important man in the sport of prizefighting. Tyson Fury publicly thanked him for his role in brokering the fight between he and Anthony Joshua, potentially the richest fight of all time, albeit a fight that had to be put on the back burner because Fury had a pre-existing contractual obligation that his management could not sunder.
Some have called the news regarding Kinahan the biggest story in boxing this year. However, one wouldn't have surmised that if one had tuned in to yesterday's press conference for the forthcoming mega-fight between Fury and Dillian Whyte. The issue was never broached during the question-and-answer session with the media although co-promoters Frank Warren and Bob Arum, who joined the fighters on the Zoom call, put the lid on it, taking no questions from reporters likely to ask the Gypsy King for his take on the matter.
We here at The Sweet Science have been following developments in the Daniel Kinahan story since 2016. On February 5 of that year,
gunfire erupted at Dublin's Regency Hotel
during the weigh-ins for a card (ultimately cancelled) to be held at Dublin's National Stadium the following day. Intruders bearing assault rifles burst into the ballroom where the weigh-ins were happening, fatally shooting one man and seriously wounding two others. The decedent, a career criminal, was reputedly an associate of Irish drug lord Christy Kinahan, the father of Daniel Kinahan, and the murder was said to be in retaliation for the contract killing of a man in Marbella, Costa del Sol, Spain, the previous year. The victim in Marbella was a Dublin man affiliated with a rival gang.
The upscale resort city of Marbella, a quick hop by boat to Morocco, houses the largest concentration of drug traffickers in the world. It was here that the Kinahans opened the first of what has become an international chain of boxing gyms. The nominal owner was former British and European middleweight champion and three-time world title challenger Matthew Macklin and the gym took the name MGM, which stood for Macklin Gym Marbella (not to be confused with the unaffiliated MGM casino chain).
The gym subsequently changed its name to MTK Global and during its rapid expansion – there are now more than 20 MTK Global gyms on five continents -- morphed into something more than a gym franchiser. It now bills itself as the world's foremost boxing management company, negotiating contracts for the fighters under its umbrella and arranging endorsements and sponsorships for them.
In June of 2020, former ABC and ESPN boxing coordinator Bob Yalen joined the company in the role of CEO. Yalen, a Connecticut native who enters the International Boxing Hall of Fame this summer with the class of 2022, gave the company a veneer of respectability. He replaced Sandra Vaughan, a woman identified in the papers as the ex-partner of a convicted drug dealer named Kevin Kelly.
Four current world title-holders have ties to MGM Global: Tyson Fury, unified 140-pound champion Josh Taylor, WBA featherweight champion Leigh Wood, and IBF flyweight champion Sunny Edwards. A number of U.S. boxers -- e.g., Vergil Ortiz Jr, Jojo Diaz, and Arnold Barboza – are also MTK Global clients.
Last month Probellum, the company founded last year by former Swiss banker and former Golden Boy Promotions CEO Richard Schaefer, staged shows on back-to-back nights at the Duty Free Tennis Stadium in Dubai. Years from now, when the history of the Kinahans and MTK Global comes fully into focus, this will stand out as a momentous occasion.
There was only one world title fight – Sunny Edwards vs. Muhammad Waseem – but the cost of putting on the two-day affair required a backer or backers with very deep pockets. The travel expenses alone were enormous. There were 10 fights on each night, 20 fights in all, and the 40 competitors represented 20 countries: Argentina, Armenia, the Czech Republic, Egypt, England, France, Ghana, India, Ireland, Jordan, Mexico, Pakistan, Romania, Russia, Spain, Tanzania, Turkey, the United States, Uzbekistan, and the United Arab Emirates.
It was no coincidence that this big event was held in Dubai. The UAE has no extradition treaties with countries in the western hemisphere. Daniel Kinahan, his father, and Daniel's brother Christy Kinahan Jr currently reside there.
World Boxing Council president Mauricio Sulaiman was an honored guest. Sulaiman wrote about his experiences in an article published on the WBC web site. Here's an excerpt:
During Probellum fight night I also met Daniel Kinahan who is advisor and manager of boxers. A man who has been labeled as a person linked to criminal groups. I had a fascinating and insightful talk with him, confirmed by the testimonies of many boxers, who express their admiration and gratitude for the unconditional support he has given them, which has allowed them to significantly improve their lives.
I am nobody to judge any person, and that has been the policy plus ethos of our organization, to combat all types of discrimination and abuse of power, for any person or group.
Since the announcement of the sanctions, there has been a rush by boxing promoters to disassociate themselves from Daniel Kinahan.
"MTK Global will take every measure to ensure the company and those who deal with it are fully compliant with the US sanctions announced this week and take this matter very seriously," said a formal statement from the desk of Bob Yalen in which it was asserted that MTK parted ways with Daniel Kinahan in February of 2017 (an assertion at odds with a report that MTK Global shares an address with Daniel Kinahan's unit in the exclusive Jumeirah Bay Tower in Dubai).
Probellum issued this statement: "We have retained counsel in the US to ensure that we fully comply with all rules, regulations and requirements related to this matter…Any suggestions that Daniel Kinahan is a shareholder or owner of Probellum is false and defamatory."
In a conversation with ESPN combat sports journalist Marc Raimondo, Top Rank honcho Bob Arum said, "I'm a law-abiding American citizen and I will adhere to those sanctions and not have any business relationship with (Daniel Kinahan). Period. End of story." Arum would subsequently acknowledge that he paid Kinahan $4 million in consulting fees, $1 million for each of the four Tyson Fury fights in Las Vegas that Top Rank co-promoted, sending the money to a third party, a company registered in Dubai.
In his Kinahan story for ESPN, Kevin Iole noted that boxing in the U.S. has had a long history with organized crime, citing
mid-20th century hoodlums Frankie Carbo and Blinky Palermo
as examples. We would have gone back further. Arnold Rothstein, best remembered as the alleged mastermind behind the 1919 World Series fix and as the inspiration for the Meyer Wolfsheim character in "The Great Gatsby," reputedly owned a large piece of fabled lightweight champion Benny Leonard. After his death it came to be understood that Rothstein made more money from the illegal drug trade than he did from all of his gambling enterprises. Prohibition-era gangster Owney Madden was reportedly the head of the syndicate that maneuvered Primo Carnera into the world heavyweight title. Jimmy Cannon's famous line that boxing is the red-light district of sports has held up in every generation.
An editorial writer for the British Morning Star says the Kinahan scandal "amplifies the case for an international governing body (to regulate the sport)." Don't hold your breath.
Arne K. Lang's latest book, titled "George Dixon, Terry McGovern and the Culture of Boxing in America, 1890-1910," will shortly roll off the press. The book, published by McFarland, can be pre-ordered directly from the publisher (https://mcfarlandbooks.com/product/c...-little-giants) or via Amazon.