By Arne K. Lang
The World Boxing Association recognizes two world heavyweight champions – Oleksandr Usyk and Trevor Bryan. Leaving aside the absurdity of that, Bryan has a very important bout coming up with Daniel Dubois. The winner becomes the WBA's mandatory opponent for Usyk, a prize more coveted than the tacky belt.
Don King, Trevor Bryan's promoter, won the purse bid. According to various reports, he bid $3,116,001, snatching the fight away from Dubois' promoter Frank Warren who offered $2,503,000. Bryan, as the defending champion, would be entitled to 55 percent of the swag.
Last week, King announced that the bout would be held on June 11 in Miami, Florida at Casino Miami Jai-Alai, a refurbished fronton whose arena can hold 6,500. The TV outlets are, as yet, uncertain.
There was a day when Don King, by virtue of his stranglehold over the heavyweight division, was the world's pre-eminent boxing promoter. But it's no secret that King, who turns 91 in August, has fallen on hard times. Many boxing insiders will be surprised if King meets his commitment allowing the fight comes off on his appointed date. Bryan vs. Dubois isn't yet listed on
boxrec
and one would be hard-pressed to find a betting line.
Stacey McKinley, Trevor Bryan's coach and co-manager, dismisses the notion that King has one leg in the poorhouse. "He owns several commercial buildings in South Florida," he says, "and they are all paid for." (King's headquarters are now in Deerfield Beach, Florida, in wealthy Broward County just north of Miami.)
McKinley, who is 70 years old and has known Don King for more than 40 years, is seemingly the last of King's old guard. Over the years, King has employed numerous matchmakers, publicists, advisors and "yes men" of various stripes and all of them have moved on or died. McKinley has remained loyal.
"The first things I heard about Don King were negative," he says. "I was warned to stay away from him. But the closer I looked at the man, the more I could see that Don King wasn't someone that you walked away from, but someone you walked toward."
An Ann Arbor, Michigan native, McKinley is a proud disciple of the late Lester Philbin. Mr. Philbin, who died in 1994 at age 89, was an important man in amateur boxing and the longtime coach of the intramural boxing team at the University of Michigan.
McKinley went there to study mechanical engineering but was lured away by the siren song of boxing and left before getting his degree. Like his mentor, he took to coaching amateur boxers. He led by example when he won an AAU state title and again when he became the winner of the first national Toughman tournament.
Toughman, which someone dubbed "man-off-the-street boxing," started in Bay City, Michigan, the brainchild of serial entrepreneur Art Dore. The inaugural event was staged in 1979 at a high school gym in Bay City. Anyone between the ages of 18 and 35 could sign up so long as they resided within a 100-mile radius of the city and had no prior professional boxing experience.
Toughman, which is still sputtering along in the few states where it is still legal, caught on like wildfire. Before the year was out, Dore leased the Pontiac Silverdome for a tournament with looser geographical restrictions. The event reportedly drew a crowd of 16,000. Stacey McKinley, who was then known by his birth name Roosevelt McKinley, took home the $50,000 first-place prize and the tall trophy emblematic of it.
]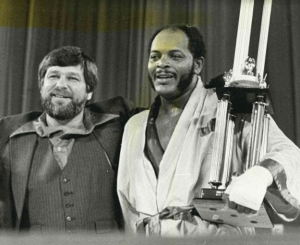 Dore and McKinley
One of McKinley's first pupils in his days as an amateur coach was a fellow Ann Arbor lad, James Toney. "Toney studied boxing all the time," says McKinley of the future Hall of Famer. "He didn't carry himself like a bully. That came later after he turned pro."
At the pro level, McKinley has worked with fighters from all weight classes but is most closely identified with heavyweights. He had a long run with Tony Tucker, another Michigander, and worked with Mike Tyson after Iron Mike left prison to fight for Don King. Both Tucker and Tyson suffered defeats at the hands of Lennox Lewis.
"Tony Tucker was technically one of the best heavyweights ever," McKinley says of the man who captured the IBF title in 1987 with a 10
th
-round stoppage of Buster Douglas. "When Tony first took up boxing, he weighed 160 pounds. As he got bigger, he kept his small man skills. He was past his prime when he fought Lennox Lewis. Unfortunately, he got into a bunch of street stuff and his career didn't end well."
Regarding Tyson-Lewis, McKinley says that Mike wasn't right for that fight. "We trained in Hawaii," he recalled. "One of our sparring partners was Corey Sanders. One day he and Mike were sparring eight rounds and he hit Mike so hard that Mike had no recollection of the last four rounds. I knew then that Mike was in trouble." (Note: Lennox Lewis stopped Mike Tyson in the eighth round.)
McKinley had ups and downs with Tyson, but chooses to remember the good times. "It was a privilege to work with Tyson," he says. "People love Mike all over the world."
That brings us to McKinley's current heavyweight hope, Trevor Bryan. Hailing from Albany, New York, Bryan is 22-0 (15 KOs) as a pro but has yet to fight a world-class opponent and has fought only twice in the last 42 months.
"The first thing that people notice about Trevor is his body," he says, "but he has always been heavy. Having a good physique just isn't in his DNA. He looks poorly conditioned, but if you look at his fights, he doesn't get tired. He was a very good amateur. Shelly Finkel and Gary Shaw sponsored him and he got a scholarship to
Al Mitchell's school at Northern Michigan University
. As a pro, he has never been knocked down."
Trevor Bryan's favorite boxer growing up was Larry Holmes and the Easton Assassin, at the behest of Don King, has taken an interest in Bryan's career. Daniel Dubois, Bryan's opponent on June 11 (assuming the fight comes off), was considered a surefire future heavyweight champion until he was upset by British countryman Joe Joyce who jabbed Dubois silly en route to a 10
th
-round stoppage.
No heavyweight of recent vintage – perhaps no heavyweight ever – had a better jab than Larry Holmes. And so, during his brief sessions with Trevor Bryan (and there will be more), did Larry Holmes affix Bryan with a better jab?
"Larry thought Trevor was fine in that department; he liked what he saw. But Holmes gave Trevor some good skull work (McKinley's way of saying that Holmes' words of encouragement put Bryan in a better frame of mind)."
Daniel Dubois, eight years younger than Bryan at age 24, has scored two fast knockouts since Joe Joyce saddled him with his only defeat. He has knocked out 16 of his 18 opponents. Regardless of the venue, he will be a solid favorite when he meets up with Trevor Bryan. But not in the mind of Stacey McKinley who believes that his fighter is a legitimate heavyweight champion.
---
Arne K. Lang's latest book, titled "George Dixon, Terry McGovern and the Culture of Boxing in America, 1890-1910," will shortly roll off the press. The book, published by McFarland, can be pre-ordered directly from the publisher (https://mcfarlandbooks.com/product/c...-little-giants) or via Amazon.