By Arne K. Lang
Willie Pep was good at boxing. He wasn't so good at math. Ah, but hold the phone; we are getting ahead of ourselves. This isn't a story about Willie Pep, but about former world featherweight champion Johnny Famechon who passed away last Thursday, Aug. 4, in Melbourne, Australia, at age 77.
Famechon was five years old when his parents left his birthplace in Paris and settled in Melbourne. He came to the fore in an era when boxing was still a mainstream sport and home-grown champions were national idols. The locals turned out in droves for the parade in Johnny's honor when he returned to Melbourne after taking the featherweight crown from the Cuban-born Spaniard Jose Legra in a big upset at London's Prince Albert Hall.
]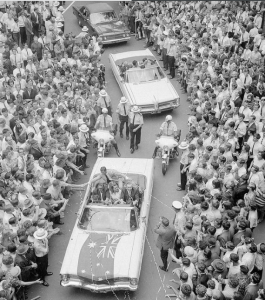 Famechon's first title defense came against Japan's Fighting Harada. They met in Sydney, Australia, on July 28, 1969.
At age 26, Harada was a battle-tested veteran. He previously held world titles at flyweight and bantamweight and would be remembered as the only man to defeat the
great Brazilian boxer Eder Jofre
, a feat he accomplished not once, but twice.
Only two boxers in history – Bob Fitzsimmons and Henry Armstrong – had won world titles in three of the eight classic weight divisions. Harada, who entered the International Boxing Hall of Fame in 1995, was bidding to become the third.
Team Harada insisted on a neutral referee. The British promoters chose Willie Pep. A legend in the sport, Pep had previously shared a ring with another Famechon, having out-pointed Johnny's uncle Ray Famechon in a featherweight title defense at Madison Square Garden in 1950.
Some thought that Pep would favor Fighting Harada. American referees put a higher premium on aggression than did their foreign counterparts and Harada was a little buzzsaw who rarely took a backward step. But others thought that Pep's selection favored Famechon, an elusive counterpuncher with whom the Connecticut "Will-'o-Wisp" could identify; their styles were similar.
Pep had been the third man in the ring for four previous title fights, three in Jamaica and one in Brazil. But this fight would be different. He would be the sole arbiter. If the fight went the full 15 rounds, Willie Pep would be the judge and jury.
During the bout, Famechon scored one knockdown, sending Harada to the canvas in round five, but Harada scored three, knocking Famechon down in rounds two, 11, and 14. The last of the three knockdowns was the harshest, but Famechon made it to the final bell.
The fight ended in a clinch. Immediately upon separating the fighters, Pep raised both of their hands, a signal that the fight was a draw.
Fighting Harada's handlers were outraged and demanded to see the scorecard. A policeman at ringside was empowered to give it a look-over (Australia had no boxing commission). What the policeman found was that there was indeed a discrepancy. However, it was
the opposite
of what Team Harada anticipated!
The fight was scored on the antiquated system whereby the winner of a round was awarded five points and the loser four points or less. In the case of an even round, both fighters got five points.
After 13 rounds, Fighting Harada had amassed 59 points on Pep's card. He won the 14
th
round, giving him an aggregate total of 64 points. But when Pep added up the numbers "59" and "5" in the column where he kept the aggregate total, he came up with "65."
Oops.
When Pep signaled that the fight was a draw, people stormed the ring from all sides. Newspaper reports said the belligerents were about evenly divided. Famechon, the Aussie, was the crowd favorite, but Fighting Harada was well-backed in the betting markets, a very big industry in Australia. Many were even angrier when Famechon was summoned back to the ring to have his hand raised.
The Famechon-Harada fight aired live on Japanese television. In Japan, there was a great outpouring of outrage. Pep had been instructed to score a round 5-4 if the round was narrow and 5-3 if there was a clear-cut winner. Despite the knockdowns, Pep scored every round 5-4 or 5-5. In the revised tally, he had Famechon winning 6-5-4 in rounds.
"Harada loses to referee" was the headline in Japan's leading sports daily. Willie Pep made no friends in Australia either. There were shouts of "Yankee go home" as he left the ring.
Famechon and Harada met again five months later in Tokyo. One would assume that Fighting Harada proved superior and got a fair shake, winning the third title denied him in Sydney. But don't assume.
Harada was well ahead after ten rounds but faded. On the deck in round 10, Famachon returned the favor three rounds later, knocking Harada down hard with a perfectly placed left hook. Harada was in dire straights when he came out for round 14 and Famechon put him away.
Harada never fought again and Famechon left the sport six months later after losing his crown to Vicente Saldivar. Johnny was only 25 years old, but had crammed 67 fights into a nine-year pro career and said enough is enough.
Famechon's post-boxing life took a tragic turn in 1991 when he was hit by a car while out jogging on a Sydney highway. He spent several weeks in a coma and several years in a wheelchair but eventually recovered most of his motor skills and regained his speech to the point where he could serve as a boxing color commentator on television. In 2018, a larger-than- life statue of Famechon was unveiled at a public park in the Melbourne suburb of Frankston where he was a longtime resident.
For the record, Johnny Famechon finished his career with a record of 56-5-6 with 20 KOs. We here at The Sweet Science send our condolences to his loved ones.
Arne K. Lang's latest book, titled "George Dixon, Terry McGovern and the Culture of Boxing in America, 1890-1910," will shortly roll off the press. The book, published by McFarland, can be pre-ordered directly from the publisher (https://mcfarlandbooks.com/product/c...-little-giants) or via Amazon.