By Arne K. Lang
On January 6, 1971, Earnie Shavers, a well-touted heavyweight prospect from Warren, Ohio, fought Lee Estes at the Silver Slipper in Las Vegas. Shavers' team on this particular night – his three cornermen – consisted of Willie Ketchum, Dean Chance, and Bo Belinsky.
Indulge me now. Let me digress.
In his tribute to Shavers, who passed away on Sept. 1, Hall of Fame boxing writer Bernard Fernandez found a common thread between the prizefighter and Babe Ruth. The Bambino's home run blasts were talked about in hushed reverence – his final blast purportedly traveled 600 feet – and, likewise, the punching power of Shavers, who scored 68 of his 74 wins by knockout, became the stuff of legend. "He had a punch that could knock down a brick wall," said one commentator upon hearing the news that Shavers had died.
A keen-eyed reader passed along the note that Babe Ruth was a big fan of boxing and once actually considered a career in the prize ring. He thought that if Fernandez were going to rope the Bambino into a story about Earnie Shavers, he could have embellished his article by pointing this out.
Babe Ruth once threatened to quit baseball for boxing, but this happened while he was embroiled in a salary dispute. It's a stretch to think that he actually gave it any serious thought. However, he was indeed a big fan of boxing and he trained like a boxer in the off-season after he hooked up with fitness guru Artie McGovern, a former flyweight boxer who ran a gym at 42
nd
Street and Madison Avenue in New York City that was patronized by the rich and famous.
]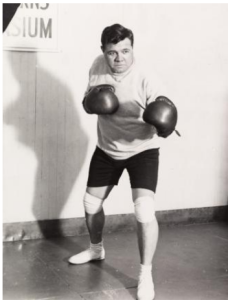 Ruth started visiting McGovern's after missing one-third of the 1925 season with a stomach ulcer. Lore has it that he was a bloated wreck when McGovern first latched hold of him which may not be too far from the truth. Regardless, he was an off-season regular at McGovern's prior to the 1927 season, the year he broke his own single season record for home runs with 60. (A Ruthian feat indeed. Ten years earlier, in 1917, the American League home run leader hit nine.)
Earnie Shavers' baseball connection, as it were, had a more contemporary tone. Willie Ketchum, a Runyonesque character from New York City's Lower East Side, wasn't a baseball guy. A man who was then in his late 60's, Ketchum was a boxing lifer, a jack-of-all trades who had managed fighters, notably pre-World War II lightweight champion Lew Jenkins, and worked primarily as a second on the West Coast after his license was revoked by the New York State Athletic Commission for consorting with the wrong kind of people. But Dean Chance and Bo Belinsky were household names in households that followed the sport of baseball and in many households that didn't.
When folks thought of one, they thought of the other, for although Chance was a former Cy Young Award winner and Belinsky had tossed a no-hitter for the expansion California Angels, they were best known as bosom buddies whose nocturnal adventures harked to Pierce Egan's fictional rakehells Tom and Jerry.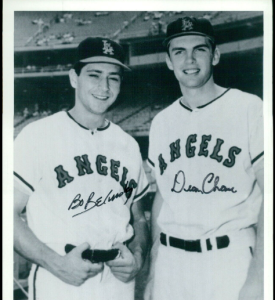 Belinsky, a street kid from Trenton, New Jersey, was a great ladies man who had dated, in his words, many of the best broads in Hollywood. Dean Chance, a farm boy from Wooster, Ohio, was considered something of Belinsky's caddy, a person who went along for the ride when Belinsky prowled the Sunset Strip in his candy-apple-red Cadillac. But of the two, Chance was much more of a slickster. He got involved in the management of prizefighters while still an active baseball player and in retirement ran "games of skill" at carnivals and country fairs.
Dean Chance's first fighter was Ray Anderson, a boxer from Akron that Chance signed while pitching for the Minnesota Twins, the second of his five major league teams. Anderson, who fought Bob Foster for the light heavyweight title, confounding the experts by lasting the 15-round distance, left Chance for J
oe Frazier's manager Yank Durham
, but by then Chance was heavily invested in Earnie Shavers.
Chance would eventually sell a 50 percent stake in Shavers to a fellow Buckeye State hustler, Don King. In time, King would come to own all of Shavers. It was he, King, who brought Shavers to New York in 1973 for his first TV fight, a bout with former world title challenger Jimmy Ellis at Madison Square Garden. Shavers brought down the curtain with an uppercut in the opening round, leaving poor Ellis, in the words of New York Daily News writer Bill Verigan, splattered on the canvas twitching like a paralyzed spider. (Shavers' second Madison Square Garden appearance, six months later, didn't go as well. Jerry Quarry knocked him out in the opening round.)
Shavers would go on to fight Muhammad Ali, losing a 15-round decision, and would answer the bell for 23 rounds in two fights with Larry Holmes. But his showing in those fights was out of character. When you went to see Earnie Shavers fight, you could pretty much count on getting home early. Of his 68 knockouts, 41 came in the first two rounds.
Lee Estes, a Minnesota journeyman, survived the first round in his Silver Slipper bout with Shavers, but not the second. It was short night for Earnie and Willie Ketchum and Dean Chance, but a long night for Bo Belinsky who picked up some extra coin making a cameo appearance in the "Wonderful World of Burlesque," the Silver Slipper's bill of fare in its scrubby showroom. There were three shows nightly, the last of which started at 2:45 am. Belinsky was done with baseball, his final season was 1970, but as the husband of former Playboy Playmate of the Year Jo Collins, he could still cash in on his name.
Aside from his no-hit gem, Belinsky's baseball career was undistinguished. The same could not be said of Dean Chance whose 1964 season was among the greatest of any pitcher in baseball history. But Chance, who was only three years older than Shavers, had too many distractions in his life and his career was on the skids when he brought Shavers to Las Vegas in 1971, seizing the gig as an opportunity to hook up with his former teammate Belinsky.
For the record, Bo Belinsky died in 2001 at age 64. A born-again Christian, he spent his end days in Las Vegas doing PR work for an auto dealership. Dean Chance passed away in 2015 at age 74. The organization that he founded, the fringe International Boxing Association which he ran from the basement of his home, died with him.
Historically, many of boxing's most fertile knockout producers – and virtually all who toiled in the boondocks -- were manufactured from straw. Utah chicken farmer LaMar Clark, who attracted a lot of attention while running up a string of 41 knockouts, was bogus, as were South Carolina's Don Steele – 40 knockouts in his first 41 fights – and LA's Christopher Lovejoy – 20 straight knockouts to start his career, all in Mexico and all but two in the opening round – to name but three. To be certain, Earnie Shavers fought a bunch of professional losers as he was climbing the ladder, but Shavers was legit. Those other guys couldn't hold his jockstrap. May he rest in peace.
Arne K. Lang's latest book, titled "George Dixon, Terry McGovern and the Culture of Boxing in America, 1890-1910," rolls off the press this month. The book, published by McFarland, can be pre-ordered directly from the publisher (https://mcfarlandbooks.com/product/c...-little-giants) or via Amazon.