By Arne K. Lang
Jarrell "Big Baby" Miller has been racking up some frequent flyer miles since returning from his self-inflicted hibernation. Miller was in Buenos Aires, Argentina, in June, fought again the next month, this time in Murfreesboro, Tennessee, and will be displaying his wares on Friday in Almaty, Kazakhstan, in a scheduled 10-round match with Ebenezer Tettah that will be live-streamed on DAZN. Big Baby is still only 34 years old, hardly ancient for a heavyweight, and has the tools to make waves in boxing's glamour division if he can stay off the juice and cut back on his intake of cheeseburgers.
Those are big ifs.
As we remember, Miller was supposed to fight reigning WBA/IBF/WBO world heavyweight champion Anthony Joshua when Joshua made his U.S. debut at Madison Square Garden in June of 2019. It was a golden opportunity that Miller let slip away because he lacked the discipline to wean himself off performance-enhancing drugs.
When it was announced that Miller's "A" sample had come back positive for a banned substance, he feigned outrage. "I have NEVER knowingly taken any banned substance and, when I found out the news, I was totally shocked. My team and I stand for integrity, decency and honesty and together we will stand to fight this with everything we have."
Miller changed his tune and apologized when subsequent tests from the same battery of tests detected two other banned substances.
"He hit the trifecta,"
wrote Thomas Hauser.
This wasn't the first time that Miller was caught with his hand in the cookie jars and it wouldn't be the last. Back in 2014, he was suspended for juicing by the California Athletic Commission following a kickboxing event. His July 2019 comeback fight against Jerry Forrest at the MGM Bubble in Las Vegas fell out when he failed another PED test.
As a consequence of his misdeeds, Miller was out of action for 43 months, missing all of 2019, 2020, and 2021. He picked up some change as a sparring partner during these years, working with Tyson Fury, among others.
The six-foot-four Miller carried 341 ¾ pounds, 25 pounds more than his career-high, when he resumed his career this past June in Buenos Aires. In the opposite corner was a local man, Ariel Esteban Bracamonte, who looked even flabbier than him. Bracamonte, who had been stopped five times while building an 11-7 record, managed to last the distance and even won a few rounds. Big Baby prevailed 97-92 on all three cards after having a point deducted for a low blow.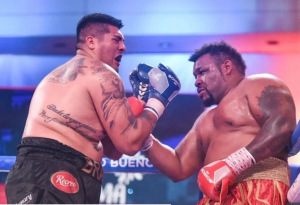 Miller's opponent in Murfreesboro was Tijuana no-hoper Derek Cardenas who was stopped in the fourth frame. That elevated Miller's record to 25-0-1 (21 KOs). The draw came in his fifth pro fight in a 4-rounder with Philadelphia bruiser Joey Dawejko.
Miller's opponent on Friday, Ebenezer Tettah, 34, is from Accra, Ghana. He brings a 20-1 (17) record, but it speaks reams that in his lone fight outside Ghana he was stopped in the opening frame by Daniel Dubois. Miller figures to out-weigh him by about 100 pounds.
Before he became a traditional boxer, Miller was a kickboxer. He was reputedly 22-2 in this sport with both losses coming at the hands of the legendary Croatian kickboxer Mirko Filipovic, aka Mirko Cro Cop. He was said to be a 12-year veteran of combat sports when he had his first TV fight in 2015, a scheduled 8-rounder against Akhror Murilamov (14-1) on a "ShoBox" card in Phoenix. Miller knocked him out in the third.
If things had gone according to plan, Miller would be headlining this month's card at Brooklyn's Barclays Center instead of Deontay Wilder. Big Baby spent his formative years in Brooklyn, still resides nearby, and had the requisite attributes, including an out-sized personality, to become the face of boxing at Barclays.
Overlooking his girth, the man can fight. "Miller cuts off the ring well and is quick-handed, is lighter on his feet than he looks and has a good variety of punches," wrote Frank Lotierzo in 2017 after Miller battered Gerald Washington into submission in eight rounds. In that "ShoBox," fight with Murilamov, Miller was credited with landing 90 punches in round two, the last full round, a high number for a heavyweight, let alone a heavyweight who came in weighing 280 pounds.
Granted, that was seven years and 50-60 pounds ago, but it says here that Jarrell Miller at any weight would be a tough out for any of the top heavyweight contenders. In fact, considering what we now know about Anthony Joshua, it's likely that he would have defeated AJ if their match had been allowed to go forward. That would have enriched his coffers by $5 million (his reported purse) and set him up for more lucrative paydays down the road. To say that Big Baby blew a big opportunity is putting it mildly.
It's hard to feel any sympathy for repeat offenders. Miller has only himself to blame for the way his career has panned out. But there's something to be said for redemption and it's worth noting that improbable comebacks – think George Foreman and Tyson Fury – have enriched the lore of the heavyweight division.
Can Jarrell "Big Baby" Miller be next?